A Concise Guide to Law Software Programs and Their Benefits
The legal technology industry has exploded in recent years, and all signs point to continuous growth for the foreseeable future. Forward-thinking law firms recognize the ability of modern law software programs to increase efficiency, improve workflows, and give legal professionals a better work-life balance
In fact, a survey by Statista of ​​490 law firm attorneys revealed more than 84% of legal firms reported an improvement in their operations because of legal technology. Additionally, out of that 84%, 34% claimed to have been able to reduce an operational cost thanks to law software programs.
While the law firm of the past would heavily rely on pen and paper and filing of physical paperwork, the modern firm uses law software programs to reduce or eliminate paperwork and make overall management of law firm operations easier.
This guide talks about law software programs, their significance, their advantages, and some of the best programs and systems you should check out for your firm.
What is Attorney-Client Software?
Attorney-client software encompasses all programs and systems your firm needs to manage the touchpoints between client and lawyer. It's a technological tool that can help you achieve your business goals and serve your clients better with ease, and of course improve attorney-client relations.
Attorney-client software also promotes the careful handling and management of cases and client records. It enables you to streamline processes and workflows faster while giving your staff more time to accomplish other relevant tasks.
The following are productive functions of attorney client software:
Track billing and generate invoices
Secure storage of client records
Efficient pricing and scoping
Case management
Efficient appointment scheduling
Digital contract signing
All of these can provide valuable benefits to law firms and make it easier for teams to interact with clients.
Why Should Law Firms Use Attorney Software Programs?
Aside from generally making client relationships better, attorney software programs provide client insights that would be challenging to achieve otherwise.
The advantages of attorney software programs include those outlined in the table below.
| | |
| --- | --- |
| Advantage | Purpose |
| Better organization of client records | Easier data retrieval |
| Automated tools and system | Easier and less time-consuming |
| Versatile, mobile, and easily accessible | You don't need to be on-site to get the data you need |
| Improved overall oversight | Easier to detect possible areas for improvement |
Better Organization of Client Records
Attorney-client software can help you organize your client records better for easier data retrieval in the future. The system allows firms to store records and case files in a secure, centralized location, sometimes with search functionality for easy file retrieval. When integrated with a legal CRM, documents can also be tied to specific clients.
Automated Tools and Systems
Certain tasks can be automated to reduce the time that legal professionals spend on repetitive administrative tasks. For instance, autofill features can be used to automatically fill in client information on documents and contracts, reducing errors and eliminating the need for manual entry.
Automations can be set up to execute via triggers. For instance, if a new client fills in the client intake form on your website, that information can be sent to a specific area for new clients, and a notification can be sent to a legal professional to either have them contact the new client as soon as possible, or let them know that the client has scheduled an introductory meeting with them (if the intake software allows).
Versatile, Mobile, and Easily Accessible
Today, attorneys are able to meet deadlines and communicate with their clients, regardless of where they are.
Now that cloud law firms are increasingly becoming the new norm, authorized employees can access the data they need without inefficient restrictions. If you need something, you don't need to report to the office to access documents. There are no more physical barriers, which gives your firm better accessibility and security.
Improved Overall Insights
Because of innovations and automation, attorney-client software allows you to monitor your firm's daily activities, giving your firm a chance to gauge your performance and improve based on your observations and detect possible areas for improvement.
Attorney-client software features reporting functionality, which allows you to gain an overall oversight of your firm's metrics and analytics. This gives your business a chance to head in the right direction and gain more clients.
Some important metrics and analytics you can gain from attorney-client software include the following:
Invoice payment details
Case revenue information and status report
Client satisfaction rates
Trust account summaries
Time entries
What Types of Law Firm Database Software Do Firms Use?
Law firms often deal with a large amount of data, whether it's document and contract information or client information. These different types of law firm database software handle different pieces of that information to make up a cohesive ecosystem.
With roughly 71% of legal teams seeing the need to implement time-saving technology, having the right law firm database software in place can make a huge difference in how fast teams are able to process cases and streamline their workload.
Let's take a look at a few of these types of law firm database software in more detail.
Practice Management
Cloud-based legal practice management software is what you need if you want an efficient system that can basically handle everything. Most programs feature several features that showcase the following:
Email organization
Case and document management
Billing
Calendaring management
Timekeeping
Payment processing
All of these legal practice CRMs can help legal firms organize documents and streamline processes. The result is that teams not only improve internal processes, but they also create a better client experience.
When legal teams are well-organized, they have shorter client turnaround times and better overall communication with their clientele. This boosts their reputation and can help improve their bottom line.
Online Processing and Payment Methods
Another type of law firm software program that teams use is legal e-billing software for online processing and payment methods. E-billing software helps firms receive payments for work rendered to clients.
Traditionally, payments are handled via check, which must be sent through physical mail and then cashed or deposited at a local bank. This is a slow process that can cause delays or could cause payments to be misplaced.
One way legal teams can streamline this is by accepting online payment methods. These allow clients to make payments via direct deposit, online checks, and credit cards. Not only does this make it faster for clients to make payments, allowing for immediate bill payments and reduced delays, but it also gives clients more options as to how to pay for legal services.
Once again, all this leads to a better client experience, as well as better collection rates.
Timekeeping and Billing
Another type of legal software program that can provide benefit to lawyers is law firm time and billing software.
Timekeeping software can make it easier for lawyers to track the amount of time spent on certain legal tasks. Although the original intention with this software was to support the traditional billable hour, with 78% of consumers wanting lawyers to adopt pricing structures besides the billable hour, the purpose of timekeeping software continues to shift. Instead of a direct time-to-bill scenario, the tracked time may be used as one of many factors to optimize pricing structure for legal services.
These, in turn, can create fair pricing systems that lawyers are more likely to be able to collect on, boosting overall profit for the firm.
Document Management
Working on various cases means dealing with several documents and files. And if you don't organize them properly, your firm will encounter confusion and inefficiency.
Document management systems help keep legal documents organized in an easy to navigate way. Many of them allow search features that make it easy for lawyers to go back and find old documents that are relevant to the current case.
Further, legal document automation software allows customized templates to be created based on existing documents. This automation software typically allows boilerplate terms and clauses to be saved, and either automatically inserted into the correct location in a legal document, or at least be available for the legal professional to copy/paste into the document directly.
Pricing Software
To support non-hourly AFA pricing, firms can greatly benefit from legal pricing software. AltFee, for example, allows pricing templates to be created from scratch, or for the firm to choose from a variety of pre-built templates that fall under a large number of practice areas. Templates can be iterated on over time through collaboration with others in the firm, with the ability for stakeholders to leave comments and feedback that appears to the side of the template. Specific pricing guidelines can be scoped out for each client, reducing errors and ensuring that pricing remains consistent, even if the client is dealing with multiple legal professionals in the firm.
Further, AltFee integrates with Clio, so that any changes to client information in Clio automatically update in AltFee. This ensures that the two systems stay consistent and up to date with the latest client information.
Start Earning More Revenue with Fixed Fees
Break free from hourly pricing and take the fear out of scoping and pricing client projects to start maximizing profitability.
Book A Demo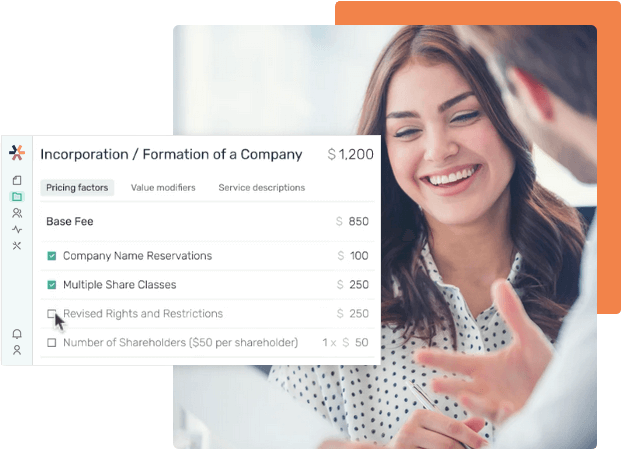 Features for Law Firm Software Programs
Let's look at essential features you must look at when choosing law firm software programs for your firm:
Project Management Tools
When dealing with various projects, it helps to break them down into steps and stages so that they are easier to administrate and organize. Legal project management tools allow attorneys to create a strategic plan on how to handle client matters for improved productivity.
These tools are essential components that can help firms achieve their business goals with proper implementation. They can also help ensure all tasks progress positively within set budgeted boundaries.
Efficient project management tools allow you to perform the following abilities:
Break down large projects into smaller and more achievable tasks
Set milestones
Set budgets you need to complete tasks
Streamlined Invoicing Processes
If you want payments to be made on time, your firm's invoicing processes should be well-streamlined. This can be challenging if you don't utilize the right law firm billing software.
Effective invoicing features you must look for in billing software include the following:
Batch invoicing option
Customizable templates
Electronic law firm billing
Scheduled invoicing
Efficient approval processes
Reporting Functionality
Regardless of what industry, it's always best to utilize available metrics and analytics to assess your business's overall performance. This helps with formulating new plans and strategies to improve your firm's efficiency.
When you choose software with ample reporting functions, your attorneys are able to run and review reports to know more about the firm's current condition. You can also use information from reports to generate new ideas for improving client satisfaction.
Detailed reports also allow legal firms to develop solutions on how to allocate available time and resources better.
Integration
Utilizing various software options is another way to ensure your firm handles challenges and productivity in the best way possible. When your software has integration capabilities, data like client information can be seamlessly updated in every legal software solution your law firm uses. Integration also promotes time-saving capabilities, which reduces potential delays.
Cloud Storage
Cloud storage provides law firms with an authorized way to access data without restrictions. Physical barriers are removed, and legal professionals no longer have to go to the office to obtain the necessary documents.
With more consumers demanding remote legal services, being able to access documents while being physically away from the office is critical. With cloud storage, lawyers can attend to clients from anywhere in the world and still have access to necessary documents.
On top of that, cloud storage can be encrypted and secured, reducing the risk of unauthorized access by third parties. This helps improve compliance and keep sensitive information secure.
Benefits of Law Software Programs
Law software programs promote various features that can help with your customer service, client satisfaction, communication, and more. Here are the primary advantages your firm can enjoy when utilizing law software programs.
Proper Workflow and Task Management
Legal firm software features processes that allow for proper workflow and task management. With the software, your firm can effectively monitor all current and future tasks, allowing you to detect possible flaws and errors automatically and work to correct them before it has a big effect on a client case or matter.
Effective Collaboration
Law software programs promote accessibility, allowing for more effective team collaboration.
Effective collaboration also means your firm has a well-established communication process. This helps in dealing with various challenges, preventing problems from bottlenecking. Effective collaboration can be facilitated by the following features:
Email communication control
Setting up calendaring management for efficient scheduling
Matter management capabilities
Updates and notification
Improve File Organization
File organization includes critical dates in your documentation while the software arranges the dates in a chronological manner. Doing this ensures your firm stays up-to-date with upcoming deadlines.
Also, proper file organization lets your firm readily retrieve clients' documents regardless of whether attorneys are in the office or working remotely.
Reduce Potential Insurance Costs
Administrative errors in your firm's workflow can significantly affect efficiency and productivity. Law software programs can help attorneys in monitoring litigation deadlines and statutes. This leads to fewer potential human errors.
On top of that, legal teams are able to reduce risk when implementing law software programs such as secure cloud servers that require multi-factor authentication to access. This helps keep legal teams compliant and reduces the possibility of data breaches.
Both of these factors can show insurance companies that legal teams are responsible and less likely to file a claim. By showing malpractice insurance companies that the firm is low-risk, they can help reduce insurance costs for the firm.
Best Legal Software Programs
What are the best legal software programs out there? Depending on your firm's available resources, budget, capabilities, and size, the best legal software program should be based on your firm's preferences.
Let's break down all information you need, together with each program's best features, pros, and cons.
Law Software Program

Best for

Pros

AltFee

Can be used in any sized firm that uses alternative fee arrangements like fixed fees, periodic fees, contingency fees, phased fees, portfolio fees, etc.

The ability to create custom pricing templates based on a database of standard templates
Budget-friendly and reasonably priced
Exceptional return on investment
Boost firm's revenue
User-friendly experience and highly knowledgeable and accessible support team

Clio

Best cloud-based solution for a start-up to large legal firms

Responsive customer service
Efficient automation tools

MyCase

Best for small legal firms in improving communication and collaboration

Efficient email and text-messaging
Collaborative tools
Intuitive and easy to use interface

MatterLink

Best for legal firms with multiple case files

Links everything – from clients to employees and attorneys
Effective calendaring management

CosmoLex

Best for processing billable hours to prevent duplication and human errors

Efficient support staff
Easy to learn and navigate
User-friendly interface
AltFee
Altfee is a legal pricing software that enables lawyers to create alternative fee arrangements for their clients. The result is that they can create fair and transparent pricing based on carefully crafted project-specific pricing guidelines that make sense both for the legal team and the client.
What's more, AltFee integrates with the major practice management software, Clio. This integration with Clio lets legal teams import client data to make it faster and easier to create proposed pricing structures for their clients.
All of these factors help to reduce error, streamline pricing processes, and increase client satisfaction.
Start Earning More Revenue with Fixed Fees
Break free from hourly pricing and take the fear out of scoping and pricing client projects to start maximizing profitability.
Book A Demo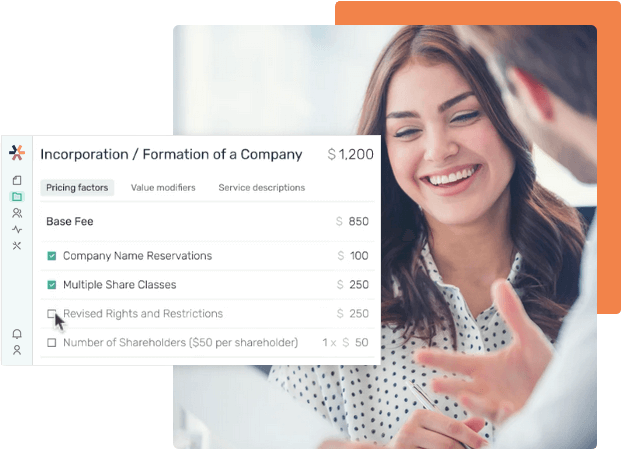 Clio
A cloud-based law practice management software is Clio, which is ideal for small and even large legal firms. Clio features a unique platform that allows legal firms to implement proper case and client management, meet deadlines, generate invoices to bill clients, offer various payment methods, and more.
The Clio dashboard is easy to navigate. You can see billable hour targets and metrics to help track your firm's current performance. Moreover, payments can be directly received from the client's operating account or trust.
Thanks to the billing feature, firms can perform the following tasks:
Create personalized bill plans
Construct automatic and manual time entry
Manage fee structures
Bill through email
Let clients gain access to information they need via a secure client portal
Clio also has a downloadable mobile app so that everything can be accomplished from anywhere. The app allows push notifications and tools for messaging.
MyCase

MyCase promotes effective and efficient communication between firms and their clients. Always remember that proper communication between all parties can help with more seamless business operations.
This cloud-based legal management software also features scheduling and accounting features. You can enjoy accounting, time-tracking, contact management, case management, and docketing. Plus, with the mobile application, users can instantly access the software whenever and wherever.
Clio also offers calendaring management so users can easily sync events and collaborate effectively with coworkers and clients. An electronic bill pay method and integration with other apps like QuickBooks are also available.
Additional unique features include:
Document storage in a drive
Personalized communication templates
Native accounting module
Expense tracking
Contact management
MatterLink
MatterLink is unique because it's an on-premise legal management program. It offers contact and case management, docketing and calendaring, document formatting and assembly, and metadata management.
Another feature that sets MatterLink apart is its integration with various Microsoft applications. It also features a center for matter information such as the following:
Case details
Custom fields
Related contacts, attachments, and notes
MatterLink has been proven effective in transactional and litigation practice areas within a single module.
CosmoLex
CosmoLex establishes a connection of all case modules, allowing users not to double-enter information across various systems. This helps clean up human errors, improving productivity and saving time.
Synchronization is the name of the game. When you use CosmoLex, you can connect and collaborate with various cases and documents across modules faster and more efficiently.
CosmoLex features its billing and legal time module that can help with batch processing invoices. This helps with capturing billable activities and creating customizable invoices. Moreover, CosmoLex allows integration with Google Drive, Dropbox, and NetDocs.
Why Choose Altfee as Your Legal Application Software
When choosing software for your firm, you want one that could improve your team's productivity and efficiency as well as boost your bottom line. One software that can help you accomplish all those goals is AltFee.
AltFee is a pricing software for creating Alternative Fee Arrangements for legal clients. With it, teams are able to streamline pricing processes and efficiently and easily create pricing structures according to different clients needs.
This eliminates the need for various spreadsheets or archaic manual pricing processes that can slow legal teams down and lead to inconsistencies. The result is boosted productivity and efficiency all while capturing more value and profit for the firm.
On top of that, because AltFee helps create fair and accurate pricing structures, it also increases the likelihood that firms will be able to collect on payments after services are rendered. This helps boost the firm's overall bottom line.
Finally, Altfee's integrations with Clio makes it easy to incorporate into your firm's current software stack. This reduces the need for new systems, cutting costs and saving your firm time.
Conclusion
We get it. Technology is on the rise. And, even the legal industry has been utilizing advanced and innovative tools to make the work environment better and more convenient.
With the birth of various law software programs, more clients have reported improved overall experience working with firms. These programs promote better time-tracking, improved task management, innovative and automated tools, reduced errors and insurance costs, and more.
One legal software program that can greatly benefit law firms is AltFee, a pricing system that supports Alternative Fee Arrangements and allows for enhanced collaboration on legal pricing. Book a demo today to learn more about how it works and how it can help your firm.
Start Earning More Revenue with Fixed Fees
Break free from hourly pricing and take the fear out of scoping and pricing client projects to start maximizing profitability.
Book A Demo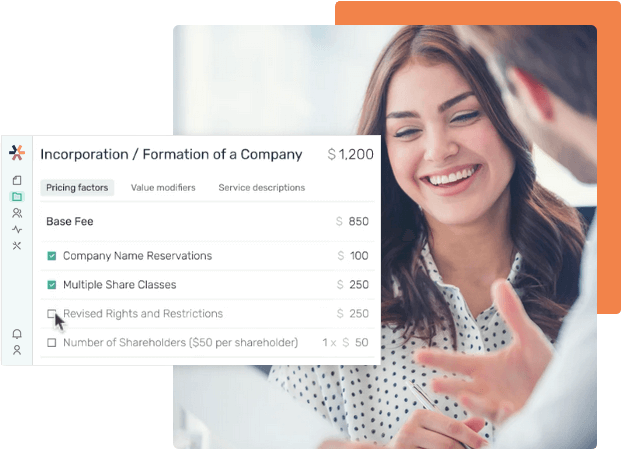 Newsletter Signup
Subscribe to our newsletter to receive the latest news.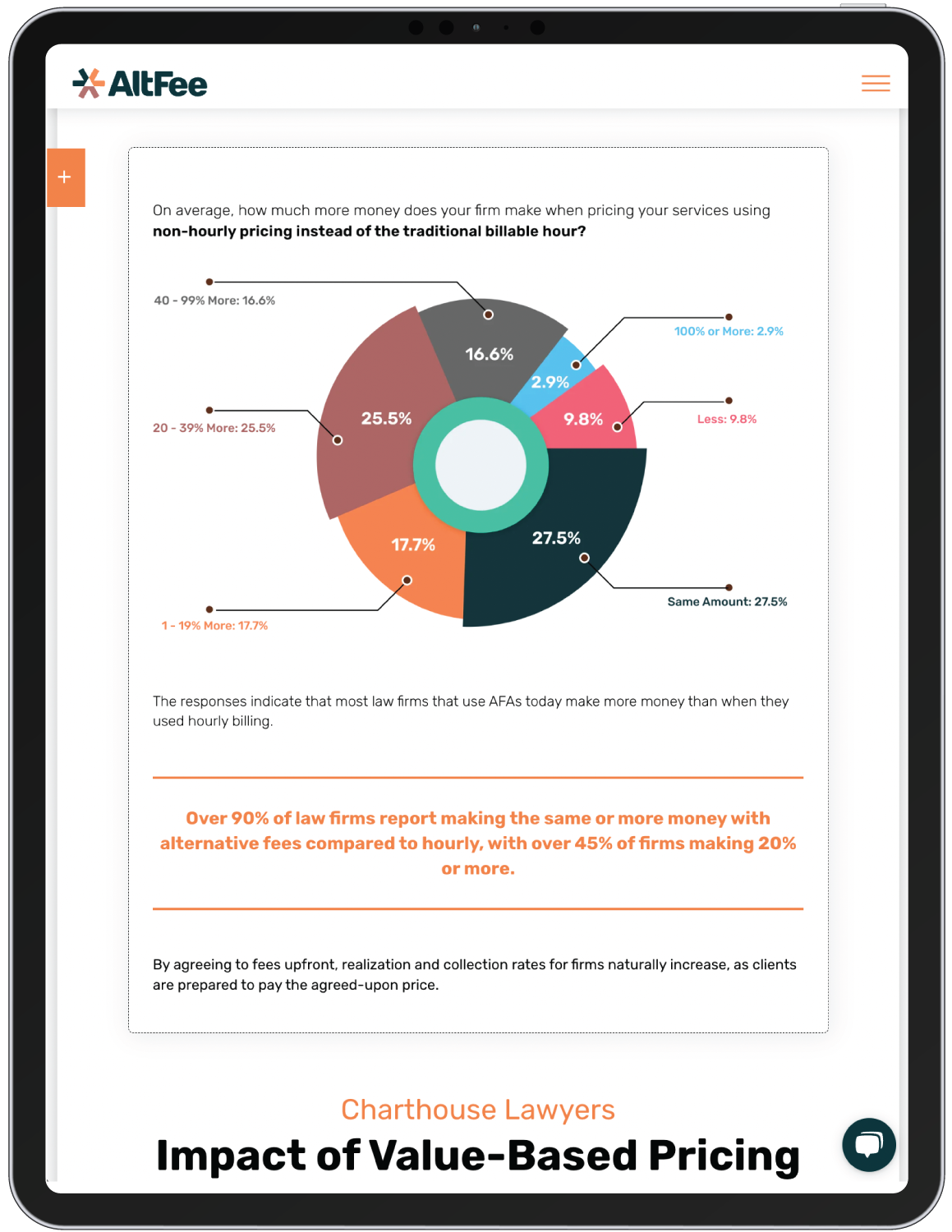 Legal Industry Pricing Trends Report 2023
Surveying legal professionals across the world, the report showcases how AFAs are contributing to increased profits for firms, better use of technology, and better work-life balance and working conditions for legal professionals.