Cloud Law Firm - Definition, Benefits & Best Practices
Digital solutions were once the future, but now they are the present.
For a brief period of time, companies had the luxury of sitting on the proverbial fence when it came to technology adoption, humming and hawing about whether it was actually worth it to make the change.
But that time has long since passed.
Nowadays, technology has permeated every single industry and business — even governments (which are definitely known for being behind the game when it comes to change).
But if you're one of the law firms that's hesitant about becoming a cloud law firm, then you might find your business falling behind — especially with clients expecting law firms to offer convenient digital services, like online payments and digital signatures, as an example, like the other businesses they deal with on a daily basis.
While moving to the cloud has many benefits (which we'll get into throughout this article) it's no secret that change can be difficult, especially if you've spent years perfecting your law firm's processes and procedures.
However, the move to the cloud is inevitable.
One of the best ways to start the process of moving to the cloud is to demystify the information surrounding it. In this article, we do that by defining what the cloud is, how it works, the benefits that law firm cloud software provides, and best practices for ensuring security.
What is a Cloud Law Firm?
Law firms are increasingly moving to more modern practices. Part of this is through increased adoption of different types of alternative fee arrangements that better serve their clients, and the move to cloud technology.
A cloud law firm uses cloud technology (a network of hosted servers) to handle the majority of its business operations. For example, client payments, communication, bookkeeping, and accounting can all be handled securely using the cloud.
These days, more and more legal professionals are embracing remote work. If they work for a cloud based law firm, then they can access the information they need quickly and securely, regardless of where they are.
Law Firm Cloud Technology Breakdown
Cloud technology isn't exactly new for most businesses, but it has taken quite a while for the legal industry to become comfortable with adopting it. The main concerns were always surrounding the security of client data, leading most law firms to opt for on-premise servers and in turn server-based applications, with the idea that it's more secure than putting data online where anyone could potentially access it.
But the advances in modern cloud computing mean that it is now more secure in general when compared to on-premise systems. According to a 2020 ILTA survey, law firm adoption of cloud-based technology solutions, with over a third of the total 470 law firms surveyed saying that every future upgrade will involve the cloud. 50% of firms said that their email was already cloud-based, and 37% said that their Document Management System (DMS) is also cloud-based.
Even though it seems like the majority of law firms are fine with adopting cloud technology, there is still some hesitancy out there. According to the 2021 ABA Legal Technology Survey Report, there was only a 1% rise in the usage of cloud technologies among respondents (up to 60% in 2021 from 59% in 2020), and those saying they don't use any cloud based services (which is a bit hard to believe, since email and calendars are a thing) dropped slightly from 28% to 25%.
Law firms lagging behind with cloud adoption are clearly having their business affected as a result. A recent Clio Legal Trends Report touted that consumers will look for remote options as a major determining factor in which law firms they'll work with and that the most successful law firms embrace technology solutions across the board — including the cloud.
What these statistics show is that while a shift to cloud based legal technology is clearly happening for more forward-thinking law firms, some firms still have reservations about taking the plunge.
Perhaps some of the hesitancy lies in a lack of understanding surrounding this technology and how it can really propel your law firm forward, so let's break down how law firm cloud technology works, why law firms are switching to it, and why it's a secure option.
How Does Cloud Technology Work?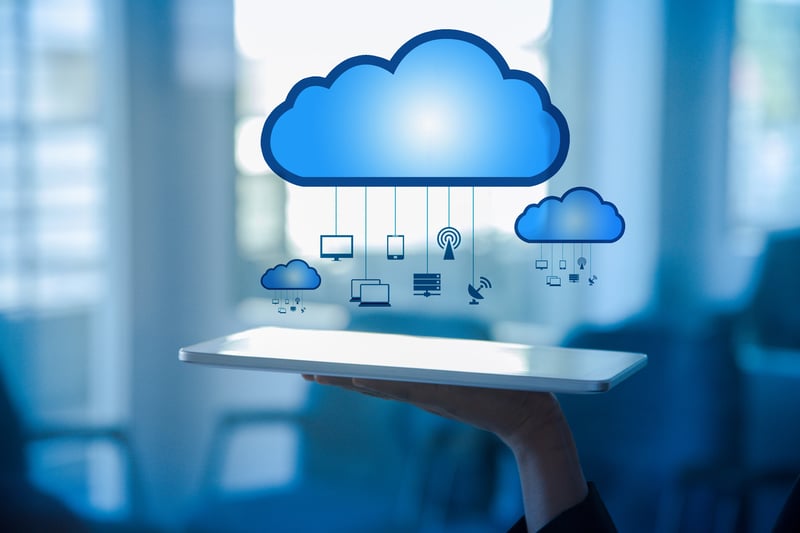 At a high level, understanding cloud technology is actually pretty easy. Instead of storing data using the physical storage space in your computer, the data is stored in virtual servers. These servers can either be run and maintained by you, as in you have on-premise server space in your own building, but the more cost-effective and common way is by using huge data centers.
These data centers are usually run by big companies like Google, Microsoft, or Amazon, and have the capacity to store seemingly unlimited amounts of data while at the same time being able to provide very effective data security and near 100% uptime.
From the user's point of view, they access the software through an app or browser, without needing to physically go to the office and access the software through a local computer system. Instead, users can access the software anytime, anywhere so long as they have an internet connection.
Why are Law Firms Switching to the Cloud?
The benefits of becoming a cloud law firm are just too many to ignore. These benefits include greater security, more flexibility for remote work, more scalability, and more efficiency in general while also saving money (goodbye ink cartridges and physical storage space). We'll explore these benefits in more detail in a later section in this article, but essentially the worries of the past that prevented most law firms from making the switch to the cloud have been rectified, and it's overall becoming more and more impossible to continue running a law firm the old way while still meeting client expectations and the demands of modern legal professionals.
Is the Cloud Secure?
Obviously, data security is a big concern for law firms. They don't want sensitive client data to leak online. Any cloud provider (remember the big cloud companies we mentioned, Microsoft, Amazon, Google) are experts at cybersecurity and spend a ton of time and money ensuring that data remains secure at their end.
But while law firm cloud technology is inherently secure, that doesn't mean it's completely immune to risks. Employees are probably the biggest threat to cloud security, and not because they're trying to be malicious, but because various scams work hard to target them as victims. We'll go through best practices that you can follow to educate employees on the best way to keep the cloud secure in an upcoming section of this article.
7 Benefits of a Cloud Based Law Firm
If moving to the cloud didn't have clear benefits for law firms, then they wouldn't bother with using the technology. The main ones have been summarized below:
1. Supports a Client-Centric Experience
A rapid shift to digital solutions was no doubt accelerated by the pandemic, but consumer behavior has also been trending towards wanting more digital conveniences in the businesses they choose.
If law firms want to provide more client-centric experiences, then they need to embrace cloud-based solutions. Meeting with clients over video chat, allowing them to pay online, being able to send them updated documents, or allowing them to log into a portal to see the current status of their legal matter are all examples of how moving to the cloud supports better attorney client relations.
2. Enhances Productivity
Cloud-based systems provide the ability to automate some of the more time-consuming and mundane tasks that can bog down law firm productivity, including things like invoicing, billing, managing files, and more. Software that automatically reconciles client information and creates an accurate bill, for instance, saves a ton of time for legal assistants and attorneys alike.
3. Provides Cost Savings
The cost savings that cloud based law firm management software provides extend to all different areas of the firm, including time savings and reduced resource costs. Legacy systems need to be maintained in-house, but with cloud-based services, that maintenance is often the responsibility of the cloud hosting company and isn't a worry for the typical cloud law firm. Not having to maintain or worry about your own servers provides huge cost savings for law firms right off the bat.
But there are other cost savings as well. For instance, with cloud based software, there's no longer a need to chase clients down to sign paperwork: they can just do it online through a program like DocuSign or through your own cloud based law firm management software if the functionality is built-in. Invoicing and billing also become easier, as bills can be sent digitally to clients and the client can then pay online, saving them a trip to your office.
4. Environmental Responsibility
Environmental concerns are a shared concern with many people, and cloud law firm software can help reduce a practice's carbon footprint. When you're trading paper and ink for pixels, you're reducing your consumption of physical resources, which has a positive impact on the planet. The average lawyer uses 20,000 to 100,000 sheets of paper per year, which can be reduced significantly by adopting cloud-based technologies that reduce the need for printing, e.g. pricing management systems like AltFee, online billing and invoicing solutions, and digital contract management platforms.
5. Provides Flexibility and Mobility
One of the major benefits of a law firm software cloud is that it can be accessed from anywhere. Many lawyers spend time away from the office, whether they are working remotely, meeting with a client in person, or in court. When they can access vital programs on the go, it gives them more flexibility and opportunity to be more productive as they can work from virtually anywhere.
6. Security
Obviously, security is paramount for law firms, as the client and other sensitive data need to be properly protected at all times. It can be difficult to keep up with the constant changes of modern data security with legacy systems, as exploits and weaknesses are always being discovered.
Law firm cloud technology providers have dedicated security teams and infrastructure that works to constantly improve security infrastructure, protect against attacks, back up essential data, ensure software compliance, and more, meaning that the burden of security is taken away from the law firm.
7. 24/7 Accessibility
While your office has operating hours, your law firm software cloud doesn't. This means that information can be accessed at any time and from anywhere, meaning that essential information is always available at your fingertips.
Recommended Cloud Based Law Firm Management Software
If you're embracing law firm cloud computing, you'll need effective software. There are tons of cloud based law firm software available, but not all of them stack up. In our analysis, we've picked the software offerings that provide the most comprehensive cloud solutions, including:
Centralized matter management for all your cases, matters, and projects
Client and contact management so all client information is easily accessible in one place and can be updated and changed as needed
Task and time tracking so you can attach tasks and time to the correct cases, matters, and projects
Billing including invoicing and online payments
Document control the ability to store and manage digital documentation
Clio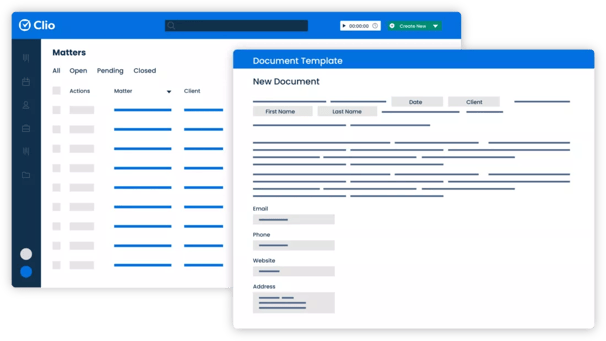 It's one of the most popular cloud based law firm management software offerings for a reason. Clio has fully recognized and embraced the cloud law firm landscape in its software, with an easy-to-use interface and streamlined navigation. Like with most SaaS businesses, Clio does limit features unless you move to a higher pricing tier, which means you won't get every single feature the software has to offer with the lowest tier pricing. However, even the lowest pricing tier includes the features that we listed above.
Main features:
Easy to use
Huge list of app integrations to increase functionality
Offers a full cloud law firm solution with Clio Manage, Grow, and Lawyaw
Rocket Matter
As a law firm cloud platform with a robust set of features, Rocket Matter integrates standard project management tools, like kanban boards, into the software to make it easier to visualize what's happening with a specific legal matter, case, or project. Of course, higher-tiered plans give you more features, but the base "essentials" package includes everything we listed at the beginning of this section.
Main features:
Project management-style software
Customizable templates and workflows
Advanced reporting and analytics
MyCase
MyCase is an affordable cloud based case management solution that aims to improve law firm efficiency by offering an all-in-one solution, including case management, billing, and a great client portal experience. It only has two pricing tiers for the software side of things, but they also offer SEO and mobile website optimization services for an additional monthly fee.
Main features:
Excellent client portal
SEO and mobile website optimization services
Integrates with popular cloud-based apps (Dropbox, Google Calendar, Gmail, Outlook, etc.)
Law Firm Cloud Best Practices
While law firm cloud software has its benefits, cyber security continues to pose a threat to cloud-based practices. In 2020, the American Bar Association reported that 29% of the firms that they surveyed experienced a cyber security attack, which was a 3% increase from 2019. Even so, only 34% have developed a response plan to mitigate future issues.
Every business these days deals with cybersecurity threats on some level, but law firms are a particularly lucrative target because of the confidentiality of the data they have. The good news is that there are easy best practices that your law firm can follow to significantly reduce the risk of these types of attacks.
Ensure your data is backed up
Most cloud service providers automatically back up data, but it's useful to understand where and when it occurs. Backed-up data is important because Ransomware attacks can block access to computers that house that data, so if it's not backed up anywhere, the data could be lost.
In 2020, a wave of ransomware attacks targeted five U.S. law firms, two of which had some of the data posted online. It's important to note that the cause of these breaches was emails with malicious attachments that were likely written in a way that enticed lawyers to open them
Early detection and swift response are key in these cases, but you can't get back up and running quickly without a backup of your data.
Educate staff on cybersecurity
Law firms have a variety of staff with different levels of comfort and knowledge surrounding technology, especially online. Even tech-savvy individuals can be fooled by phishing scams, ransomware attacks, and other cybersecurity threats, so it's important to provide education to your staff so they know what to look for with malicious communications.
There are a wide variety of companies that provide training to entire teams and organizations on cybersecurity, and there are also free resources available as well.
If using public Wifi, use a VPN
A virtual private network (VPN) is a piece of software that disguises your internet protocol (IP) address from potential attackers. Public wifi hotspots, like those in restaurants and coffee shops, are accessible by anyone, which means if you're connected to one and accessing sensitive data, you would be more vulnerable to an attack.
Use multi-factor authentication
Ever tried to log into your email from a new device, only to find that you needed to complete an extra step or two in order to log in? That's multi-factor authentication. Basically, before you can log into a cloud-based application, the software asks you to verify your identity by texting you a code to enter, or using your fingerprint scanner on your cell phone. This extra step protects against unauthorized logins because the attacker would need access to your phone or email, for instance, to successfully complete the login process.
Activating multi-factor authentication for your law firm's cloud software is an easy step that you can take to help protect sensitive information.
Use access management rules
Many law firm software cloud applications offer access management rules, which just means that you can control the level of access that certain users have to different areas of a piece of software. For example, access management rules can state that only an administrator can change matter pricing, while someone with a lesser level of access would be blocked from doing so.
Access management rules can also stop a cybersecurity threat in its tracks, let's say for instance someone took over an employee's login, but since that employee can't access client information, the attacker can't get the information they are looking for.
Important note on data storage requirements
Many jurisdictions have specific rules surrounding cloud-based systems and how those systems handle data in different situations. At a high level, data storage must follow PIPEDA mandates, but many bar associations and law societies have their own requirements for data storage, transfer, and accessibility.
For instance, in British Columbia, Canada, if the law firm uses cloud services to store client data and that data will be stored outside of Canada, they must inform the client and obtain their consent.
In Connecticut, lawyers must take reasonable precautions to ensure the security of client data, which includes segregating client data from the lawyer's data to prevent unauthorized access, including from the cloud provider.
The specific requirements for your jurisdiction should be noted and followed to ensure compliance with handling client information.
Conclusion
It's clear that moving to a law firm cloud platform is no longer an option for legal practices that want to continue being successful well into the future. A cloud law firm provides the flexibility that modern lawyers and legal professionals are looking for and matches client expectations for today's legal experiences.
Speaking of client experience, if you're a forward-thinking law firm, you might have already thought about or implemented an alternative fee model. If so, you'll need software to manage those fees effectively, which AltFee offers. What's more, AltFee is a completely cloud-based service, fitting into the trajectory that modern law firms are following with cloud technology adoption.
If you haven't thought about alternative fee arrangements yet or are curious to learn more, check out our AFA resources to discover why so many law firms are embracing alternative fee structures for their businesses.
Start Earning More Revenue with Fixed Fees
Break free from hourly pricing and take the fear out of scoping and pricing client projects to start maximizing profitability.
Book A Demo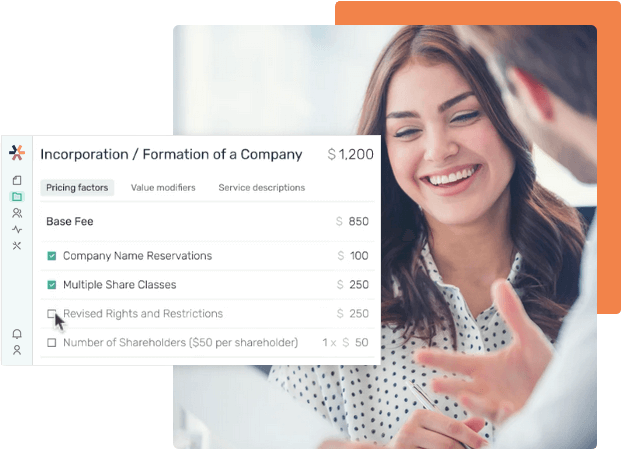 Newsletter Signup
Subscribe to our newsletter to receive the latest news.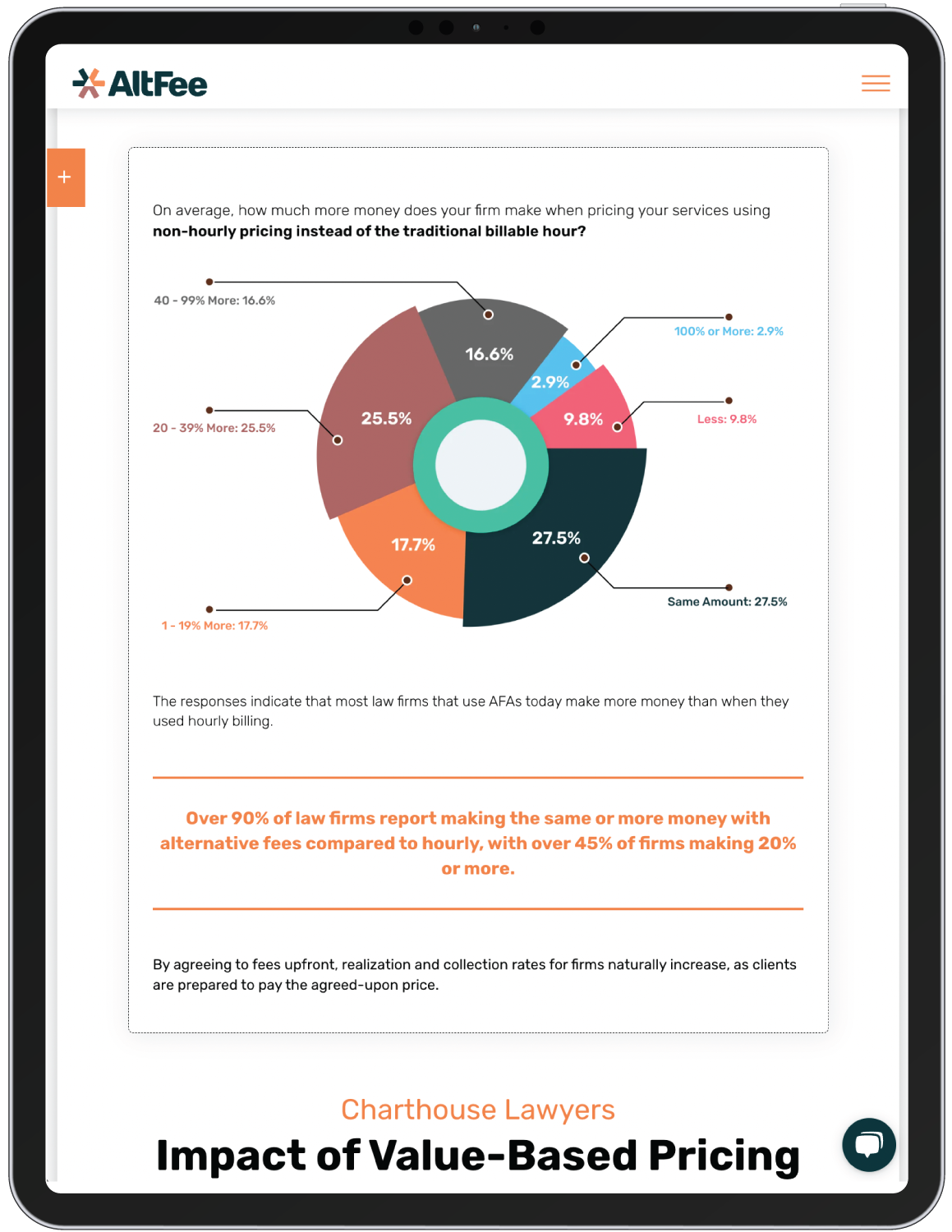 Legal Industry Pricing Trends Report 2023
Surveying legal professionals across the world, the report showcases how AFAs are contributing to increased profits for firms, better use of technology, and better work-life balance and working conditions for legal professionals.