Realization Rate 101 For Law Firms
Realization rate. Two words that often strike fear and anxiety in the hearts of legal professionals everywhere.
Law firm performance is often measured with realization rate as an important metric, so it's in a firm's best interest to get it as high as possible.
But that's easier said than done.
Unhappy clients awestruck by a final bill that's higher than what they expected is often a contention point, meaning that discounts are handed out to appease unhappy clients, and so the law firm doesn't end up with a completely unpaid bill. It's better to get something over nothing, right?
Well, it's time to address the realization rate elephant in the room and face the issue head-on.
So pull up a chair, because we're going to school. We'll go through what is a realization rate, why it's important, what a good one looks like, and how it's calculated.
From there, we'll get into actionable steps and solutions you can use to increase the realization rate for your law firm, and we'll outline them in this article.
Let's get started.
Introduction to Law Firm Realization Rate
The realization rate definition is that it's a financial metric that is often used to measure the profitability of a law firm. Traditionally, a law firm realization rate has been based on the number of billed hours invoiced minus any time write-offs or discounts divided by the number of hours worked.
The part, "minus any time write-offs or discounts" is especially interesting to note. The fact that a metric would include time write-offs by default is concerning and speaks to how often it happens with law firms.
But if you're a legal professional, chances are this information isn't new. Lawyers are known for offering discounts or writing off time in an effort to reduce sticker shock from clients and increase the likelihood that invoices will get paid.
This song and dance around trying to charge clients for the actual time spent on a legal matter is just one of the many reasons why the billable hour is going the way of the dodo, with more and more law firms adopting alternative fee structures for their services.
What is a Good Realization Rate
Every law firm will have a different realization rate that they target, but at the end of the day the closer it is to 100% (or higher), the better.
In some cases, realization rate can exceed 100% — as was the case with DL&Co after they implemented Altfee's software to make the process of managing their pricing easier and more efficient. The software continually allows the team to improve their pricing strategies, which in turn frees them up for more billable work. This is how they were able to achieve a 103% ratio of cash collected to billed fees in 2021.
Some sources suggest that a law firm realization rate below 80% requires a second look to figure out what went wrong. But many law firms seem to have accepted that a low realization rate is what it is, and just a cost of doing business.
According to Clio's 2021 Legal Trends Report, the average realization rate for law firms was 84%, meaning that 16% of billable hours were missing from client invoices.
To put that into perspective, that means that if a lawyer charged a client a standard rate of $250 per hour and billed for 80 hours, they would bill for a total of $20,000. But with discounts and time write-offs, the final bill for the client ends up being $16,800 — meaning the law firm is missing out on $3,200 of potential revenue.
So even though the realization rate for the above example is 84%, significant money is still being left out of a client's bill. That money represents legal work and value that the law firm is essentially giving away for free.
The underlying reason for these time write-offs and discounts? Not effectively communicating value.
Later on in this article, we'll get into ways you can improve your realization rate by standardizing your billing processes, adapting alternative fee arrangements, and more.
But first, let's look at how a realization rate is calculated from a micro and macro level, and gain a better understanding of what factors affect realization rates.
How is Realization Rate Calculated
The standard realization rate formula looks like this:
(# of billed hours - time write-offs and discounts) / # of hours worked = realization rate
But that's actually just one piece of the puzzle when it comes to determining the profitability of your law firm.
If you want to get the full picture of your firm's overall business performance, you'll want to look at the realization rate in addition to these other metrics:
Utilization rate: The number of billable hours invoiced divided by the number of hours worked in an 8-hour day
Collection rate: The number of hours invoiced divided by the number of hours collected
When you take into account these three metrics, realization rate, utilization rate, and collection rate, the results give you a better understanding of your law firm's overall performance.
For instance, in 2020, the average lawyer only billed for 2.5 hours out of a typical 8-hour day, meaning that the utilization rate would only be 31% per day. This suggests that there are industry-wide issues with inefficiencies in law firms affecting billable work, lack of clients and/or lack of available billable work. But the reality is that people do need legal services, so it's not really a lack of potential clients that is the issue. Instead, 77% of legal problems do not receive help — often because of fears surrounding pricing.
And then there's the collection rate, which measures how well a law firm can generate revenue. The average collection rate for law firms in 2020 was 89%, suggesting that the average law firm in the United States has some issues getting clients to pay their bills in their entirety.
The common denominator between all these metrics — realization rate, utilization rate, and collection rate — is that when confidence with law firm pricing and client perception of value don't line up, then revenue is significantly affected.
It's clear that the focus needs to shift to law firms gaining a better understanding of how pricing, scoping, and time affect how clients perceive the value of the legal services they're paying for.
6 Factors Influencing Law Firm Realization Rate and Tips for Resolving Them
Law firm profitability is affected by its realization rate. But getting a realization rate of 100% or higher can be affected by the following factors:
1. Perceived Value of Legal Services
It's not unusual for law firms to offer discounts and time write-offs in an attempt to appease clients who think the final bill is too expensive. For instance, a joint survey between Law360 and BTI Consulting Group showed that law firms offered an average discount of between 12-15% to their largest clients. The reason for this is that the clients feel they have more buying power because they're spending more money on legal services. What this shows is an obvious disconnect between the value the client perceives they are getting from the law firm and what the law firm is charging them.
One of the ways that perceived value for legal services can be increased is through the use of alternative fee arrangements. These pricing models focus less on time spent and more on conveying the value of legal service to a client because the pricing is focused on the result rather than the time spent achieving that result.
For example, with a Flat Fee arrangement, perhaps one of the most straightforward types of AFAs, a client is charged a single fee for a legal service. This means that the client knows what they'll be charged before work even starts, and the lawyer isn't held to a strict number of hours to keep costs reasonable, in fact, the lawyer is motivated to be as efficient as possible in completing the project.
2. Underestimating the Scope of a Legal Matter
Being able to accurately determine the scope of a legal matter is extremely important for accurate pricing.
Being able to accurately scope a legal matter is important for ensuring a firm's efficiency and competency, and for a lawyer to confidently give a set price or pricing estimate to a client. Part of this includes collaborating with other legal professionals who have expertise in various areas so that a matter can be scoped correctly, and thus priced accurately.
This is what AltFee's software was built from the ground up to do: be a one-stop solution for collaborative pricing for law firms. Statistics show that the top barriers to AFA adoption include "determining accurate or profitable pricing" and estimating how much time and effort the work will require which are key factors when determining the value the client will receive.
With AltFee, you can create pricing templates for all types of legal matters and have internal stakeholders weigh in with their input and feedback. They can provide suggested updates to the template based on the latest learnings from all team members. Of course, templates can be copied and customized for each client project, and collaborators can leave feedback and comments for those documents as well if required.
Start Earning More Revenue with Fixed Fees
Break free from hourly pricing and take the fear out of scoping and pricing client projects to start maximizing profitability.
Book A Demo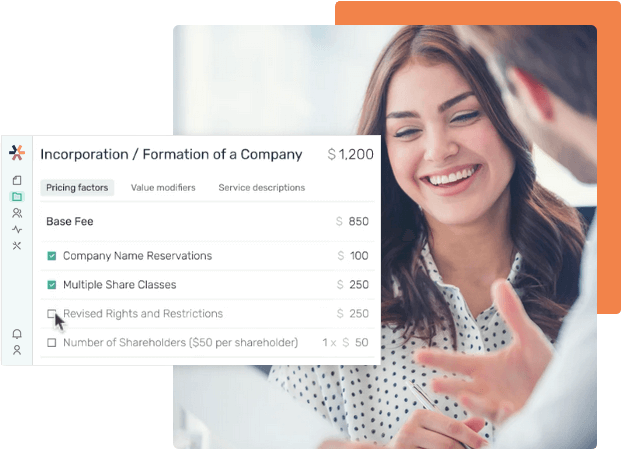 3. Inaccurate Time Tracking
Even though AFA adoption by law firms is increasing, with 84% of law firms offering AFA pricing on some of their services, inaccurate time tracking is still an issue that affects law firm profitability. Adopting efficient and easy-to-use time tracking software such as TimeBro is a great way to take the manual aspect out of tracking time and make it easier to see where the biggest time sinks are that affect productivity.
If administrative tasks affect productivity, the law firm could also adopt CRM software with automation. For example, LawRuler offers automated follow-ups, which immediately contacts potential clients with a generic email or text message to engage them even when a lawyer is too busy to respond to their inquiry.
4. Disconnect Between Client Expectations and Billing
The client has an understanding of how long a matter will take to solve, and that understanding doesn't align with how long it actually takes. This leads to sticker shock and the lawyer having to negotiate the final bill with the client. Setting out clear expectations around pricing from the beginning helps prevent issues with billing, as well as following standardized processes.
Developing standardized pricing and billing processes is important for consistency. With pricing, AltFee allows multiple legal professionals inside the law firm to collaborate on determining the price for different legal matters. Each professional can provide their unique perspective and expertise to help price a legal matter effectively. But pricing also needs to be supported by a clear billing process.
Billing, of course, is what happens once the work is completed. Law firm billing should follow a standardized process so that all bills are handled in essentially the same manner, and that clients are consistently informed as to what will happen with late payments, when only portions of invoices are paid, or if payments don't go through (bounce), etc. This way, clients know exactly what to expect and are not caught off guard by sudden information.
5. Communication Issues
Problems with effective communication between a lawyer and a client can absolutely affect law realization rates. Client expectations surrounding communication channels and frequency are shifting, with more clients wanting to communicate over email and text messaging, and fewer clients typically wanting to communicate in person or over the phone.
The key for law firms is to adopt legal technology that allows them to meet client wants with communication. What this typically means is ensuring that legal professionals are proficient in both digital and conventional communication methods, as well as the law firm itself is willing to adopt different forms of technology that make communication more efficient, such as a CRM and automation.
6. Difficulty Making Payments
It shouldn't be difficult for a client to make a payment to your law firm. If they have to drive to your office to make a payment or wait on hold for a representative to process their payment, it increases the chances that they'll put it off. After a while, the payment is either forgotten about entirely or paid late.
Perhaps one of the easiest ways you can increase your law firm realization rate is to make it easy for clients to pay their bills. Setting up your law firm to accept online payments is essential in this day and age. In fact, 66% of clients strongly prefer to make payments to law firms online. The key takeaway is that the easier it is for clients to pay you, the more payments you will receive.
Q&A
What is the Difference Between Utilization and Realization?
Utilization refers to how many hours a lawyer works in a day versus how many hours they actually bill for. For example, let's say an attorney works a full 8-hour day, but only bills for 2 of those hours in an attempt to keep the charges on a client's final bill lower. In this case, the attorney is only charging the client for 20% of the overall time they actually worked in a day.
Realization may seem similar, but it looks at the bigger picture with regard to billing for a legal matter. With the realization rate, the attorney's total number of billable hours for a legal matter is calculated (so we're not just looking at a day at a time), discounts or time write-offs are subtracted, and the result is divided by the number of billable hours to get the realization rate.
These metrics tell a story of how efficient an attorney is, and what profits a legal matter brings to a law firm.
What Are Some Factors That Affect Law Firm Revenue?
Common factors that may affect law firm revenue include:
Billing rates, whether you bill by the hour or use AFAs, and how your clients respond to those billing structures
Operating expenses, which include how much staffing costs, building maintenance costs, and technology costs
The ability of the law firm to collect payments
The amount of time a lawyer spends being productive versus how much profit that lawyer is generating (utilization rate)
Leverage, which is the ratio of non-partner staff to partner staff
How Can You Help Clients Understand Billable Time?
Clients should feel confident that what they are spending on a legal service aligns with the value they feel they're getting. Some ways you can help clients understand billable time include:
Educating them on the scope of the legal matter. When a client's understanding of value aligns with how much time and effort goes into handling a specific legal matter, it goes a long way in justifying the total cost.
Having a clear pricing structure for each legal service. Showing your clients the details behind legal matter pricing helps them understand why a lawyer prices the way that they do, and shows competency.
Setting out clear expectations on billing from the beginning. Clients often focus on the cost of the legal matter itself and don't consider correspondence like phone calls, emails, and texts, as part of the billing process. Be sure to set expectations on responses and how communications will be billed from the beginning to avoid confusion and frustration later on.
Conclusion
Like any business, law firms are concerned about how productivity and efficiency can affect their revenue, and so they use metrics like realization rate to measure how well they're doing with both. But getting realization rates "right" (or at least, where they translate to good profitability) has always been front of mind for law firms.
The billable hour has been a major contributor to low realization rates, with law firms and lawyers having to offer discounts or write off time to appease upset clients. On the other hand, lawyers also underreport hours to avoid upset clients and to keep bills reasonable, even when a legal matter takes longer and requires more effort than initially expected. This increases the realization rate, but isn't a sustainable way of doing business. Perhaps with more law firms moving to AFAs, we'll see less worry about meeting realization rates in the future.
If you've moved to AFAs or are planning to move to them soon, you'll need software to manage your pricing. AltFee is your one-stop shop for a collaborative pricing tool. Interested in learning more? Get a Demo today!
Start Earning More Revenue with Fixed Fees
Break free from hourly pricing and take the fear out of scoping and pricing client projects to start maximizing profitability.
Book A Demo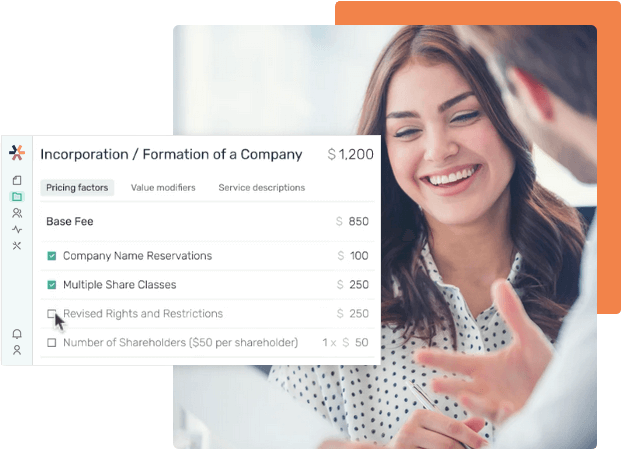 Newsletter Signup
Subscribe to our newsletter to receive the latest news.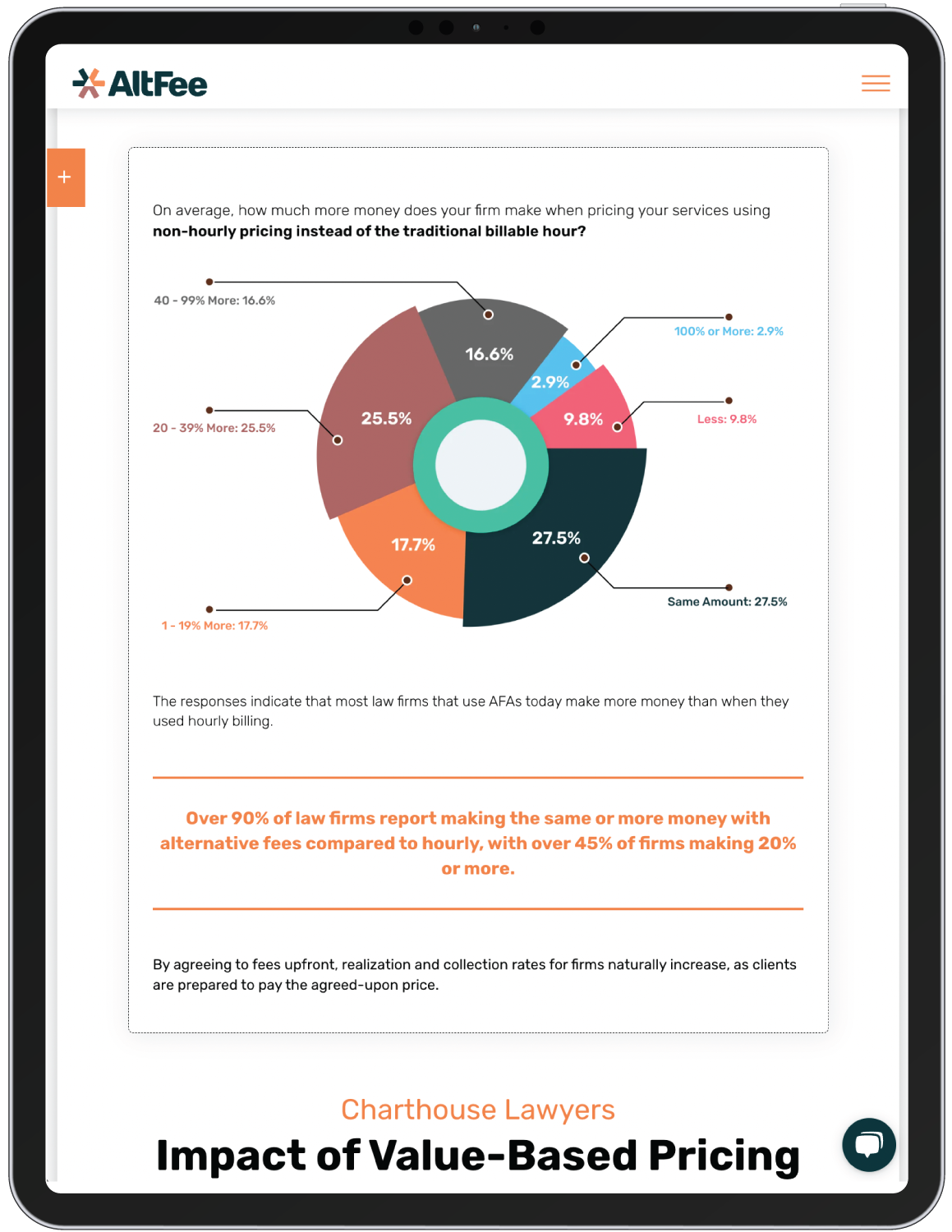 Legal Industry Pricing Trends Report 2023
Surveying legal professionals across the world, the report showcases how AFAs are contributing to increased profits for firms, better use of technology, and better work-life balance and working conditions for legal professionals.