Everything You Need to Know About Law Firm Billing
Ah, billing.
That magical time where you get to charge a client for the work that you did and get paid. Billing might not invoke feelings of excitement or give you an adrenaline rush, but it is obviously very important. After all, without billing, you don't get paid.
But of course, lawyers would obviously rather spend their time doing pretty much anything else rather than drafting up a bill (and who can blame them). Thankfully, through the power of technology and good policies, there are now ways to streamline the billing process to make it less like a task steeped in frustration and more like landing a perfect parking spot at the mall.
So strap in and let's go on a ride into the wild world of law firm billing.
What is Law Firm Billing
The way that a law firm charges clients for work performed is through its billing policy. However, even though law firm billing is critical to the firm's operations, it's often seen as an annoying task through a lawyer's eyes.
Even though billing is a necessary part of any lawyer's day, the amount of work that goes into billing can take more time out of a typical day than would be ideal. When a lawyer is taken away from the work they signed up to do (handle legal matters) to perform administrative tasks instead, it's not a great situation. Most lawyers would rather practice the law than handle billing, so it's important to have a clear billing process in place so it's easier and faster for lawyers to reconcile bills and move on to other tasks.
Law Firm Billing vs Pricing
Although pricing and billing go hand in hand, it's important to not confuse the two.
A law firm pricing structure refers to how it sets out the value for services provided before the work starts, and law firm billing refers to how it charges clients once the work is complete.
For example, let's say a law firm uses flat-fee pricing for the majority of the legal services offered. This is the law firm's pricing structure. Billing comes after the fact, when the services rendered are reconciled and a final bill is sent to the client to pay.
What is Upfront Pricing in the Legal Field
Consumer behavior has changed drastically over time, with people demanding transparency and price certainty with all goods and services they consume, and the legal field is no different.
Many law firms have already embraced alternative fee arrangements in an effort to provide the pricing certainty that clients are looking for, adopting pricing models like fixed fees over the traditional billing model. This means that upfront pricing is more common in law firms in general, with some even listing their base pricing for some services directly on their website. It's clear that the way that law firms approach pricing will be a major determinant of their success now and in the future.
Law Firm Billing Guidelines & Policies
Time is of the essence all the way through a client's matter, but when it comes to paying the final bill, suddenly things are at a standstill. It's a frustrating feeling for both the lawyer and law firm, as now the arduous process of chasing the money begins.
If this scenario sounds familiar to you, then you need clear billing guidelines and policies in place to help prevent it.
Your law firm's billing guidelines and policies are meant to set out expectations for how lawyers reconcile billing for clients, and make the overall process of billing easier, consistent, and efficient. The guidelines and policies that you set out for establishing your billing process are essential to ensure that everyone is on the same page and that clients receive consistent invoices.
To create a clear billing system for your law firm, here are some guidelines and policies that you can follow or adapt to your way of doing business:
Establish Billing Terms. Your law firm's billing terms should clearly outline the rules that everyone involved in the billing process needs to follow to ensure compliance. This means ensuring that any outside legal counsel understands how to properly submit invoices using the software that your firm uses, and/or follows the same billing structure that you use for services (e.g. flat fee billing for a service instead of billing by the hour).
Use Detailed Invoices. While you don't want your invoice to get too bogged down with fine print, it's a good idea to make sure that it clearly outlines the legal services performed, and provides a breakdown of charges (if applicable). This way, clients understand the why and how behind the bill they're receiving, reducing questions and concerns that the lawyer has to answer with regards to how the client was charged. Of course, some matters may be so straightforward that listing out each task is extra work that isn't needed to ensure a full understanding from the client's perspective. A good rule of thumb is to not leave out details that could enhance understanding of work provided, but not overdo it to the point where the invoice is cluttered with task after task.
Make Sure Invoices are Submitted in a Timely Manner. Timely invoice submission is essential not just for staying on top of your budget and accruals, but also for keeping your books as up-to-date as possible. Set out expectations on invoice submissions (e.g. every week or month), when you expect payment (e.g. within 60 days), what penalties there will be for late payments (e.g. a 15% fee for payments received after 60 days), and how you expect clients to pay for an invoice (e.g. online, by check, money order, etc.)
Set Out a Clear Invoice Review Process. Invoices may need to be reviewed before they are sent out for accuracy. For instance, if your law firm uses a standardized coding system such as LEDES, ensure that every code a lawyer uses in their invoice aligns with the work performed. In many cases, if the law firm uses LEDES codes, the process of reviewing invoices can be automated through software, namely a matter management system. Obviously, this would be done before a client is billed.
Outline How Resolutions Should be Handled. If discrepancies appear in any step of the billing process, there should be a policy in place that outlines how these discrepancies will be handled. This may mean client involvement or the involvement of a more senior legal professional at the firm in some cases, but the important thing is to set up a process where inaccuracies can be caught early and reconciled in as little time as possible.
Law Firm Billing Procedures
As your law firm builds its billing process, you'll need to outline a step-by-step procedure for executing each bill. Law firm billing procedures vary widely depending on the services offered, individual clients, and how they reconcile time with tasks completed.
Regardless of how your law firm bills clients, your procedure should follow the billing guidelines and policies that you set out in advance, and follow the goal of getting paid by clients faster and easier.
With this in mind, we've outlined some steps that you can follow to create an effective billing procedure for your law firm:
Track time or services effectively. Whether you're using alternative billing methods beyond the billable hour or are still tracking time for each task, having an itemized list of what you're billing the client for is the first step in crafting a final bill. Most law firms already use law firm billing software to handle this, so it should be fairly easy to keep your billable items straight for each client. LEDES and UTBMS codes are especially helpful here for keeping billable tasks clear and organized in an electronic system.
Use an invoice template. Having an invoice template on the ready to modify as needed is not only a big time-saver, but it also helps ensure consistency.
Create a timeline for when bills are to be sent. At the start of any attorney-client relationship, a clear timeline should be established that outlines when invoices are to be sent out, and subsequently the date they should be paid. This tells the client when they should expect to receive an invoice, and also sets them up to pay sooner rather than later.
Law Firm Billing Process
The law firm billing process is the result of your law firm's billing guidelines, policies, and procedures coming together to create step-by-step instructions on how to execute each bill.
While not specific to the legal industry, the order to cash cycle is a straightforward billing process that any business can follow, including law firms. The process described below has been modified to reflect the typical billing process that a law firm would follow if they use this process:
A client seeks legal services through your law firm, and a lawyer documents what they need to be accomplished. The lawyer also sets out expectations with regards to how the legal service will be handled, when and how the client will be updated throughout the proceedings when the client will be billed and how, and more with an agreement.
The lawyer gathers information and resources and conducts research to start handling the legal matter. Throughout this process, they also update the client on any changes to the scope of the initial project if applicable, as this may change how the client is billed.
The lawyer handles the legal matter.
An invoice is created and sent to the client.
The client pays their invoice according to the terms set out in the agreement.
The payment is recorded in the law firm's books.
Challenges with Law Firm Billing
It's clear that law firm billing is wrought with challenges. Clients may not pay invoices on time, causing issues with book balancing and accounting, and causing frustration among team members as they struggle to build their own individual processes since the law firm's current one isn't working.
Sometimes it helps to outline the common struggles that all law firms face with billing so that these issues can be identified and resolved within your own law firm.
Collections
Under the traditional billing model, clients are often surprised by the final bill amount, which in turn causes issues with receiving payments. Lawyers usually resort to negotiations, but those aren't always fruitful and bills still end up in collections.
Collection rates are one of the key metrics used to evaluate law firm performance. It's a measure of a lawyer's hard work transferring to revenue for a law firm. One of the key areas that have been proven to help increase client payments is whether the law firm offers online billing, but another factor is AFAs.
There is growing evidence that shows significant revenue growth for law firms that adopt an AFA pricing model, such as with DL&Co, which increased their collected to billed fees ratio by over 7% by switching to AFAs. And it makes sense: when a consumer knows how much a bill will be before they agree to a service, then they'll be more inclined to pay it. Decreasing the potential for a bill to be sent to collections benefits the law firm and the client, which is one of the major reasons why more and more law firms are exploring alternative pricing.
Too much administrative work vs. legal work
Even though lawyers don't like to do it, administrative work is an evitable part of the job. Obviously, there are tools out there that can help with this work, such as legal billing software, but you have to consider how this tool fits in with your current billing process, and what improvements could bring.
For instance, let's say one of the most time-consuming administrative tasks your lawyers face is invoice creation. It requires them to correctly reconcile the time spent on a legal matter with any existing fee arrangements, including the scope of work adjustments, flat fee billing, and more. With so much data needing to be gathered and calculated, it's no wonder that average realization rates are still lower than they should be.
There are a few ways that billing can be improved using AltFee's software:
First, if you don't already use alternative fee arrangements, it's absolutely time to make the switch. When you have clear pricing models for different legal services that don't focus on time tracking, it's so much easier to create a bill. Consider this: software that lets you collaborate with other legal professionals to set out the best pricing for a particular service, and itemize each billable task with a price attached. You can accomplish all of this with AltFee.
Once you've done that, you can save your work as a template and use it as a starting point for pricing out the services for future clients that are looking for similar services. Internal stakeholders can also leave comments and feedback as necessary.
When a final bill is ready for a client, it's easy to export and send directly to the client digitally in any way you wish. This helps keep realization rates in check and helps keep bills sent in a timely manner.
Finally, you can use law firm billing and matter management software (such as Rocket Matter or Clio) to reconcile your price sheet, time tracking (if applicable), timeline and scope changes (if applicable), and more to create a final bill.
Obviously, this is a high approach to how the right software can reduce and streamline administrative work, but the point remains that law firm billing can be vastly improved by using the right software.
Start Earning More Revenue with Fixed Fees
Break free from hourly pricing and take the fear out of scoping and pricing client projects to start maximizing profitability.
Book A Demo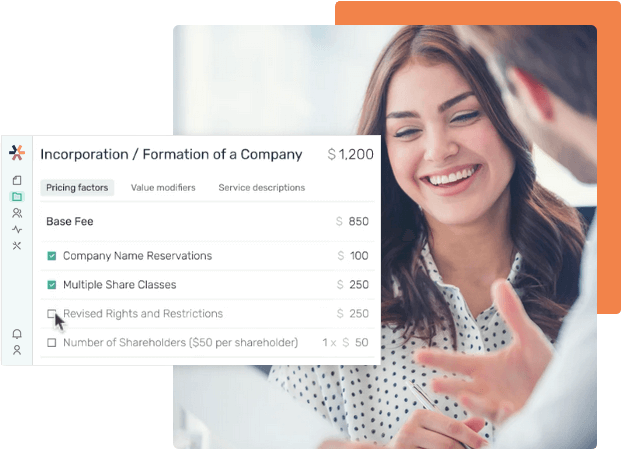 An inefficient or unclear billing process
We've discussed how to create a streamlined billing process in previous sections of this article, and that's because an inefficient or unclear billing process can cause a lot of problems with receiving payments at your law firm. When lawyers and legal professionals at your firm don't understand or can't make sense of your firm's billing process, it's likely that they'll bypass it and just create their own. After all, clients need to get billed, and lawyers need to get paid. What this creates is inconsistencies with billing, since one client might get a completely different bill with one lawyer compared to another. Even if your lawyers do try to follow your unclear billing process, there are likely to still be inconsistencies with how they interpret each step.
That's why written law firm billing guidelines and policies are so important. If you follow the steps outlined in the previous section on law firm billing guidelines and policies, you can start creating this document immediately.
Poor time management
IIf lawyers are spending big chunks of their day handling bills, then it begs the question, "are they spending their time effectively?
The answer, if you ask the lawyers directly, will likely be no. After all, they got into the legal profession to practice the law, not spend time with administrative tasks like billing. If you're using alternative pricing for your law firm already, then chances are that the problem with time management lies mostly in your billing process. These days, law firm billing software can automate a lot of your billing tasks, and even provide a platform for you to accept payments. This means no more checks or processing of credit cards over the phone. Instead, you can accept online payments. Sure, it might cost a bit extra since the payment provider always charges the business a percentage for every payment, but it's definitely worth it to give your clients the convenience they expect.
If you're still using the traditional billable hour, then the inefficiencies with time management are likely more to do with time tracking than anything else. It's no secret that many lawyers that still work on an hourly basis work many more hours than they actually bill out to a client, so that would need to be the first thing you should address. Good time tracking software can help, but it's always a good idea to consider switching to alternative fee arrangements, if not to propel your law firm into the future, but to save the sanity of your lawyers and clients.
3 Law Firm Billing Solutions
We hinted at a few legal billing solutions in the last section, but let's go into more detail about how these solutions can actually make a difference in your law firm's billing process.
1. Alternative Fee Arrangements Software
AltFee is software that was built from the ground up by lawyers to help you manage your alternative fee arrangement types. Through a comprehensive, collaborative-focused approach, the tool helps you create, manage, and adjust your pricing for each and every matter, and customize them for each and every client. Once you have pricing set out for a client matter, it'll be much easier to bill them for it in the future.
2. Law Firm Billing Software
Once you have your pricing figured out, you can use billing software to greatly streamline your billing process. Automations can create client invoices at the click of a button, or reconcile trust accounts before they are sent to the accountant. Law firm billing software can also allow you to accept payments and easily create consistent invoices.
3. Time Management Software
Just because you're using alternative fee arrangements doesn't necessarily mean your law firm isn't tracking time at all, so time tracking software is still an option. Alternatively, if you're still using the hourly billing model, then good time tracking software is essential. Some matter management software comes with built-in time tracking (PCLaw is one example) but other options can be used, such as Harvest. Even staff that don't handle clients should consider tracking their time to ensure efficiency with the law firm's operations. Effective time tracking also helps you see where the biggest time sucks in your law firm exist, so you can address them accordingly.
Additional Law Firm Billing Best Practices
Here are some more law firm billing best practices that you can follow to ensure that your law firm's billing process is the best it can be:
Have a written billing policy
This might seem obvious, but it's easy to forget that a clear written billing policy as a reference is important, even if you implement law firm billing management software. Determine your billing process, including what each legal professional in your firm is responsible for. Create a timeline for invoice review and approval, and when invoices should be sent to clients. Write everything down or use a tool like Confluence to track all your policies in one place.
Determine your billing options
How are you going to accept payments? These days, most clients want to be able to pay their bills online, so it's important that you set up your payment process to support what your clients are looking for. Because online payments are so convenient, you'll likely find that clients pay their bills faster than before once you implement them.
Ensure compliance with industry billing standards
Jurisdictional rules and regulations guide how law firms are able to conduct business. It's important to know how these rules affect how you should bill clients. For example, in California, processing fees attached to online client payments must be listed by the firm as a separate transaction, but most online credit card processors incorporate the fee into the transaction.
Some legal billing software has recognized this problem and set up the system to automatically bill the processing fee from the law firm's operating account, meaning the client doesn't see that fee on their final bill.
Use billing software to streamline your billing process
Law firm billing software can work wonders for streamlining your overall billing process. With the ability to automate much of the billing process, including automatically reconciling legal matters with billable codes, billing software saves everyone in your law firm time and money.
Conclusion
Effective law firm billing takes time and careful planning and consideration to get right. Being able to effectively reconcile the time it takes to handle a legal matter, project, or case, and translate that work into a final bill that you can confidently present to the client has been a contention point for lawyers for decades.
Modern ways to handle pricing, like alternative fee arrangements, are working overtime to shake up the law firm billing game. The billable hour is no longer an effective way to charge clients, as they are increasingly demanding price certainty and transparency with billing.
You are committed to your clients and want to showcase that commitment to them in every aspect of your relationship, including the billing process. That means being able to provide clear and value-driven pricing for legal services from the beginning. If you already use alternative fee arrangements or are thinking about switching to them, then you'll need software to manage them.
AltFee helps you not only set out pricing but provides a platform where you can collaborate with other legal professionals on that pricing in one place. Interested in learning more? Get a demo today!
Start Earning More Revenue with Fixed Fees
Break free from hourly pricing and take the fear out of scoping and pricing client projects to start maximizing profitability.
Book A Demo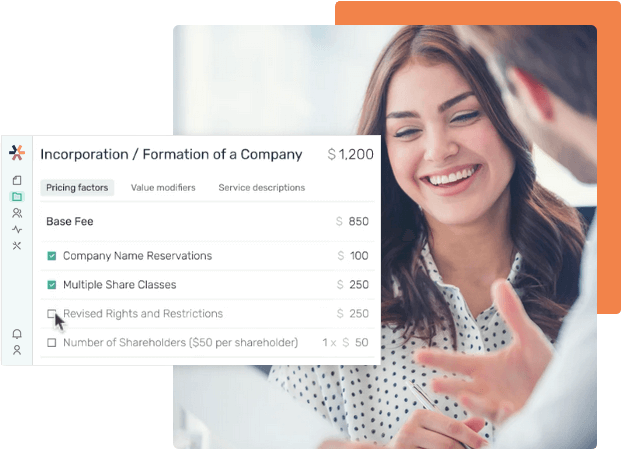 Newsletter Signup
Subscribe to our newsletter to receive the latest news.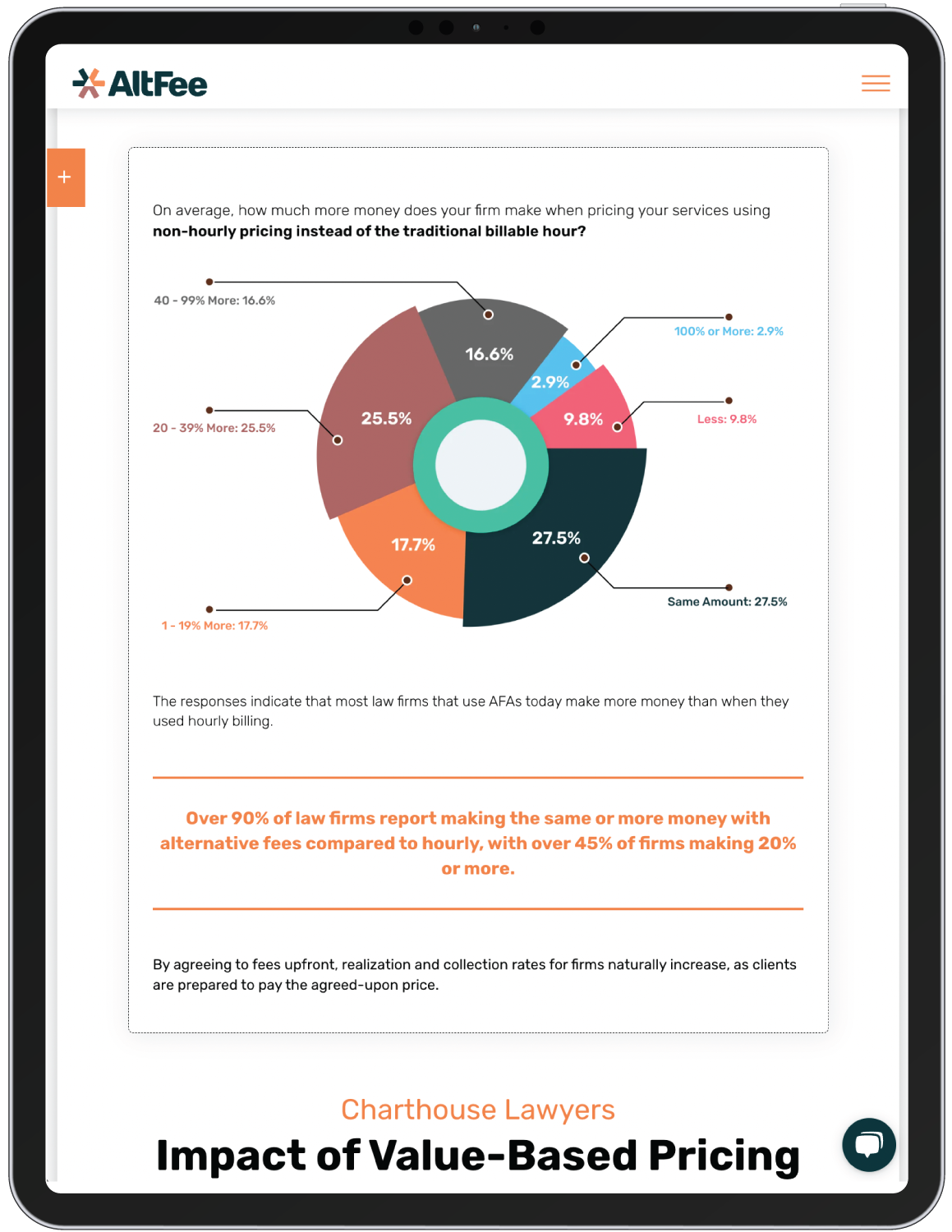 Legal Industry Pricing Trends Report 2023
Surveying legal professionals across the world, the report showcases how AFAs are contributing to increased profits for firms, better use of technology, and better work-life balance and working conditions for legal professionals.