A Complete Guide to Alternative Fee Arrangements
The billable hour has been hanging on for dear life in the legal industry for decades. But both lawyers and clients are starting to see the light at the end of the tunnel.
The truth is, the billable hour no longer supports the needs of today's legal clients. Clients are increasingly asking for better access to legal services, including more transparent pricing, better communication with their lawyer, and an overall commitment to a positive client experience.
These days, words like "a better client experience," and "client-centered law firm," are much more than just buzzwords, they are essential for the success of law firms today.
That's where AFAs, or alternative fee arrangements, come in. They are one example of an essential step in the right direction and have already been adopted by forward-thinking law firms that want to provide better client experience and better working conditions for their legal professionals.
These factors — with AFAs at the center — often result in an overall more efficient and profitable law firm. That's a big reason why, according to a recent Bloomberg survey, 84% of law firms use some form of AFA for their services.
You're here because you want to learn more about alternative fee arrangements, and we've got you covered.
Definition of Alternative Fee Arrangement
At its core, an alternative fee arrangement refers to pricing for legal services using anything other than the traditional hourly billing model. For decades, the hourly billing model was really the only way that law firms and solo practitioners would charge for legal services. However, with more and more firms seeing the benefits of running a client-centered law firm, the adoption of AFAs is becoming increasingly common for law firm pricing.
What is AFA?
Common AFAs that you might see out in the wild include subscription-based, capped fees, flat fees, success fees, and more. These are all examples of alternative billing service fees that differ from the traditional hourly model.
Why are Law Firms Moving to AFAs?
The legal industry is experiencing a major shift away from traditional practices in several aspects, including embracing cloud-based technology and providing more transparent and client-centered experiences. A big part of this shift, and one that supports the other two shifts mentioned, is a change in how legal services are billed.
A 2021 survey by Bloomberg Law found that the majority of law firms surveyed switched to AFA-based flat fees because their clients simply demanded it. This trend is consistent with what other legal reports have found, with Clio's 2020 Legal Trends Report noting that 78% of consumers want lawyers to adopt pricing or payment models that make legal services more affordable, but they are careful to note that affordability should also align with value (in other words, a legal service doesn't need to be cheap to be considered affordable if it provides enough value in the client's eyes). Clients are no longer happy with accepting uncertainty with legal services pricing, and AFAs are the logical solution to that.
But it isn't just about client happiness, alternative billing also supports better working conditions for lawyers and other legal professionals. The billable hour doesn't just encourage inefficiency with things like time reporting, it often leads to lower realization rates because lawyers are forced to give discounts or misreport total hours spent on a client matter to pacify unhappy clients.
With AFAs, lawyers can confidently present pricing to clients, and not have to reduce their fees or lower reported hours to get bills paid.
To support a move to AFAs, law firms should adopt a collaborative pricing tool that helps their legal professionals manage multiple pricing strategies. AltFee is a tool built from the ground up by lawyers, for lawyers for just that purpose. With AltFee, it's easy to include every necessary stakeholder for pricing different projects to land on the best pricing structure.
Start Earning More Revenue with Fixed Fees
Break free from hourly pricing and take the fear out of scoping and pricing client projects to start maximizing profitability.
Book A Demo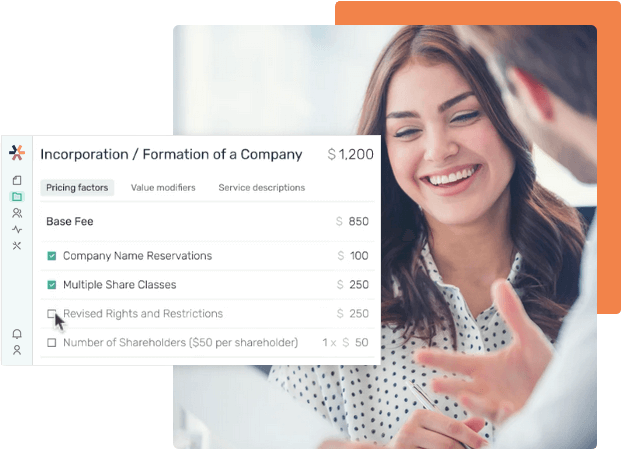 9 Types of Alternative Fee Arrangements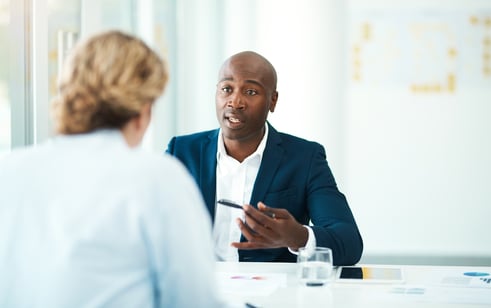 There is definitely no shortage of reasons why a law firm would want to move to an alternative billing service model, but doing so does require careful consideration of how to match the price and value for each legal service.

This gave rise to different types of commonly used alternative fee structures. It's important to note that you can price your legal services in any way you wish, as long as it makes sense and works for your law firm and your client.
Let's take a comprehensive look at the different types of AFAs that you could potentially implement for your law firm.
Subscription Or Periodic Fee
Subscription or periodic fee models have been adopted by some law firms, where they charge a monthly or annual fee to a client in exchange for a set of services. The number of services and what exactly is included in the client's subscription is set out in advance to match the law firm's capacity and the client's needs.
Here's an example:
Let's say a real estate client needs regular contract reviews to ensure that the information included is accurate and worded correctly. This client would benefit from being charged a subscription or periodic fee so they can have regular access to a lawyer to handle these matters as they come about.
Fixed or Flat Fee
With a fixed or flat fee arrangement, the legal service is simply billed at a set price. In other words, it's a set price that's charged for a single matter that has a clear scope of work.
Here's an example:
Let's say a client wants a lawyer to draft a basic Last Will and Testament. Because the lawyer knows how long this task will take and how much effort is involved, they can charge the client a flat fee for drafting the document.
Portfolio Fixed Fee
This type of fee arrangement is typically reserved for larger businesses that need a number of legal matters to be handled at one time. The overall thought process behind the pricing works the same as a typical flat fee structure, where the client is billed a set amount based on the scope of legal work.
Here's an example:
A large corporation needs a lawyer to handle a number of legal disputes, so they hire a lawyer that charges a fixed fee so the total cost of the service is known in advance.
Staged or Phased Fee
A legal matter is divided into stages or phases, where the client pays a predetermined fee when a stage or phase in the legal matter is complete. Each phase may have the same or a different fee, depending on what the legal matter is as well as the scope of work for each stage.
Here's an example:
Let's say a client has an ongoing lawsuit. For each completed phase of the lawsuit, the client pays the lawyer a fee. However, the lawsuit ends up not going to trial, which was one of the phases outlined in the original scope of work. Because this phase didn't occur, the client doesn't need to pay the fee for this phase.
Contingency Fee
A contingency fee is a set percentage that the lawyer receives if the outcome of the legal matter is successful. The definition of success is predetermined and agreed upon by both the client and lawyer.
Here's an example:
A client has a litigation case where the lawyer is confident that they can win the case successfully. If they do, they receive a percentage of the client's compensation.
Fee Collar
With a fee collar, also known as a collared fee, the client and the lawyer agree to a specific fee in advance, along with a percentage that the lawyer has to go over or under with their total time spent in order for that fee to change. If the lawyer's total hours fall within that percentage, then the initial agreed-upon fee is paid. But if the percentage of hours spent is significantly less than predicted, then the savings are shared between the client and the lawyer. But if the hours exceed the percentage, then the lawyer is only paid a percentage of the excess amount.
Here's an example (Law Technology Today):
A client and lawyer agree to a $10,000 fee with a 20% up and down collar. If the lawyer's billable time stays between $8,000 to $12,000, the final fee for the client will remain at $10,000. If the lawyer only works $6,000 in billable time, then the $2,000 difference is split between the lawyer and client, and the client receives a $1,000 credit, leaving the final fee paid by the client at $9,000. If the lawyer works $14,000 in billable time, the lawyer is paid 50% of the amount over the $12,000 collar, meaning the final fee is $11,000.
Unbundled Legal Services
Sometimes clients require legal services but can't afford to pay for every service they may require. In this case, unbundled or limited legal services can be offered as a potential solution for these clients. With unbundled services, a client can pick and choose the most important services taken care of by a lawyer, and handle the rest of the legal matter themselves. However, it's important that the client is completely informed about their specific legal matter and that they understand what their role is and what the lawyer's role is in the matter.
Here's an example:
Let's say that a client wants a legal review of a specific document. No adjustments, just a review to ensure the content is correct. If a law firm offers unbundled legal services, a lawyer can complete that review and bill a flat rate for it rather than charging the client the cost of an entire review (which would include edits, advice on adjustments to language, etc.). This means that the client is only paying for the service that they require, and the lawyer is only providing the service that the client asks for, saving the lawyer time and the client money on legal fees.
Sliding Scale Fees
This type of alternative fee structure is based on a client's ability to pay. A sliding scale fee considers external factors that might affect a client's budget, like income and family responsibilities, and leads to the client paying lower rates. Sliding scale fees exist in an attempt to increase access to justice so that more people can receive legal help.
Here's an example:
A client needs legal help with regard to a dispute with their landlord. Taking their income level into consideration, you charge them a base rate of $50 instead of your standard rate of $200.
Success Fees
With a success fee, the law firms receive a bonus payment if the previously agreed upon definition of a successful result is met or exceeded. This bonus is usually a percentage of the result that is set out in advance.
Here's an example:
Let's say a lawyer agrees to take on a lawsuit case at a discounted rate because there's a good chance of a favorable outcome. The client and lawyer agree that if the case is won, the lawyer will receive 30% of the total monetary result. But if the case is lost, then the lawyer receives nothing.
Pros and Cons of Alternative Billing Arrangements for Lawyers
The benefits of alternative billing arrangements for lawyers are plenty, especially when we're talking about building a client-centered law firm. However, like any fee structure, there are pros and cons to consider. Let's compare some of the alternative fee arrangements discussed in the previous section in the following table:
| | | |
| --- | --- | --- |
| AFA Type | Pros | Cons |
| Subscription or Periodic Fee | Gives the client access to a variety of legal services for a set fee | Careful attention needs to be paid to scope of projects to ensure they stay within the subscription terms (or additional costs are added as necessary) |
| Fixed or Flat Fee | Simple to explain and calculate, great for straightforward projects | Only works for matters that have a clear scope of work |
| Portfolio Fixed Fee | Provides an easy way to bill a business or organization for a straightforward legal matter | Like the regular fixed fee, it only works for legal matters where the scope of work is clearly defined, and the lawyer must be careful to not go outside of that scope |
| Staged or Phased Fee | Helps break up matters that have a large cost, and encourages regular payments when milestones are met, increasing matter realization rate | If a stage or phase of a matter isn't completed or up to the client's liking, then payment may be delayed as well as the start on the next phase |
| Contingency Fee | The client only pays if the legal matter has a successful outcome | The lawyer or firm assumes all risk, and needs to be mindful of the chance of a legal matter being successful before agreeing to this fee arrangement |
| Fee Collar | Encourages efficiency — the less time needed to complete a matter the better | Time spent is still used as a guiding principle |
| Unbundled Legal Services | The client only pays for what they need, and the lawyer only performs the work that needs to be done | The client may not fully understand their legal issue, and limiting services actually hinders the client more than it helps them |
| Sliding Scale Fees | Increases access to legal services | The lawyer makes less money |
| Success Fees | May result in more overall earnings even with a discounted rate and aligns interest between the client and law firm (on the same team) | The lawyer assumes more risk with the case in terms of earnings |
The most important thing to keep in mind is that different fee structures will work better for different legal services. Most forward-thinking law firms use a value based pricing strategy to inform how legal services will be billed, which means that the best alternative fee structure will be chosen to fit the specific needs of the client as well as the legal matter.
Alternative Fee Arrangement Success Stories
Even with all the benefits of AFAs we've listed so far in this article, it's important to acknowledge that change can be difficult, especially when the traditional hourly billing model has been a staple in the industry for decades.
But the truth is that many law firms have seen success with using alternative legal fee arrangements for happier legal professionals and clients, and there are many real-world examples of that fact.
Here are just a handful of law firms that prove it's worth it to embrace an AFA model:
Law Squared
As a NewLaw firm (which just means a law firm that challenges the traditional way of operating) Law Squared was founded in 2016 in Australia with the idea that it can prioritize employee culture and client relationships while still being successful.
Law Squared's entire philosophy behind its operations revolves around employee culture and the value they can provide for their clients, and this is reflected in their "cluster" model. The idea behind this model is that lawyers are competent in an area of law as well as their overall decision-making and leadership skills, rather than entirely on their experience as a lawyer. The result has been more collaboration, a feeling of empowerment among legal professionals at the firm, and an increased focus on doing the best work for clients.
This relates to the entire philosophy behind the AFA model — shifting the focus that the majority of dollars are earned by simply charging clients more based on experience or tenure, and instead of charging based on the value provided. And it's definitely worked for them: since opening in 2016, they've grown to 35 team members and have opened a new office, and work with a variety of ASX (Australian stock exchange) listed entities as well as multinational clients.
Bowers Law
As one of the only law firms in Hong Kong to completely eliminate hourly rates and hourly billing, Bowers Law is a pioneer of AFAs in the country. They calculate their fees based on the perceived value that their clients place on their legal services, not how long it takes their lawyers to perform the work. Bowers Law primarily uses fixed and staged fees as baselines for pricing its legal services. Through this, they give their clients more value for their money, increased price certainty, and mutual shared risk with legal matters and cases.
Lynn & Brown Lawyers
Based out of Perth, Lynn & Brown Lawyers offers a wide range of legal services through agreed-upon fixed pricing, which means that the client and the lawyer agree to a price before the legal services even start. This provides no surprises, and cost certainty to clients. They even have a refund policy if the client feels the value that they received didn't align with the price they paid.
While the other law firms on this list are newer, Lynn & Brown has actually been around since 1995, meaning that they've been challenging the status quo for a long time with great success.
Aptum
​​
Aptum is comprised of highly experienced legal professionals that focus on resolving commercial disputes, from professional negligence, shareholder and partnership disputes, property litigation, and more. Their approach to legal services is completely client-focused, meaning that they embrace pricing transparency by offering value-based, fixed-fee pricing for their legal services. This pricing strategy alongside a client-first approach has proven to be very successful for Aptum, as the firm itself has won multiple awards alongside its lawyers related to innovation and excellent client experience.
Goodwin Law

Goodwin Law is a huge law firm with offices around the world that provide legal services for corporate, litigation, regulatory, and more. Their legal professionals have over 25 years of combined experience revolutionizing legal pricing. Their approach to legal services is similar to the other law firms on this list, with a client-focused philosophy that guides their pricing as well as their relationships with clients. They work closely with each client to establish a pricing structure that works for the project, focusing on risk-sharing and mutual agreement.
Conclusion
Today's lawyers don't want to be overworked with a reputation for being money-hungry, they want to show their clients that they have their best interests at heart while still communicating the value they provide to said clients.
Law firms that adopt AFA pricing models have clearly done so because of the benefits different pricing models provide, including providing a better client experience, better working conditions for their legal professionals (reducing turnover and burnout), increased efficiency with overall business operations, and of course, more profitability.
Increasingly savvy clients are also gravitating toward law firms that offer alternative fee structures because of pricing transparency and cost certainty, something that can't be provided by a firm that sticks to the hourly billing model.
If your law firm is ready to embrace the AFA model, you'll need software to help you effectively manage it. AltFee provides an easy-to-use, collaborative solution to managing your AFAs that can get your firm on the fast track to success to happier clients.
Discover what AltFee can do for you today.
Start Earning More Revenue with Fixed Fees
Break free from hourly pricing and take the fear out of scoping and pricing client projects to start maximizing profitability.
Book A Demo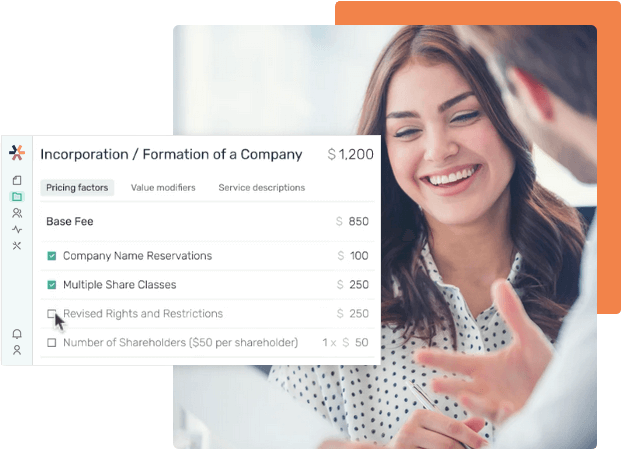 Newsletter Signup
Subscribe to our newsletter to receive the latest news.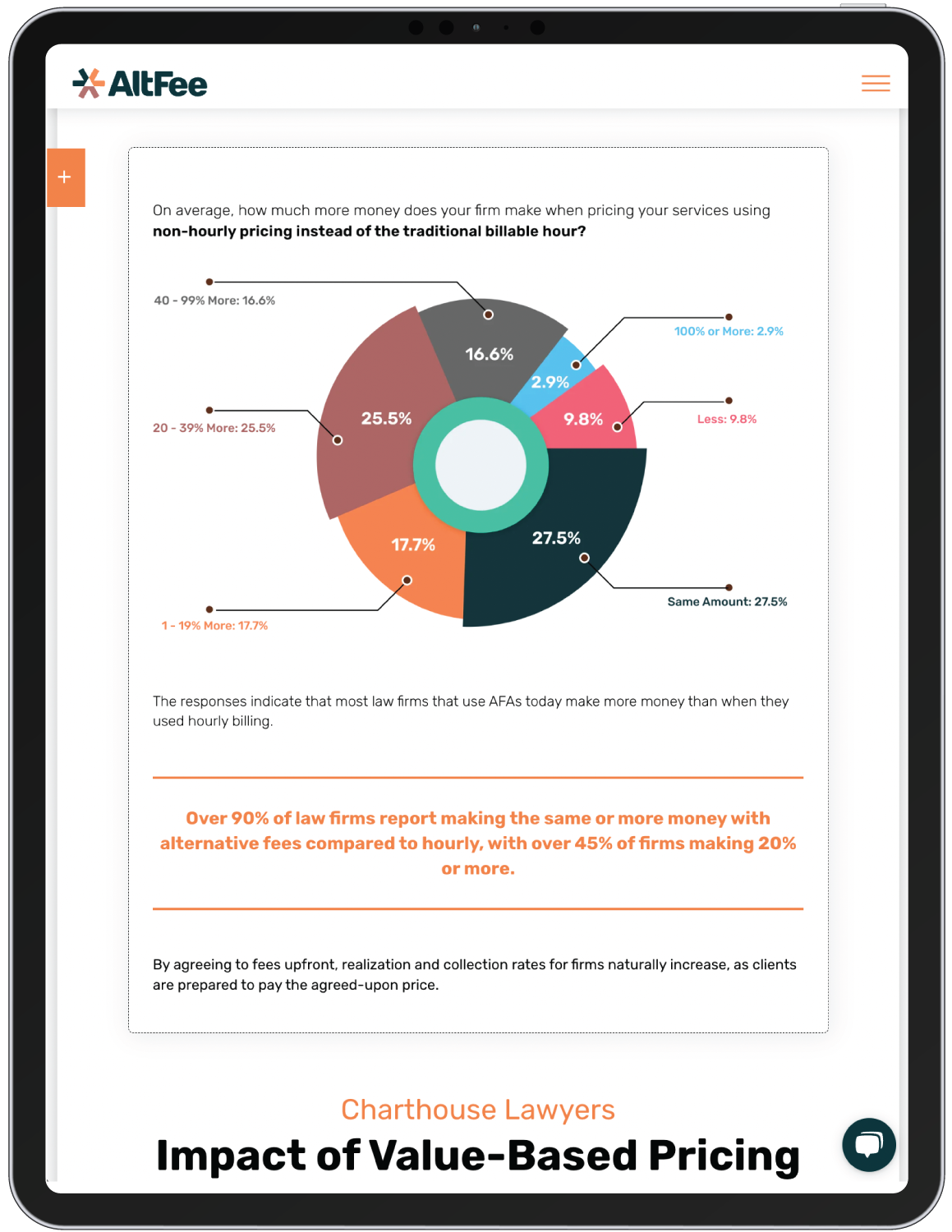 Legal Industry Pricing Trends Report 2023
Surveying legal professionals across the world, the report showcases how AFAs are contributing to increased profits for firms, better use of technology, and better work-life balance and working conditions for legal professionals.