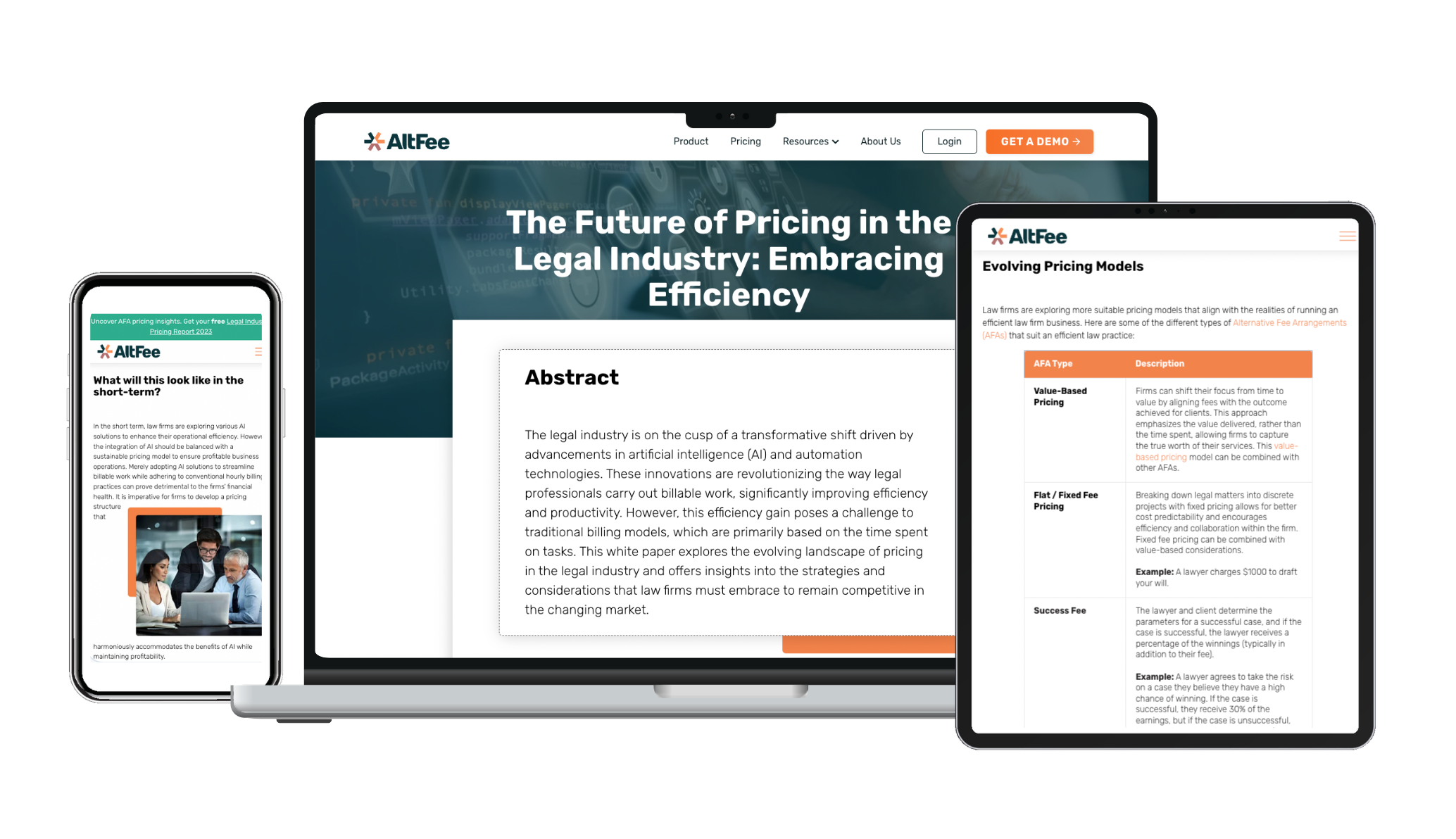 AltFee Presents:
The Future of Pricing in the Legal Industry: Embracing AI + Efficiency
The legal industry is poised for a significant transformation fueled by AI-driven efficiency gains. In this White Paper we'll uncover how:
Law firms should balance AI integration with sustainable pricing models to future-proof profitability.
AI and automation are revolutionizing the legal industry, making billable tasks more efficient.
The roles within law firms will change as efficiency-focused technology adoption increases.

Get Your Free White Paper
AltFee is committed to protecting and respecting your privacy, and we'll only use your personal information to administer your account and to provide the products and services you requested from us. From time to time, we would like to contact you about our products and services, as well as other content that may be of interest to you. You may unsubscribe from these communications at any time. For more information on how to unsubscribe, our privacy practices, and how we are committed to protecting and respecting your privacy, please review our Privacy Policy.

approximately
44%
of current legal tasks could be automated by AI1
82% of lawyers believe that ChatGPT and generative AI can be readily applied to legal work2
51%

of lawyers believe that ChatGPT and generative AI should be applied to legal work2
Embrace Efficiencies and Future-Proof Your Firm's Pricing Strategy
The legal industry is undergoing a transformative shift through AI and automation, enhancing efficiency. This challenges traditional time-based billing models, leading law firms to explore alternative pricing strategies that align with AI-driven productivity. These strategies include value-based pricing, fixed/flat fees, staged pricing, subscription models, and more. As AI's role becomes more established, law firms should balance technology integration with sustainable pricing models while communicating with clients about the value of AI. Adapting to this evolving landscape enables law firms to position themselves as leaders, delivering value, maintaining profitability, and fostering stronger client relationships.
FIRMS AROUND THE GLOBE
CHOOSE ALTFEE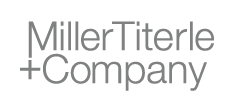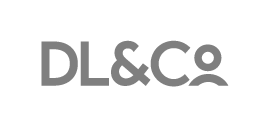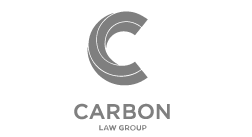 Who is AltFee?
We recognized that law firms need a pricing tool that provides knowledge management and collaboration to make managing AFAs easy and efficient. Drawing on our team's over 60 years of combined legal experience within the legal industry, AltFee was born.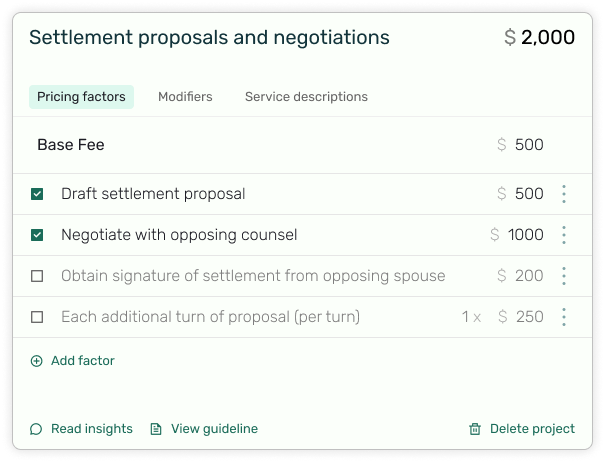 Price with Confidence
Apply the software's pricing analytics in your strategy to create and optimize your pricing templates.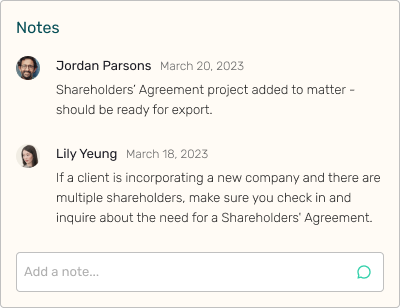 Collaborate with Your Team
Built-in comments and notifications allow you and your team to optimize your pricing strategy in one place.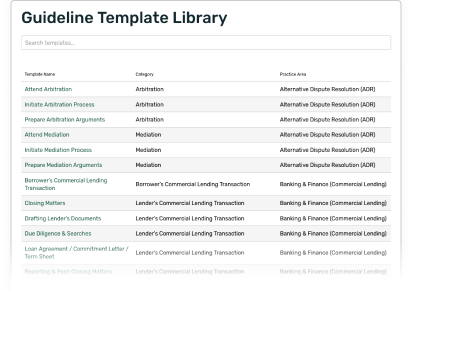 Stay Organized
Straightforward navigation and customizable guidelines mean that client matters and templates are kept separate while still being easy to find.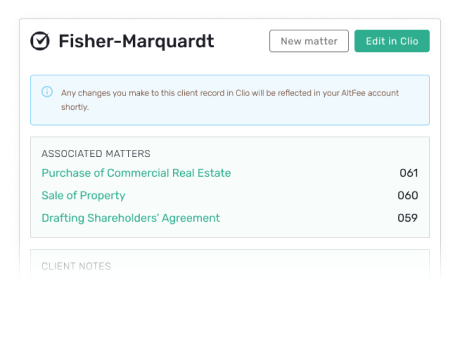 Connect with Clio
Client information that's updated in Clio automatically updates in AltFee, so you can be sure you're always working with the latest data.
1Jan Hatzius, Joseph Briggs, Devesh Kodnani, Giovanni Pierdomenico, "The Potentially Large Effects of Artificial Intelligence on Economic Growth (Briggs/Kodnani)", Goldman Sachs Economics Research (March 26, 2023) online: <https://www.ansa.it/documents/1680080409454_ert.pdf>.
2New report on ChatGPT & generative Ai in law firms shows opportunities abound, even as concerns persist", Thomson Reuters (April 17, 2023), online: < https://www.thomsonreuters.com/en-us/posts/technology/chatgpt-generative-ai-law-firms-2023/>.