Considerations for Picking the Best Legal Document Automation Software
Lex est quod notamus. The law is what we write down. This motto of the Chamber of Notaries of Paris underscores how critical accurate, error-free documentation is to the legal profession. Which means that even in the modern law firm, some of the brightest legal minds spend a disproportionate amount of their time painstakingly creating mundane, repetitive documentation. While this may have been a necessity in Napoleonic-era France, in the modern law firm, it is not just inefficient, it also introduces the possibility of errors in documentation, thereby threatening the very foundation of the law—the written word.
This is where legal documentation automation software for law firms helps.
What is Legal Document Automation Software?
Legal document automation software helps automate the process of creating legal documents by building customized templates based on your existing documents. These templates can then be saved for future use, saving time spent on creating documents from scratch.
While there are many different types of legal document automation systems, they all have three basic features in common:
A user interface that collects input variables in the form of questionnaires
A library of predefined legal templates which can be customized for the end user's needs.
The ability to export documents as Word files or PDFs.
Types of Legal Document Automation and Management Systems
Legal document automation and management systems are usually classified into two types depending on their capabilities:
Standalone legal document automation software
Practice management software with document automation capabilities
| | |
| --- | --- |
| Standalone | Practice Management Software with Document Automation |
| Only provides document automation service | Provides end-to-end legal practice management services including billing, case management, and document generation |
| Needs integration with other applications for performing most other necessary legal functions | Requires integration with other apps for additional services such as pricing under alternative fee arrangements (AFAs) |
| Typically provides more legal document management functionality, such as boilerplate contract terms, template creation, and more | While it may provide document automation functionality, overall features in this area may be less because the software is focused on practice management first, document automation second |
| Costs comparatively less | Costs more than standalone document automation software, but with added functionality in other areas of legal management |
How Can a Legal Document Assembly Software Help Law Firms?
Nearly 54% of respondents in a KPMG legal benchmarking survey reported building document automation capabilities as their topmost priority for the immediate future. Another 55% reported building efficiencies in information extraction from documents as their topmost priority.
Across legal, firms of all sizes are experiencing increased demand for legal services, according to the recent 2022 Legal Trends Report by Clio. Being able to manage more clients through making operations, such as legal document creation and approval, more efficient helps law firms in all areas of legal practice meet this increased demand.
This highlights a growing awareness of the importance of legal technology solutions like legal document assembly and automation software has for making law firms and legal services more efficient.
Key benefits of document automation software include:
Time Efficiencies
Document assembly software puts all the necessary information in one place so no additional research is required by lawyers or other staff members. This saves time and helps ensure that documents are accurate and complete.
This also reduces the amount of time it takes to create legal documents because there are fewer people involved in the process.
Reducing Errors
Automation reduces human error. The software will do all the work of gathering documents, extracting information from them, organizing it in a way that is easy for lawyers and staff to access, and helping to automatically fill out forms. Since there is very little manual effort involved in the creation of the document, the margin for error is greatly reduced.
Streamlined Workflows
The use of legal automation software also allows firms to keep track of their files in a more organized manner which increases efficiency and saves time. By being able to easily search through their files and find what they need, lawyers save time and work more efficiently.
Increase Collaboration
A legal document may involve multiple stakeholders and require numerous sign-offs. The traditional wet signature sign-off process is cumbersome since a client would have to physically be present in order to sign the document, meaning they have to take the time to travel to the law firm, or the lawyer has to meet with them in a different location. This process can delay legal services from taking place sooner, and halt a project from continuing until that signature is secured. With legal document creation software, stakeholders can collaborate on a document in real time and sign electronically, allowing business to resume as quickly as possible.
Start Earning More Revenue with Fixed Fees
Break free from hourly pricing and take the fear out of scoping and pricing client projects to start maximizing profitability.
Book A Demo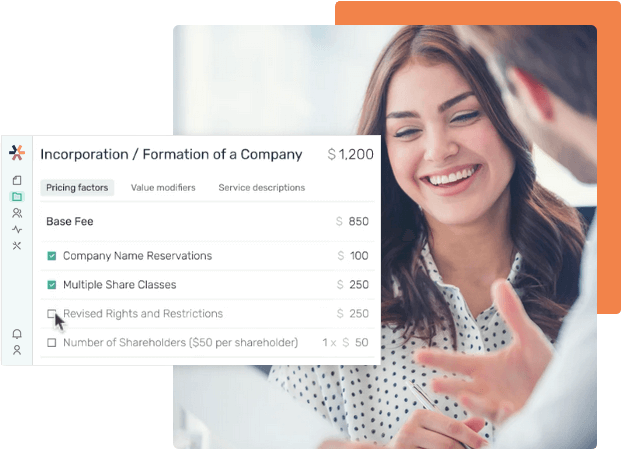 Considerations for Best Document Automation Software for Law Firms
Good legal automation software does not come cheap. Before investing in a good document automation software, law firms need to draw up a checklist of considerations. These include the following:
What is the Setup Process, User Interface, and User Experience Like?
The setup process of a good legal document automation software should be as simple as possible. It should be intuitive, and require as little external technical assistance as possible to get up and running.
The interface should look professional, clutter-free, and easy-to-use. It should also be intuitive enough to allow users to find the features they need without having to read the manual.
It should also have an indexing feature that can help you find documents quickly. This is particularly important if you're using it in a busy office environment where there's no time to search through thousands of files manually.
How Does it fit With Your Firm's Business Needs?
The first thing you want to think about when purchasing any new system is how it will help your business grow. Will it be able to handle all of your cases and processes? Does it have the features in place that will help you work more efficiently?
Most importantly, do you really need it?
For example, if your firm is small, then it may not be necessary to have a full-blown legal practice management system that automates all of your legal processes.
There are also other business questions you will need to consider, including:
Does your firm have multiple offices?
Does your firm have offices in multiple countries?
How will licensing and support work across international borders?
Would you need an enterprise license?
Make sure you understand exactly what costs will be involved in each scenario before signing up. There are many different types of licenses you might need depending on how many users will be using the software, how often they will be using it, and in which geographical locations they will be using it.
The best way to do this may be to talk with your peers in the industry, and see what kind of system they use. Alternatively, you can do your own research and chat with the sales professionals of the document automation companies you are deciding between to determine the best fit for your business needs.
How Does it Fit with Your Existing Tech Stack?
Do you use a legal practice CRM, ERP software, and case management software? If yes, then make sure the legal document automation solution you choose integrates with these applications well so that there's no downtime when switching between them.
In particular, if you're looking for a platform that leverages the cloud, think about how the solution will interact with other cloud-based products in your organization. If you want to integrate other applications with your legal document automation software solution, then you'll need to consider how they communicate over APIs.
If all this sounds like pushing the limits of tech geekdom, you would also need to assess if you would need to hire IT experts to help you integrate and implement the solution.
How Does it Stack up with What the Competition is Using?
This might sound a little obvious and old-school, but before you shell out money on a legal document management software, make sure you do some research on what software other firms are using.
An attorney document automation software that has been used by other attorneys who have had success with their own practice in similar fields or industries as yours, is one you can likely trust. You can also find out what other attorneys think about their experiences with the program by reading reviews online or talking to other attorneys who have used the same system in the past.
If a particular software gets the vote of confidence from a large number of practitioners in your area of practice, it is likely a good choice.
What is the Tech Support Like?
Finally, before signing on the dotted line, make a quick assessment of the technical requirements of implementing, running, and using the software for its lifetime. If the software is too complex to use or troubleshoot, you would either need to get help from the vendor, or have your own in-house IT team look at it. Smaller law firms may not have in-house IT teams so this is an important variable to consider. Always believe in Murphy's Law and assume that things that can go wrong, will go wrong, and that you may end up needing to dial tech support more often than you think.
Features of a Good Legal Document Generation Software
Not all legal document generation software is created equal. The best ones have features that set them apart from the crowd, and are worth the cost. Here are the essential features that all good legal document automation software must have, and why.
Templates
A good legal document automation software should have a comprehensive library of legal document templates that apply to your area of practice. This potentially includes templates for:
Contracts, agreements, and leases
Non-disclosure agreements (NDAs)
Wills, powers of attorney
Declarations and Affidavits of Service
Summonses and Complaints
Appearance and Responses
Joint Defense Agreements
Motions to Dismiss/Compel Arbitration/Intervention
Consent Orders/Agreements
Financial Affidavits
You will also want to be able to create your own custom documents using the built-in editor or by uploading your own template file.
The best legal document automation software will allow you to create multiple custom fields for each document type. For practices that focus on specific areas of the law, the ability to customize a document, save it as a template, and mark it as a favorite or otherwise make access quick and easy saves time over having to search through a large number of documents.
A good legal document automation software should also handle case-specific information well. The software should be able to capture case-specific information, such as names of parties to a contract, dates or amounts of payments due under an agreement or judgment amount.
The system should also be able to include non-legal content (such as images) in a legal document without damaging its validity or enforceability. An example would be including an image of a check attached to a promissory note by way of an attachment instead of embedding it within the text itself
Client Portal
A legal document automation solution for law firms is the solution to not just lawyers' problems, but also to those of their clients. A good legal document automation software should have a client portal where clients can access their documents, and see the status of their case. This saves time and effort in back-and-forth communications between lawyer and client over email, or worse, over snail mail. A client portal is particularly important for businesses that deal with large volumes of documents or have demanding clients that like to be kept in the loop constantly.
It should also have a feature to let the client upload their documents instead of having to send them through email. This is highly beneficial as it reduces the risk of sending sensitive information in an unsecure way.
Workflow Tracking
The software should also have a workflow management system that allows you to assign tasks and track them through their completion. This is particularly important for law firms who, by nature, need to keep track of the status of each document, especially when there are many people involved in the process.
Security
Since the legal document automation software is capturing and sharing client data, in addition to your own, it needs to be both secure and compliant with privacy laws.
Security includes not only data protection but also data loss prevention (DLP). A good legal document automation software will make sure that your documents are secure and protected from any kind of unauthorized access.
The software should be built on a secure architecture that is resistant to hacking attempts or malware attacks. It also needs to have a comprehensive audit trail so that you can track any suspicious activity on the system and investigate it if required.
The next thing that you need to check for in a legal document automation software is compliance with regulatory requirements including, but not limited to:
SOC2 (Service Organization Control 2)
GDPR (General Data Protection Regulation)
ISO 27001 (Information Security Management System)
PCI DSS (Payment Card Industry Data Security Standard)
These regulations ensure that your customer's data is safe at all times while being processed by your business.
It's also good if the software has adequate protection for data privacy and tiered access controls built in. The data privacy feature ensures that the user can keep his/her data private at all times, while tiered access control restricts who can access to client data and what information they can see about them.
OCR Capability
Optical Character Recognition (OCR) is a crucial but often overlooked capability for legal document automation software. This is because law firms often have to deal with scanned documents or image files from which data needs to be extracted and fed into the system. This is especially the case with matters that deal with legacy issues involving pre-digital era documentation such as historical records. Not having OCR capability would mean manually typing the contents of the document, which would defeat the purpose of having a document automation system in the first place.
Scalability
A good legal document automation software should be scalable, being capable of growing incrementally as the firm itself grows with time. You don't want to buy a tool that will max out its capacity in a few months, leaving you stuck with expensive upgrades or an expensive migration to a new platform.
A good legal document automation software will allow multiple users to work together on one document at the same time without compromising on security or privacy issues. This makes it easier for multiple people to collaborate on a single document instead of having everyone follow different processes separately.
Rules-based Logic
Rules-based logic is at the heart of legal document automation. Without it, the system is merely extracting and merging fields from different documents. If/then rules make it possible to define how documents should be generated, based on the specific data contained within the document itself.
When a user input is received to the questions in the document creation questionnaire, it's compared against the rules that have been set up to determine what actions should be taken. Based on the inputs, the software creates more fields for the user to fill in. This is true artificial intelligence (AI) based automation at work, and before paying up for a software, law firms must ensure that what they are getting is true automation.
Mobile Access
Finally, the system should be capable of providing mobile access to multiple users on the law firm's end, as well as to the client. Everybody works remotely and increasingly, from their mobile phones. Easy mobile access and a mobile-friendly interface will make life a lot easier for both your employees and your clients.
5 Best Document Automation Software for Lawyers
Now that we know what document automation software is (and isn't), and how it can help law firms, we turn to looking at five of the best document automation software for law firms available today.
1. Clio
Clio is a legal practice management software that offers end-to-end solutions from client intake management to billing management and everything in between. It was the first cloud-based legaltech services provider, having been around for well over 15 years. Clio allows users to create document templates by merging data from their contacts and their matters/cases to populate fields. Users can create custom fields if they want to add more data to the template.
Another handy Clio feature is its integration with AltFee. AltFee allows law firms to offer a range of flexible pricing options to their clients that go beyond the rigid billable hour pricing system. AltFee provides firms with a database of over 400 pricing templates that they can customize as needed. Lawyers can break down their client matters into projects, which can then be scoped and priced to more accurately reflect the value they will be delivering to the client. Users can easily import their contacts and related data from Clio to AltFee, and when updates to contact information are inputted in Clio, they are also automatically updated in AltFee. This ensures that both systems have the same information at all times.
2. Documate
Documate is more of a toolkit than software, in that it comes with powerful customization features that help users build their own solutions with little to no coding. Rather than simply merging fields from two or more documents to create custom templates, or what is known as document assembly, Documate enables users to add complex logic and branching flows to workflows without the use of any coding. In other words, it is capable of generating documents using a set of user-defined rules such as "if-this, then-that". This allows for a very high degree of customization not possible in mere document assembly type automation software.
In addition to the above, Documate is capable of measuring and displaying advanced analytics, collaborative workflows, and secure electronic signatures.
3. PatternBuilder (Formerly Known as Afterpattern)
PatternBuilder is another no-code legal document automation software with built-in conditional logic; this allows for the creation of intelligent documents and webforms. It comes with an open application programming interface (API), allowing for easy integration across platforms and applications.
A noticeable drawback of the platform is its inability to automate OCR documents.
4. Rally
Rally is designed to help law firms create legal documents for their clients, including contracts, NDAs, and more. It can be used as a standalone tool or integrated with other applications like Dropbox and Google Drive.
Rally also has an intuitive interface that makes it easy for anyone to learn how to use it in just a few minutes. It has a powerful search engine that allows you to find any word or phrase in any document, which makes for an efficient way of finding what you need when you need it. It also comes with client-side data capturing capabilities which allows it to share questionnaires with clients from which templates can be created in minutes. This saves the law firm time and effort in capturing client data. Its collaborative interface also means that clients can review and approve documents from within the app.
The software has secure file sharing and storing, and also provides electronic signature integration.
One drawback to using Rally is that leveraging its full potential requires a bare minimum of coding knowledge to create custom templates.
5. Woodpecker
Woodpecker is a legal document automation solution that checks all the right boxes. It has client-facing capabilities, If/Then conditional logic to build template workflows, dropdown menus, and easy integration with over 5000 apps including Zapier, MyCase, and Lawmatics. However, what sets it apart is its innovative Payments feature that allows law firms to monetize their document creation processes.
With Woodpecker, clients can fill out questionnaires to create legal documents, which they can then pay for before submitting them to the user. This, in effect, allows a firm to turn its legal documents into products it can sell to bring in more revenue.
Conclusion
The legal profession is notorious for being resistant to change. The persona of legal eminence has long been associated with a timeless image of an oak-paneled room with a crackling fireplace and a library stacked wall-to-wall with leather-bound legal texts. Solid paperwork and rigid per-hour rates have always been the cornerstones of the legal profession.
However, the clear and tangible benefits of tech adoption for increasing revenue and efficiency have begun to shake things up even within the ivory towers of the law.
Document automation software can easily automate the mundane tasks of creating, managing, and sharing documents, freeing up resources for more valuable work. Similarly, innovative tech-based solutions for providing clients with upfront cost certainty are making it easier for law firms to embrace the benefits of alternative pricing models from the billable hour model.
AltFee makes custom pricing for alternative fee arrangements simple and hassle-free. Contact us to learn more about how AltFee can help your firm boost revenue through an optimized pricing strategy.
Start Earning More Revenue with Fixed Fees
Break free from hourly pricing and take the fear out of scoping and pricing client projects to start maximizing profitability.
Book A Demo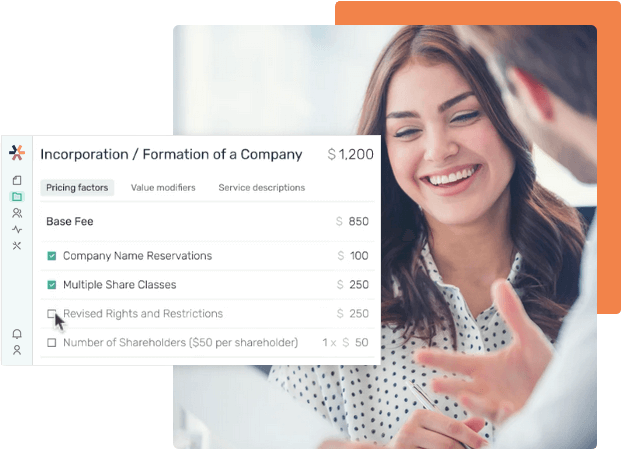 Newsletter Signup
Subscribe to our newsletter to receive the latest news.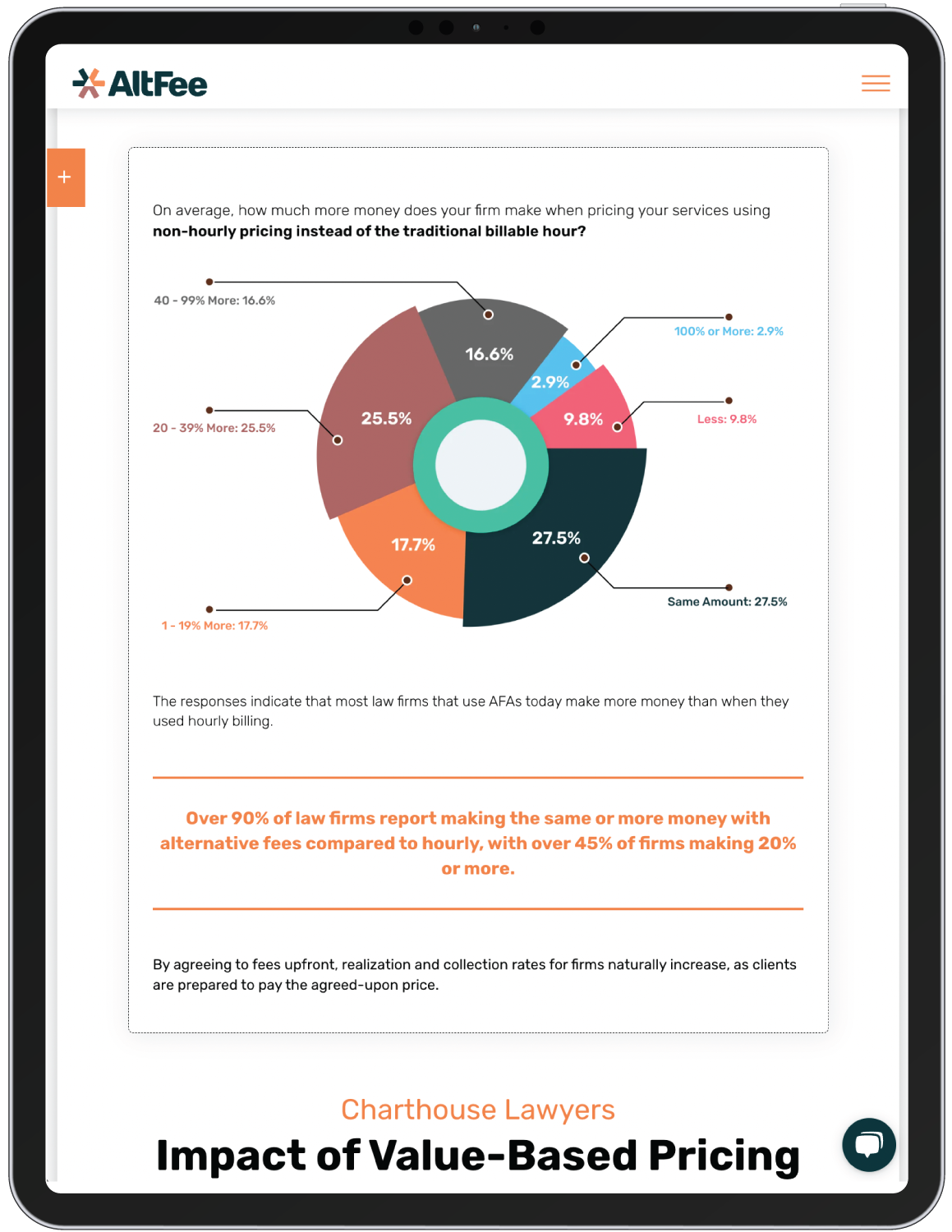 Legal Industry Pricing Trends Report 2023
Surveying legal professionals across the world, the report showcases how AFAs are contributing to increased profits for firms, better use of technology, and better work-life balance and working conditions for legal professionals.