Cloud Based Legal Practice Management Software for Law Firms: A Guide
According to a Gartner report, law firms plan to increase spending on legal tech by almost 200% between 2021 to 2025. This is hardly surprising given that law firms have historically been laggards when it comes to adopting technology, and there is now a sudden urge to play catch up.
For years, law firms have been limiting their potential to save time and resources by keeping those resources trapped in repetitive manual tasks associated with documentation, billing, and accounting. While legal practice management solutions that automated several of the routine, day-to-day tasks of a law firm have been around for some time, they found few takers. Among the deterrents to greater tech adoption were prohibitive costs of the software and the generic, all-too-familiar lawyer's fear of all things tech, which was not helped much by the technical complexity of these systems.
Cloud based legal practice management software for law firms solves both these problems while offering innovative and cost-effective solutions to a host of other challenges that law firms face.
What is Cloud Based Legal Practice Management Software for Legal Firms?
Cloud based legal practice management software for legal firms provides end-to-end solutions for all of a law firm's needs without the need to install and maintain an expensive server on the law firm's premises. Users can access the software from their web browsers even if they are not present on the firm's premises, allowing them to be productive while being mobile.
The services that a good cloud-based legal practice management software provides include:
Case Management — Case management includes the various processes involved in storing all case documents in one place, being able to easily access them whenever necessary, and sharing them with other stakeholders in the case.


Legal Document Management and Automation — Cloud based legal practice management software provides tools that allow lawyers to prepare documents such as contracts, wills, and other important documents for their clients using templates. This frees up lawyers from the time-consuming tasks of preparing documents from scratch.


Billing — One of the potential functionalities of cloud based legal practice management software for law firms is billing and invoicing. By taking the main functionalities from

legal e

billing software

, for example, firms can create invoices and send them to clients, who can then pay online. When used in combination with alternative pricing and scoping software like

AltFee

, the end-to-end process of pricing a legal matter and sending out a bill for it once work is completed is streamlined for maximum efficiency.


Contact Management — Allows law firms to manage their contacts so that they can be filtered and labeled into different groupings such as prospects, referrals, witnesses, etc. It also enables easy searching and indexing through contacts, easy viewing of communication history with a particular contact, and other related functionality.


Scheduling — Law firms can easily mark their calendars, set notifications for important dates and hearings, client meetings, deadlines, schedule appointments, and more.


Accounting — Enables law firms to comply with trust accounting regulations while also allowing integration with third-party accounting systems.


Task Management — Task management helps teams increase productivity by assigning to-do lists, tracking progress, managing workload, allowing greater collaboration across tasks, and so on.


Online Payments — Typically has built-in

legal e-billing software

that accepts online payments from clients through a variety of modes.


Expense Tracking — A good cloud based legal practice software lets law firms track their expenses over a specified time period and the time spent on various tasks. Also allows for granular analysis of the productivity of each employee, including filtering productivity by

billable and non-billable hours

to determine how much time was spend on a project or matter, as well as more high-level firm metrics like

realization rates

, which measure the profitability of a firm based on the frequency of fully-paid bills.



Analytics and Insights

— Finally, good legal practice management software combines reports from each of the preceding tasks to provide detailed analytics and insights for strategic level planning for better business decision-making and identifying areas for improvement. AltFee, for instance, allows firms to accurately price legal matters based on scope, using pre-built, practice area specific, AltFee templates or by creating pricing guidelines from scratch. The ability to collarborate and knowledge share with team members within the tool keeps communications about pricing in one place and allows for learnings to be easily captured and utilized for the pricing of future projects. Over time, AltFee provides pricing analytics that firms can use to determine what's working and what isn't, and use that information to influence future operations and pricing strategies.


Start Earning More Revenue with Fixed Fees

Break free from hourly pricing and take the fear out of scoping and pricing client projects to start maximizing profitability.

Book A Demo

Several new players have also arrived on the scene offering niche services. For instance, Firm Central is a legal practice management software for small law firms and CASEpeer is a cloud based solution for law firms specializing in personal injury law.
6 Reasons for Legal Teams to Switch to Cloud Legal Practice Management Software
Legal practice management software for legal firms is important because it helps to improve productivity and efficiency in the daily operations of a law firm, improves communication between the partners of the firm and their clients, and above all drives measurable, tangible increases in revenue.
In fact, the Law Society of England recommends cloud-based legal practice management software as an especially good investment for small to medium-sized law firms. With cloud-based legal practice management software, small, scrappy law firms can potentially compete on an even keel with larger firms with a fraction of the latter's resources.
Here are six reasons why legal teams should consider switching to cloud legal practice management software.
1. Increased Revenue
First and foremost, cloud based legal practice management software for law firms drives revenue for its clients, plain and simple. For instance, Rocket Matter claims to increase law firm revenues by over 20% through its cloud based solutions. Smokeball, another popular cloud based legal practice management software for legal firms, claims to double the billable hours of firms using its software from an average of two hours a day to four. This, in turn, translates to an additional $1,35,000 additional revenue per fee earner.
2. Data Availability
Cloud based legal practice management software allows you to access your data from anywhere with only an internet connection by logging into your account on any device, whether desktop computers, laptops, or mobile devices. This is helpful for both high-flying lawyers hopping across continents and for entire firms of all sizes. It also allows the creation of distributed teams, giving law firms more leeway in their staffing strategies in that firms can now hire the best legal talent without having to worry about their geographical location. In other words, a lean, mean, distributed team that is primed for the remote/hybrid workspace of the future.
3. Scaling Up
The cloud is an elastic and scalable environment that allows firms to scale up or down their resources as needed. You can scale up or down depending on your current needs and budget without having to buy new hardware or software licenses. This means that firms can now focus on what matters most to their business—serving clients rather than managing their own infrastructure.
4. Improved Security
The cloud offers increased security for your data because it is stored in a secure data center with state-of-the-art technology, firewalls, and intrusion detection software. In fact, there is reason to believe that data stored on the cloud is safer than data stored on on-premise servers. This is because the strict segmentation between users and data is implemented on the cloud. On the other hand, with on-premise servers, there is always a chance that malware or hacker code can sneak through to your servers via unprotected user systems that are directly connected to the same server on which all your data is stored.
5. Better Integration
The cloud is built for integration. Cloud technology allows you to integrate your law practice management software with any other application you might be using, such as ERP or CRM systems. With an on-premise, server-based system, this may not always be possible.
6. Reduced Cost
Cloud based legal practice management software for law firms is generally less expensive than traditional desktop software because there are no upfront costs for purchasing hardware or software licenses. It also helps law firms save on storage and electricity costs that running and operating large server-based systems on your own premises requires. This is especially a boon for small businesses that don't have the capital to invest in expensive hardware. The cost savings can be significant over time, when you switch to cloud based legal practice management software, as it doesn't require the firm to foot the bill for continuous updates to hardware and software over time. Instead, the subscription costs with the cloud legal practice management software are all-inclusive to keep the software running as intended.
Cloud Legal Practice Management Software vs. Traditional Methods
Before cloud based legal practice management software, there were on-premise server-based systems that required the manual installation of server-based software on a law firm's premises. All the systems in the firm were then connected to this server to gain access to the legal practice management software. While this system had several drawbacks, many law firms preferred to continue with it purely out of habit.
The Covid-19 pandemic, however, disrupted this arrangement, as it did with so much else in the world as we knew it. Mobility and remote work became necessities for building a successful enterprise rather than oddities in a world of chambers and courthouses. Below we compare the various features of cloud-based legal practice management software with traditional, on-premise legal software.
Cloud-based Legal Practice Management Software

On-premise Server-based Legal Practice Management Software

Uptime

Guaranteed uptime of over 99% is promised in service level agreements (SLAs) by most service providers.

Uptime depends on local conditions and is vulnerable to power outages, fires, floods, etc.

Cost

Law firms only need to pay monthly or annual subscription fees that are usually metered according to usage

Costs include:

Floor Space
Electricity Costs
Running and maintenance costs
Costs of upgrades

Tech Support

Standard support provided by the cloud-based service provider, usually along with several free self-support resources

Requires firms to either have their own in-house IT teams or tie up with vendors for IT support

Security

Security features like two-factor authentication (2FA) for logins and different access levels for users are often provided. If there is a security breach, each cloud based application is typically hosted independently, so there is less chance that a firm's entire tech stack will be compromised.

Has many of the same security concerns as cloud-based systems, but the firm would be responsible for implementing security measures such as 2FA or different user access levels. With an on-premise solution, a single breach can quickly spread to a firm's entire tech stack.

Accessibility

Data and resources can be accessed from anywhere by authorized personnel

Since data and resources are stored on local machines, remote access is not always possible
Factors in Choosing The Right Cloud Based Legal Practice Management Software
We've seen the advantages cloud based legal practice management software has over traditional server-based systems. However, before you go shopping for the perfect web based legal practice management software for your firm, you need to know how to zero in on the best one from among the glut of solutions out there. Here are some important yardsticks you can use to narrow down your shortlist:
Business Use Case
A legal practice management software is worth its salt only if it does what it promises, which is providing end-to-end solutions for your business needs. Which means the first step in identifying a good legal practice management software is defining your own business needs and zeroing in on how the software can help you optimize them.
From a strategic point of view, the functions of any good legal practice management software can be classified into four buckets:
Financial Management — This includes functions such as billing, invoicing, accounting, etc.
Client Management — This includes functions such as case management, document automation, etc.
Business Development — This includes functionalities for growing your business such as identifying and following up with prospective clients,
Risk Management — This includes functions such as protecting client information, compliance with data privacy and accounting regulations, avoiding conflicts of interest, etc.
Conduct a detailed analysis of how the software solves your firm's requirements in each of these four buckets.
Ease of Migration
A new legal practice management software means you will, in effect, be migrating your entire business on to a new platform. This includes all your existing data, its workflows, its processes, and its systems.
Moreover all these data and processes likely exist scattered or distributed across various formats and various sites within your organization. The entire migration process essentially involves four steps:
Transferring all the data from the existing systems and processes
Making sure it is preserved and not lost during the migration process
Plugging this data and its associated processes into the new system
And finally, making sure that once migrated, the new systems work more efficiently than the ones they replaced.
This last step is crucial to understand because the whole point of migrating to a new software is gaining efficiency and improving workflows.
It is important to consider these factors when deciding whether to upgrade or migrate because the process can be expensive, time-consuming, cumbersome, and in some cases, downright unfeasible. Before investing in a new system, sit down with your vendor and ask them to demonstrate three things:
How the migration to the new system will unfold with minimal cost and time expenditure
How the migration to the new system will improve efficiency and workflows
How they have achieved this in the past, with other firms. In other words, ask them about their previous experience, if any, in handling custom data and process migration for other law firms
Price Point
A complete end-to-end legal practice management software will not come cheap. Sure, a cloud-based solution will almost always be more economical than an on-premise server-based one, but you are still looking at implementing a complex solution that will require a significant investment. Given this fact, you will need to assess it against at least two cost metrics:
Return on Investment (ROI) — Make sure to do the math for what the return on investment (RsOI) is likely to be. Evaluate each and every vendor you have shortlisted against the cost they have quoted to the gains they have promised. You will also want to get a handle on how long it will take for you to recoup your investment and start making a profit. Ask yourself — how much time will it take for you to see a return on the money you spend? Is there any way of speeding up this process?
Total Cost of Ownership (TCO) — You should also consider the total cost of ownership (TCO) for each solution. This is a term that refers to the ongoing costs associated with using any given technology. For example, you will need to pay for maintenance and support services from your vendor every year even if there are no changes or updates required by them at present. You may also need to invest in additional training and onboarding if any new employees join your firm who will be using this software.
Integration With Existing Tech Stack
You will need to assess how a cloud based legal practice management software for legal firms will integrate with your firm's existing tech stack, as well as what other third party applications it will interface with.
If you're using an accounting system like LeanLaw or TimeSolv, then it's important that your cloud based legal practice management software is able to communicate with it. If your accounting system is not cloud-based and doesn't allow for integration with other applications, then you'll have to find another solution for managing client billing and invoicing.
You should also consider how easily your new cloud based legal practice management software can be integrated with other third party applications that are essential for running a successful law firm. For example, many firms use a secure digital signature tool such as DocuSign to help streamline the contract signing process. If you use a tool like this, then it's important that this application can interface with your new law office management platform.
Top Tips for Lawyers Looking at the Different Cloud Based Law Practice Management Software Options
Evaluate each platform based on hard facts and numbers but also listen to your gut instinct. The legal practice management software you choose is, in a sense, going to be the place where your law firm will come to live and grow, and if you don't feel completely at home using it, it's not the best choice for you.
Always ask for a demo from each vendor before making a decision. Never make a decision solely based on price or hearsay, just like you wouldn't buy a car before test driving it first.
Make sure the vendor you finally settle on has demonstrable experience in implementing solutions similar to your own needs.
Conclusion
Cloud based legal practice management software helps law firms manage their cases, workflows, and billings more efficiently. Whether you are a small family practice or a large, well-established firm with multiple offices, the cloud offers many benefits and commonly at a fraction of the cost of on-premise server-based solutions.
While an end-to-end practice management software covers most aspects of a law firm's workflows, there are some important areas that require additional software tools to bring even more efficiencies to your firm's systems. One of those areas not addressed in-app by legal practice mangement software is with the upfront scoping and pricing of client projects. Alternative fee arrangements (AFAs) are increasingly gaining in popularity over the traditional billable hour pricing model and yet most firms lack a system to create, hone and manage their AFA pricing system. Get in touch with our team to learn how AltFee can help transform your approach to pricing client work that will result in a boost to your revenue all while building greater alignment with your clients.
Start Earning More Revenue with Fixed Fees
Break free from hourly pricing and take the fear out of scoping and pricing client projects to start maximizing profitability.
Book A Demo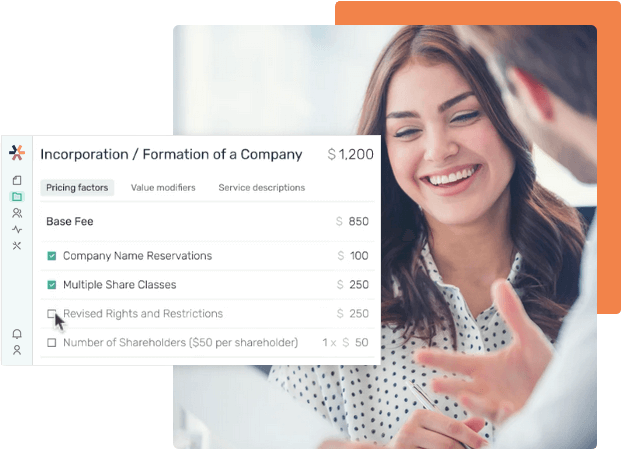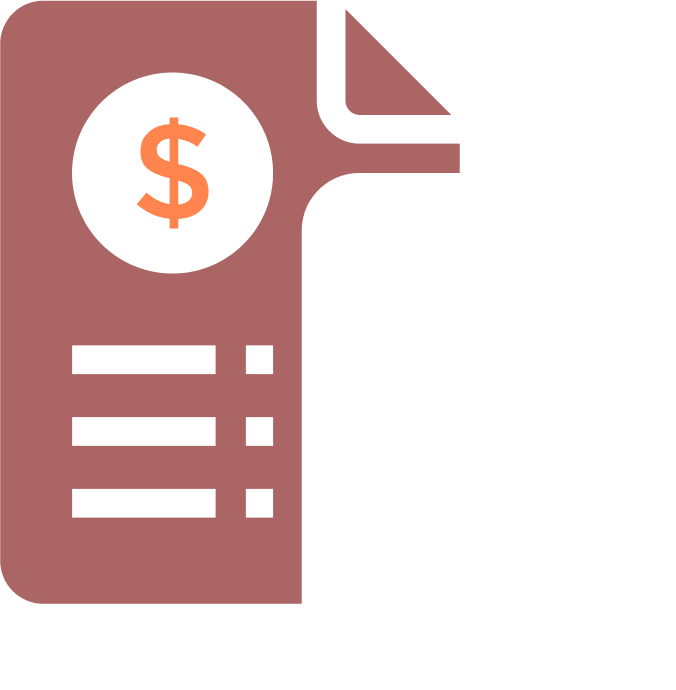 ROI Calculator
Interact with our ROI Calculator to compare an hourly project with an AltFee project, and you'll discover:
what the firm-wide impact could be annually
how much your firm could financially benefit on a single matter