AltFee Announces Integration with Clio to Help Law Firms Optimize Legal Services Pricing
VANCOUVER, BC, August 17, 2022 / - Today, AltFee, a knowledge management and collaboration pricing software for law firms, announced its integration with Clio—the leading provider of cloud-based legal practice management software. Law firms streamlining their operations within Clio can now effectively price their services without having to charge by the hour.
AltFee provides an alternative fee arrangement system to help lawyers scope out fixed fees, improving the client-lawyer relationship and boosting realization rates. Most law firms struggle without the traditional hourly rate. As a solution, AltFee created an easy-to-implement tool to support the accurate pricing of legal projects. This system diminishes difficult conversations about hourly bills at the end of projects.
"Integrating with Clio has been a milestone on our roadmap from the early days, as the overlap in Clio's customer base and our target market is tremendous," said Scott Leigh, CEO, and Co-founder of AltFee. "Our partnership will empower the legal industry to deliver improved law practices through alternative fees. We are excited to continue to build on our partnership with Clio."
Clio's cloud-based legal practice management, client intake, and legal CRM software streamline law firm operations, improve productivity, and enable legal professionals to increase revenues from one central location. Trusted by over 150,000 legal professionals globally in 100+ countries and approved by 70+ bar associations and legal societies, Clio provides industry-leading security, 24/5 customer support, and an unparalleled app ecosystem—integrating with many solutions, now including AltFee.
"A transparent fixed fee is a significant foundation for trust in the attorney-client relationship," said Jonathan Watson, Chief Technology Officer at Clio. "AltFee has introduced an innovative software solution for better pricing, and we are excited to integrate their technology into Clio. With over 200 integration partners, Clio is focused on providing more options for law firms to tailor workflows to meet the specific needs of their clients."
This integration will automatically sync a firm's contacts in Clio with its AltFee account, ensuring contact consistency when scoping and pricing matters within the software or managing operations in Clio Manage. Contact detail changes in Clio will automatically update in AltFee, saving lawyers time and ensuring consistency between platforms.
The AltFee integration with Clio is available now.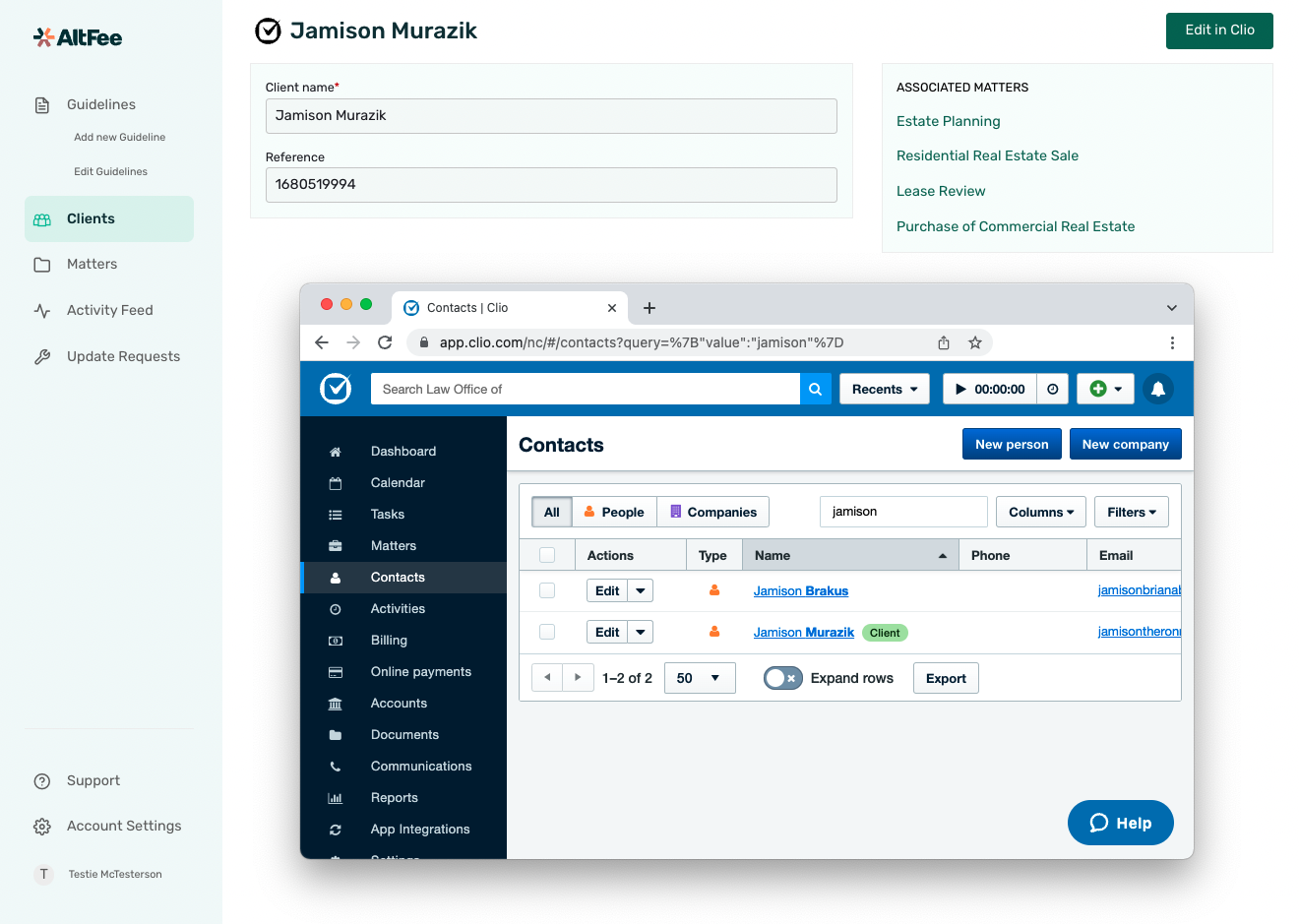 About AltFee

AltFee is on a mission to improve the legal experience for everyone - this includes all of the key stakeholders in a legal services transaction: clients of law firms, the legal professionals, and law firms themselves. AltFee has created an easy-to-implement tool that supports the accurate pricing of a legal project and provides a platform for knowledge sharing and collaboration that facilitates continuous learning firm-wide. With AltFee, law firms can confidently scope and price AFAs so they can practice law without having to charge by the hour.
Learn more at www.altfeeco.com.
About Clio
Clio is transforming the legal experience for all by creating the world's leading cloud-based technologies for law firms—to keep lawyers and their clients better connected throughout the legal process. Firms of all sizes and practice areas use Clio products—Clio Manage, Clio Grow, and Lawyaw—to manage firm operations, streamline billing and payments, automate legal documents, and improve client experiences. Following its US$250M Series D funding, led by TCV and JMI Equity, and its US$110M Series E investment, led by T. Rowe Price Associates, Inc. and OMERS Growth Equity, Clio has made history by becoming the first legal practice management unicorn in the world. Learn more at clio.com.
Media Contact:
Digby C. Leigh, Co-founder + COO, AltFee
604-240-8207 | digby@altfeeco.com
Media Contact:
Juliet Mafua, Senior Public Relations Specialist, Clio
1-800-347-8314 | juliet.mafua@clio.com
---
Demo Sign Up