The Attorney's Guide to Legal Matter Management Software

The legal industry takes pride in achieving its business objectives and assisting people in various judiciary aspects. But some legal firms don't just deal with a multitude of cases every day; there are other legal activities, including research and administrative tasks, that they also have to prioritize and manage.
With this came the rise of a wide range of legal matter management software, an all-in-one solution for legal firms to run their practice and manage all activities smoothly. And according to Valuates Reports, the legal matter management software market is set to reach a market value of 4 billion USD by 2028.
This guide explores everything there is to know about legal matter management software, including how it helps firms and the best options in the market today.
What is Legal Matter Management Software?
Thanks to law firm digital transformation in recent years, in-house legal software and other legal tech tools have become more and more popular among legal professionals. Legal matter management software is a specific type of legal technology that can streamline all processes, ensuring an increase in the firm's overall productivity and profitability.
Legal department matter management software serves as a comprehensive tool to accomplish various corporate legal activities, including:
Legal research
Litigation
Governance
Claims
Disputes
Compliance
Additionally, matter management software for legal departments can store digital copies of files such as:
Client records
Case documents
Schedules
Invoices
Minute Books
Moving these documents to digital systems creates a single centralized, automated system. It helps with day-to-day case management, matter opening, ethics, marketing, and more.
Matter management software for legal departments can also assign and track essential matters to assist lawyers as they accomplish their daily tasks. In return, the efficiency increase should ensure that clients are more than satisfied and will stay loyal to your firm.
Legal matter management software also helps firms face daily challenges brought about by legal environmental changes as companies continue to battle with their competitors. It also helps with better accessibility of contracts, cases, and workload.
Start Earning More Revenue with Fixed Fees
Break free from hourly pricing and take the fear out of scoping and pricing client projects to start maximizing profitability.
Book A Demo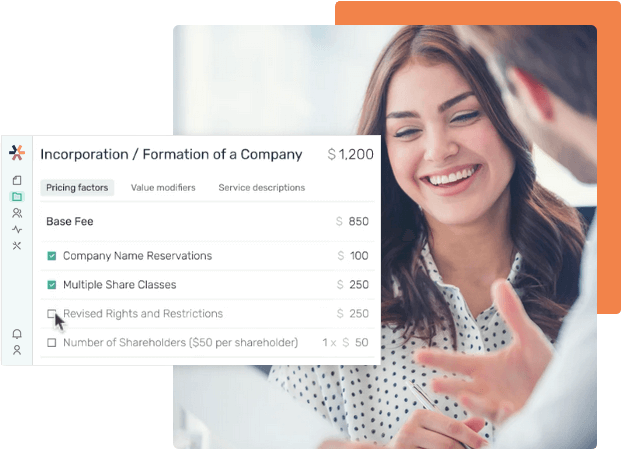 Components of Legal Matters for Law Firms
In order to fully understand legal management software and how it works, let's take a minute to define what a legal matter looks like for law firms. A legal matter has seven main constituents, each of which is outlined in the table below.
| | |
| --- | --- |
| Core Constituent | Description |
| Documents | Includes contracts, licenses, and reports |
| Knowledge | Access to information for all participants |
| Collaboration | Teamwork with other stakeholders |
| Workflow | A step-by-step guide to ensure tasks are accomplished |
| Management | Evaluation and analysis of all the steps in matter management |
| Spend | Budget tracking to ensure firms are not overspending |
| Reporting | Relevant monitoring of all aspects of matter management |
Effective legal matter management involves the unity, organization, coordination, and delivery of all these core components of legal matters to help your firm achieve its optimal productivity. More than that, legal matter management optimization has also started to rely on legal technology to better support legal tasks.
Thanks to the rapid digital transformation of the legal industry as a whole, legal departments continue to succeed in legal matter management. There are four main ways that this occurs:
Robust legal software allows remote working for improved investment and employee focus
Becomes more cost-efficient as technology delivers higher value to organizations
Increased legal workloads because of growing global regulation
The rise of legal operations in technology
What Does Matter Management Software Do?
Generally, matter management software for legal departments can perform various tasks, making it your all-one solution for all your management needs. The functionality of various matter management software for legal departments can, of course, vary. But in general, it offers online functionality to accommodate legal professionals that work remotely or often travel for cases and other business, allowing them to access information anytime and anywhere. Matter management software acts as the centralized, single-source-of-truth record for all matters, contracts, and documentation held by the legal firm.
Here are some real-world examples of what legal department matter management software can do:
For starters, the software can help track task progress, which can for instance make it easier to determine appropriate alternative fee arrangements for specific legal tasks based on how long they take to complete, among other factors.
Legal department matter management software can also make it easier to get access to data-rich reporting. These reports then allow legal teams to have performance insights on each matter they tackle.
Matter management software allows for case triaging, making sure the right tasks get into the right hands. The result is that teams can get matters into the right team member's hands, leading to better productivity overall.
Challenges Solved by Law Firm Matter Management Software
Managing cases and all essential matters in a legal firm is definitely not the easiest task. This gets even more complicated when your firm is understaffed. When you plan to handle all matters and cases manually, you can expect a greater potential for errors and hurdles.
But when you consider relying on legal matter management software, everything changes. Your firm's challenges might be overcome seamlessly without taking up too much of your company's precious time.
No Standardized Processes
A firm with no standardized processes is guaranteed to experience negative effects in matter management. When everything is done manually, it's natural for individuals to create their own processes, meaning that consistency and quality may suffer.
And when there is no capable system to take care of your firm's internal and external processes, you cannot expect true visibility in legal expenditures, operations, and other essential matters.
You can also expect to experience the following consequences when you don't rely on standardized processes:
Inefficiency and inconsistency
Missed deadlines
Lack of predictability
Missing documentation
Reduced control over the firm's legal spending
Implementing legal operations software helps develop standardized processes that in many cases, can be backed up by automations, reducing the likelihood of errors with tedious tasks like entering new client information (the software can pull the information and create a new listing), creating invoices (templates can be used to seamlessly create new invoices), and much more.
Lack of Proper Security
All files stored contain sensitive and confidential information about your clients and their cases. This should prompt you to ensure they are always kept safe and should only be accessible by your team and your client. Otherwise, you are looking at the possibility of lawsuits and fines from regulatory bodies for improper document storage that can be detrimental to your firm.
There has been evidence to suggest that law firm data breaches have increased exponentially since 2020. Using public reports of law firm data breaches provided by state governments in California, Indiana, Maine, and Massachusetts, the American Lawyer found that law firm data breaches contributed to the compromised personal data of 46,000 Americans in 2020, a whopping 720,000 Americans in 2021, and finally slowed in 2022, with 13,000 Americans being affected, but late reporting may shift some of this number to the following year.
In the United States, reporting data breaches that result in the compromise of personal information is mandatory at a federal level, but the need to provide public reports on breaches varies by state. In Canada, the organization that experienced the breach is responsible for notifying all individuals that the breach affects.
What this highlights is that the security of your law firm and the data it produces is paramount. Canadian provincial law societies and American state bar associations have specific regulatory requirements for document storage and backups, and using legal matter management software can greatly assist with meeting those requirements. Further, matter management software for legal departments is typically cloud-based and equipped with data encryption, meaning that the likelihood of breaches is reduced.
Insufficient Resources
Gathering the needed resources to handle a specific matter can be inconvenient when your firm collects them manually. There's also the risk of not being able to interpret all of the required information, including police reports, hospital bills, and client details.
Legal matter software can act as a database repository for client details related to specific cases, as well as law firm knowledge management, ensuring that everyone has access to the information they need to be the most efficient in handling a case.
Benefits of Legal Matter Management Software for Lawyers
Legal matter management software improves a firm's efficiency. It ensures legal professionals are productive in accessing and inputting relevant data, tracking data metrics to help identify how a firm can improve, and much more.
But to completely understand how legal matter management software systems enhance a firm's overall productivity and profitability, you should be aware of its exact benefits to your company and your clients.
Enhanced Collaboration
Legal matter management software allows better team collaboration on various matters, regardless of whether everyone is onsite or not. This ensures all parties can access the data they need, especially when clients ask for it.
Because everything is either online or cloud-based, you don't have to report to work to collaborate with your teammates physically. This helps enhance the increasingly popular remote workplace model that many law firms are adapting.
Easy Access to Information
Legal matter management software serves as the centralized solution for all your client needs, which improves your company's overall productivity. The software allows lawyers and other legal professionals in the team to access the case reports and documents they need from a centralized portal. This prevents the risk of switching or losing files.
Moreover, as long as you choose the right legal matter management software, various professionals can simultaneously add case information from legacy software that the firm may be using.
Because integrations are possible, the matter management software is indeed an all-in-one system. It also eliminates careless errors, ensuring all operations are seamless.
Ensures No Redundancies
Research by Harvard Business Review revealed that 9% of the time spent by employees is allocated to switching between various applications used by the firm and ensuring they are reoriented well. This takes up so much of your firm's time, making it inefficient and counterproductive.
Because legal matter management software is mainly automated, each process is unique and ensures no redundancies will be created. This includes communication, client intake workflows, document creation, and deadline reminders.
Increased Security
Another fact that makes legal matter management software worth it is its general compliance with SOC2 and ISO27001 security standards. Both of these are sets of security standards that help protect the integrity, quality, and availability of organizational data. In other words, they keep private information from your clients safe in the digital world.
These certifications not only help foster trust with your clients, but they help your team better manage the security of information internally as well, leading to fewer data breaches and better protection all around.
Cost-Saving
Legal matter management software screams productivity and efficiency with its value-generating function. This makes it cost-saving because this centralized unit serves as your solution for everything. You can use the software for every operation and process relevant to your firm for faster transactions and client meetings.
Choosing a Matter Management Software Provider
The right law firm matter management software improves your organization's efficiency as it helps save time, money, and energy. Choosing the right legal matter managment software for your law firm's specific needs can result in a positive return on your investment.
Selecting a legal matter management software requires proper research to know all of your available options. There are core considerations your firm should take into account to ensure that you're choosing the best one that suits your company's needs.
Features
Before we talk about the features you need, being able to work according to your business goals is essential. The legal matter management software with several advanced features can still be useless when you don't clearly understand what exactly your firm needs based on your goals and objectives.
The first step in identifying key features is to create a needs analysis. What does your team need, and how can law firm matter management software help? This ensures you are not overspending for software that has more than enough features to meet your client's needs.
Once you have set up a complete needs analysis, you can start looking for legal operations software with the right features that will suit your firm's current workflow. The software should be helpful enough to prevent redundancies while reducing the workload on your staff. Know the features you really need and those that don't necessarily need to be there.
One way to check whether the legal operations software has precisely what you need is to look for those with a free trial version. The following companies offer a free trial version:
Clio
MyCase
Zola Suite
Rocket Matter
PracticePanther
These varieties also offer a full demo so you can fully walk through the features each software offers and how they can help your firm. But generally, the following features are what you should look for in legal matter management software:
System security rules
The software's support and reputation
Ease of use, design, and interface
Mobile access, including its smartphone application availability
Import and export in and out of the software
Upgrading features
Accessibility to third-party integrations
Price
Aside from features, the legal department matter management software's price also matters. There's no one software that offers all its features and advantages for free, except when you're only using the trial version. Different kinds of legal matter software will come in various price ranges, so you must be smart in selecting which fits your firm's resources.
Moreover, price plans can also depend on the type of subscription you choose for your firm. The higher the price plan is, the more features you can generally enjoy. Price points also differ per software, so it all boils down to your company's current budget and how much you're willing to spend.
Software like Smokeball starts at $29, while most options offer their entry-level price at $39, including Clio, Rocket Matter, and Tabs3 Software.
Reviews
Testimonials are an effective place to start your review of a particular software option. No matter how much the software sells itself on its website with its hundreds of features, a client will only be totally swayed when there are testimonials, feedback, or reviews that back the software up.
When software has positive reviews, you can be further assured that it delivers precisely how you want it to. Good feedback can range anywhere from being easy to use and navigate, having responsive customer support, including various features that are important to your firm, and more.
Reading reviews can also give you a semi-walk-through of what you should expect regarding available features you plan on utilizing for your company. The comments help determine whether the software suits your needs and available resources.
Integrations
The main reason you're utilizing legal matter management software is to reduce the applications and other software you use to meet client needs and demands. Integrations also help prevent the possibility of misplacing or switching documents by reducing the various tools you use without the software.
And because the software should be your all-in-one solution, it's best to look for one that allows various integrations. For example, you can choose software that integrates with a third-party email provider or for document storage, among others.
For instance, Clio has integrations with over seventy business applications that serve the following purposes:
Accounting needs
Email and document storage
Databases
Payment gateways
Office financials
Factcase - an extensive national law library
Fixed fee pricing with AltFee
On the other hand, Firm Central, another legal matter management software, integrates with Thomson Reuters solutions. This allows quick transitioning from one task to the next, including generating firm invoices, calculating legal deadlines, and doing legal research.
This is why integrations are beneficial and essential. They make everything more convenient and seamless, ensuring no time is wasted on every task accomplished. This also makes your clients so much more satisfied with your work.
To give you a glimpse of your available options, we've included a summary of our top recommendations when it comes to choosing the right legal matter management software.
| | | |
| --- | --- | --- |
| Software | Integrations | Best for |
| Clio | Document storage, email provider, pricing (AltFee), and payment gateways | Small legal firms to large scale professional companies |
| AltFee | Integrates with Clio legal software for management, billing, and more | For small to large legal firms |
| TimeSolv | Credit card services and famous payment gateways | For beginners |
| Bill4Time | Integrations with third-party payment providers like Paypal | For freelancers and professionals who need extensive time tracking |
| MyCase | Provides mobile applications (Android and IOS) | Midmarket legal firms |
| Zola Suite | Only offers extensive support to various third-party integrations | For small business and legal firms |
How AltFee Helps with Matter Management
Matter management deals with a multitude of aspects and essential metrics. This includes documents, storage, time-tracking, keeping data safe, and payment processes. As we've discussed above, it collaborates with all seven core constituents of a matter to ensure that each operation is accomplished seamlessly across your firm.
With multiple tasks going on, there can be instances when employees can start to feel burnout and confusion even when using single matter management software. This is how AltFee can become helpful.
With AltFee's AFA pricing software, creating, scoping, managing, and tracking pricing structures for all your law firm's services, from wills and estate planning to more complex litigation services, is made easy and effective.
Start Earning More Revenue with Fixed Fees
Break free from hourly pricing and take the fear out of scoping and pricing client projects to start maximizing profitability.
Book A Demo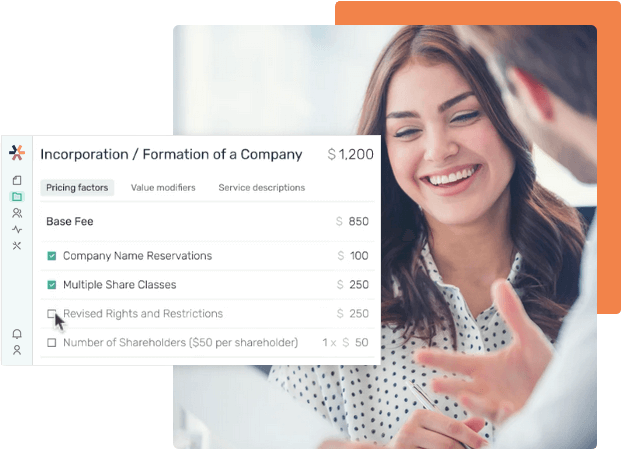 Managing AFA's with Collaborative Legal Pricing Software
AltFee is all about collaboration. With it, team members can constantly work together for the convenience and satisfaction of their clients. Moreover, price plans are customizable to match your firm's needs. These price plans are also collaborative, so you can discuss them with your clients and have any firm member adjust accordingly.
Pricing Matters in Minutes
With default pricing templates for different matters, AFA pricing benchmarks can be determined in minutes, with the firm iterating on pricing over time to optimize each structure as needed.
On top of that, the software allows collaboration and access to price history within the firm. Combine that with enhanced analytics that depicts average prices based on that history, and you can set pricing matters in minutes.
Notification When You've Been Added As A Team Member
AltFee also does not require you to stay on its app or web interface constantly. It's able to notify you when a new team member has been added to a matter, allowing more people to collaborate in terms of deciding on the best price structure for a particular project.
Clio Integration
Clio has always been one of the best legal matter management software offerings partly because of its integration with various third-party applications, including AltFee. Even though payment gateways are reliable on Clio, collaborating with AltFee is a giant leap toward achieving customer-centric goals.
Here is a more illustrative idea of how AltFee works with Clio:
Client information is entered into Clio, including the legal service they're purchasing
That client information from Clio is automatically imported into AltFee and AltFee is used to determine the scope of the project, including collaborating with other legal professionals to establish an agreed upon price between the law firm and the client
Once pricing is set out, sent to the client, and agreed to by the client, work can start
When the project's work is finished, the billing application part of Clio can be used to receive payment for the agreed upon scope and price that was created through AltFee
Conclusion
Legal matter management software serves as your solution to less time spent manually dealing with issues like pricing, data, and payments. It streamlines processes, making client operations smoother and more convenient. Moreover, it helps increase your client satisfaction, increasing the chances of returning customers.
AltFee is another tool that's key for improving legal matters through proper AFA management, fast pricing systems, and more. Schedule a demo today to learn more about our software and how it can help your firm.
Start Earning More Revenue with Fixed Fees
Break free from hourly pricing and take the fear out of scoping and pricing client projects to start maximizing profitability.
Book A Demo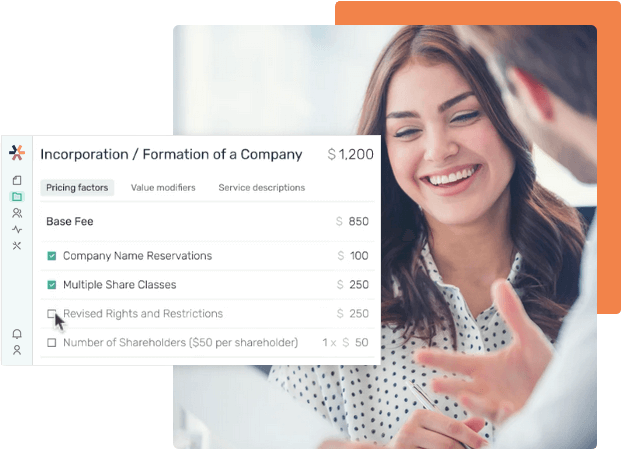 Newsletter Signup
Subscribe to our newsletter to receive the latest news.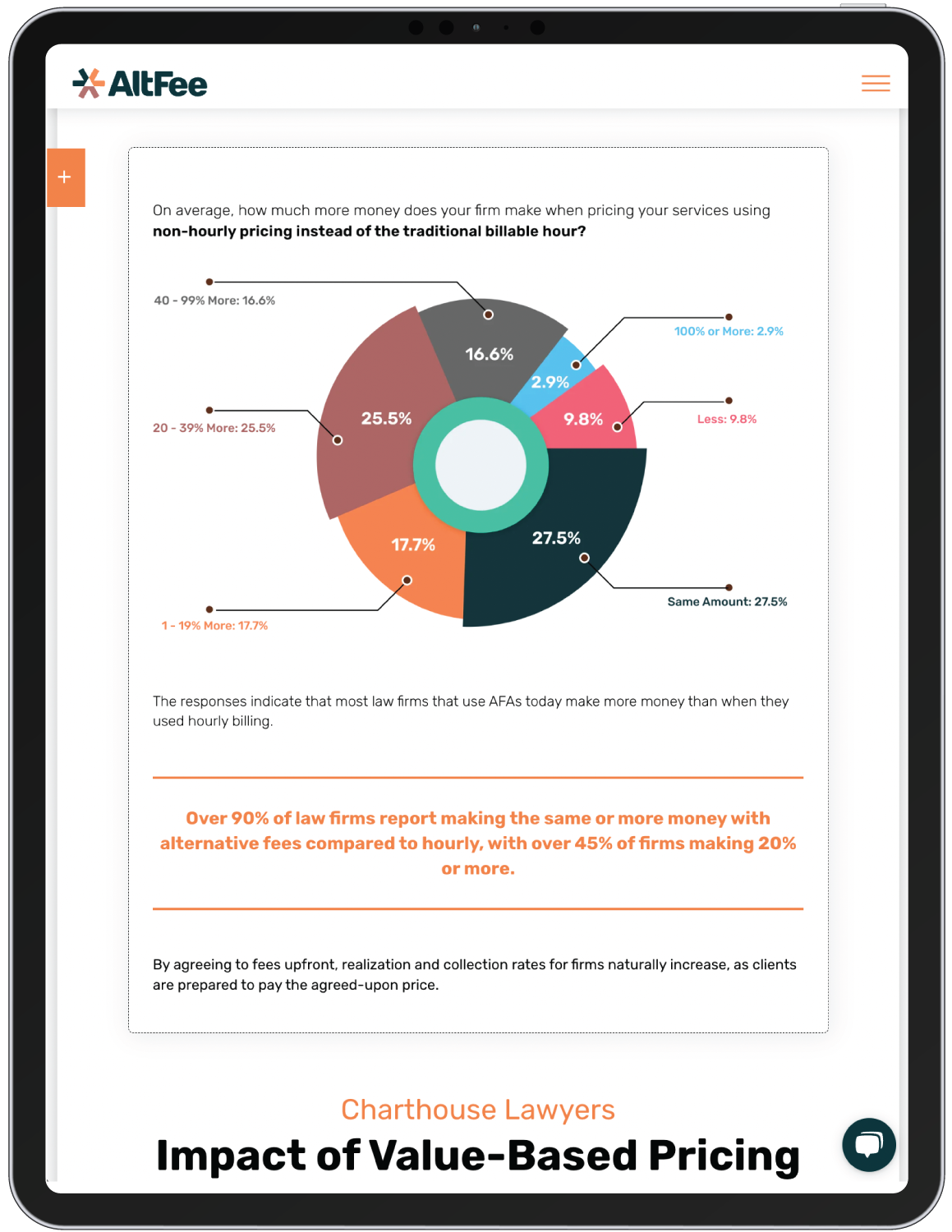 Legal Industry Pricing Trends Report 2023
Surveying legal professionals across the world, the report showcases how AFAs are contributing to increased profits for firms, better use of technology, and better work-life balance and working conditions for legal professionals.