The Present and Future of Legal Tech Companies - An Overview
Find something to hang onto because the legal industry is actively being shaken up.
It's long been known that the legal industry isn't exactly at the forefront of the technological revolution, nor is it known for embracing new technology solutions. But that narrative is quickly changing. The legal industry is experiencing unprecedented technological innovation, and there's never been a better time to hop on board.
Not only are client expectations shifting to wanting more tech-savvy law firms and lawyers, but the industry itself is also seeing more and more legal technology offerings coming out of the woodwork.
The global legal tech market in 2021 alone was valued at a whopping $18.4 billion USD, with in-house legal departments expected to spend up to 12% of their budgets on legal tech by 2025 — up from a mere 2.6% in 2017.
Legal tech companies and those within the legal technology industry have been focused on providing better software solutions for law firms, from operational improvements like eSignatures to enhancing how law firms price services, bill clients, and handle projects. This is all to help law firms and lawyers meet the evolving needs of clients while simultaneously making their jobs more efficient.
The shift to law firms being more client-centric is not a new development. But as the ABA points out, the COVID-19 pandemic, combined with the so-called "Great Resignation" and the building demand from legal professionals to gain better work-life balance, was bound to give.
That's where legal tech platforms come in. Startups began popping up with effective tools that help law firms and lawyers with improvements in pricing, billing, managing different accounts, and providing more client-centered experiences, like portals that clients can log into to see the status of their case.
In the United States alone, there are an estimated 700+ legal tech companies, which is only projected to grow as the legal tech boom continues.
But why now? Why exactly are legal tech companies growing at such an accelerated rate right now, and what does the future look like for this lucrative industry?
In this article, we'll explore the legal tech industry from the inside out, including an overview of the industry itself, the reasons behind its explosive growth, different types of legal tech companies, and what trends you can watch out for in the future.
Still hanging on? Great. Let's get started!
An Overview of the Legal Tech Industry
It's not like legal tech platforms are new. The idea of using technology to make the jobs of lawyers and law firms easier goes back decades, and depending on your personal definition of legal technology, even further than that.
But it's only been in recent years that the legal tech industry has seen a considerable boost. Why is this happening now? One of the biggest catalysts has been the pandemic. During COVID-19, countless businesses in different industries were forced to adapt and use technology in any way they could to serve customers — or risk shuttering their businesses. Law firms and solo lawyers were definitely not exempt.
This caused an industry historically known for its resistance to tech adoption to be thrust into the world of technology, ditching the pen and paper for modern systems like project management software, pricing tools, online payments, eSignatures, and more.
But something else happened that had persisted even when the pandemic slowed down in some areas — more client demand for law firms and lawyers to use modern technologies like online payments, eSignatures, and video conferencing. In short, clients discovered the convenience of not having to travel to a law firm's office just to pay a bill or sign some paperwork, and now they don't want to go back.
But wait, there's more!
Clients also want something else from their lawyers and law firms — better price certainty and more pricing transparency. According to the 2020 Legal Trends Report from Clio, 78% of consumers think that lawyers should adopt pricing and/or payment models that are more affordable. But one caveat is that "affordability" means more than just a low price. It means more perceived value.
On top of this, lawyers are increasingly looking for more work-life balance. For some lawyers, this means moving away from the traditional billable hour and heading towards alternative fee arrangements. Instead of watching the clock and punching in more hours, deliverables are priced on more variables than just straight time. Pricing through AFAs looks at a lawyer's experience, the volume of firm resources required, the complexity of the issue, the value delivered to the client, and more. AFAs also provide more price certainty for clients, as they get all the information on the pricing structure and expectations for payment from the beginning.
So what does this all have to do with the legal tech industry?
Well, law firms and lawyers typically have three major challenges:
The need to adopt more technology solutions to service their clients remotely
The need for more efficiency to maintain a better work-life balance
The need to provide clients with price certainty and transparency to earn their business
Legal tech platforms have risen up to solve these challenges by providing the software solutions to handle it all. From pricing to project management, legal tech software offerings these days can tackle just about any efficiency issue your law firm has.
Now that we have an overview of the legal tech industry let's dive more into the different types of legal tech companies out there.
Types of Legal Technology Companies
Legal technology companies basically fall into a few categories based on the kind of software solutions that they provide. These categories include pricing, billing, and overall management of a law firm.
| | |
| --- | --- |
| Legal Tech Software Category | Legal Technology Companies That Offer This Software |
| Legal Pricing | AltFee (alternative fee arrangement pricing software) |
| Time Tracking | Smokeball, TimeSolv, Bill4Time |
| Practice Management | Clio, PracticePanther, GhostPractice |
| Case Management | MyCase, Firm Central, Zola Suite |
| Billing & Invoice Creation | Soluno, Rocketmatter, CosmoLex |
| Knowledge Management | Templafy, Guru, LawVu |
| e-Discovery | Relativity, Everlaw, Logikcull |
Legal Tech Start-Ups
We can't talk about legal technology companies without mentioning the importance of legal tech startups. These companies are, arguably, largely responsible for providing the software solutions driving innovation in law firms, from process improvements, workflow optimization, pricing and billing consistency, and much more.
Some examples of legal tech startups that have been providing real results in the legal tech industry include:
AltFee
Breaking into the legal tech platform space with a pricing and collaboration tool, AltFee helps firms effectively manage their AFA pricing models. Team members can create pricing templates from scratch or with the help of AltFee's robust database of guidelines. Stakeholders within the firm can leave comments and feedback on priced projects and collaborate with other team members all within AltFee. Collaboration is especially important for pricing confidence, as any number of assigned team members can weigh in and determine the best possible pricing solution that works for both the firm and the client.
For DL&Co., a 25-person law firm based out of Vancouver, BC, Canada, an effective AFA pricing tool was just what they needed to take their alternative pricing to the next level in terms of efficiency and effectiveness.
AltFee's software ticked several boxes in terms of what the team at DL&Co. was looking for:
A central location for all pricing information, including individual breakdowns of pricing for different projects and legal matters
Easier and more effective collaboration between team members within the law firm
More efficiency with pricing by transitioning away from manual legal pricing templates
Increased pricing confidence among the team by providing a tool that can combine collaboration and scoping when pricing projects using an alternative fee structure
After implementing AltFee's software, DL&Co. saw extremely positive results:
Realization rates went up 11% in only one year
The ratio of cash collected to billed fees went up over 7%
The team has more pricing confidence overall, and less experienced team members are better equipped to take the lead on pricing client projects
Pricing efficiency increased versus the manual solutions they were using before, continuous learnings via collaboration on pricing have resulted in more accurate upfront pricing and scoping of projects, and team members have more time to focus on billable work
Start Earning More Revenue with Fixed Fees
Break free from hourly pricing and take the fear out of scoping and pricing client projects to start maximizing profitability.
Book A Demo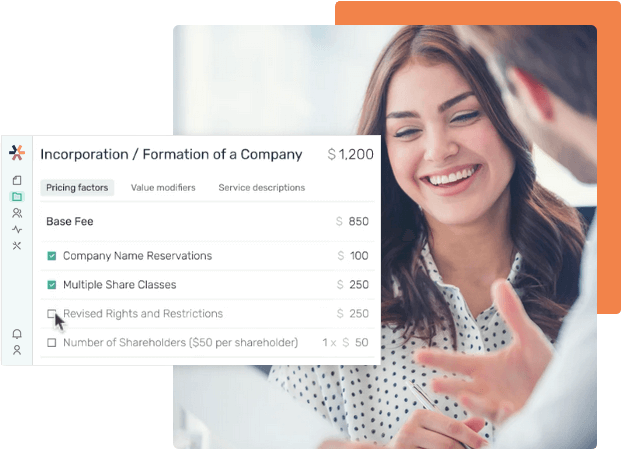 JustPoint
As a startup legal tech company that's leveraging artificial intelligence to create efficiencies for personal injury lawyers and plaintiffs, Justpoint, which is based out of Boulder, Colorado, works with over 1000 law firms (and growing).
While personal injury lawyers usually rely on ads and memorable 1-800 numbers to attract clients, Justpoint has proven that using data is a better bet. They've collected over 300,000 historical claims with their software and use data extraction models to provide a score for how good a law firm is at winning cases.
From the law firm's perspective, the software provides information on whether a claim is worth the time, effort, and resources to take on. So really, the software offering provides benefits to both the law firm and the client using the data.
Their efforts have definitely paid off, as the company has received millions of dollars in investments to continue the platform's development.
LawGeex
As a contract review automation platform, LawGeex's software contextualizes your contracts through your predefined policies and flags missing or unacceptable clauses within your contracts. In other words, it understands the contractual context of the document and marries that with your law firm's own contract review policies and procedures. The software uses AI to accomplish this and can even negotiate with the counterparty as needed.
EarlyBirds
Law firms and legal professionals must follow constantly changing local, state (provincial), and federal laws and regulations. As changes to these regulations and rules ebb and flow, being adaptable enough to face these changes head-on while still being able to represent your client effectively quickly becomes difficult.
EarlyBirds connects subject matter experts, consultants, and innovators to law firms to help them develop solutions, gain knowledge, and improve processes and workflows to support an ever-changing legal landscape.
Startups and other legal tech companies can sign up for their Challenger or Explorer programs so that EarlyBirds can connect these companies with innovators that can help resolve challenges, provide project expertise, and more.
Firmscribe
As a secure iMessage and Text archiving service for attorneys, Firmscribe not only provides enhanced security for digital communications it also integrates with popular practice management software tools. This gives additional context to client communications, and the ability to archive only the message threads you choose makes it easy to take the clutter out of conversations and leave you with only the relevant information you need.
TrustBooks
Law firms need to follow strict rules concerning trust accounting, and TrustBooks aims to make staying compliant easier. The software includes state bar compliance checks and one-click reporting, as well as reconciliations and the ability to easily maintain client ledgers. If you're a small law firm that needs more accounting support, the highest tier plan includes a CPA to oversee your bank reconciliations.
Bryter
Legal tech companies focus on a variety of areas, including practice management, AI, e-discovery, and more. Still, Bryter is a rather interesting addition to the legal tech space. Bryter is a digital app creation platform with no-code functionality. Lawyers and legal professionals without any coding background can create automations to increase efficiency and meet compliance standards quickly and easily.
How Legal Tech Software Can Take Your Firm to the Next Level
As the adoption of legal tech software increases amongst firms, it's clear that it's no longer a question of whether you should implement legal technology, but rather "why haven't you already?"
The success of legal technology in law firms has been evident for a while, with recent reports from well-known legal tech companies like Clio's 2021 Legal Trends Report, finding that:
The majority of clients prefer to have remote communication, payment, and updates throughout a matter, particularly with sharing documents, receiving reminders, status updates, payments, and consulting over video chat or other digital means
Law firms that have adopted new technologies into their operations and workflows have seen, on average, more revenue and growth compared to firms that have avoided it
Law firms that have shifted their spending focus to software solutions that are both client-focused and provide more work flexibility and efficiency for lawyers are more successful than firms that do not
On top of that, the competition for top talent at law firms has never been fiercer. The 2022 State of the Legal Market Report from Thomson Reuters highlights two key findings:
Some law firms appeared to be on track to lose 125% of their associates over a 5-year period
Some firms have seemingly been able to avoid this apparent mass resignation
So the big question is, what are the law firms that can retain staff doing differently?
Well, as Thomson Reuters puts it, it seems that there are two types of firms: Stay firms and Go firms. Stay firms are focused on growth, embracing technology and processes that are centered around creating more positive client experiences and relationships, and improving work-life balance and job satisfaction for lawyers. On the other hand, Go firms are more focused on the old-school way, with billable hour targets and manual processes more prevalent with little to no focus on work-life balance. What was found was that even though some "Go firms" may pay more, many lawyers value work-life balance more than ever before, opting more in favor of a "Stay firm" instead.
This goes hand in hand with legal technology. Forward-thinking firms that adopt legal tech platforms to improve workflows, operations, client relationships, and lawyer job satisfaction are clearly winning out in today's world.
Legal Tech Industry Trends
Legal Tech Trend

Description

An increase in remote work

Remote working opportunities are becoming increasingly prevalent in the legal industry, with law firms utilizing legal tech software to help provide working conditions with more flexibility and convenience.

Law firms want more visibility into legal spending

According to surveyed legal professionals from a recent Apperio report, this includes utilizing data to make better spending decisions, using specialized software to manage legal costs, and embracing AFAs.

An increase in law firms using legal analytics data

A 2022 annual survey from Lex Machina and LexisNexis determined that 68% of law firms use legal analytics, which is a 7% increase from the previous year (showing an upward trend).




The use cases for this data vary by law firm, but mainly center around determining the potential success rate of a case or driving business through demonstrating their expertise to clients.

AI and machine learning

Use of AI and machine learning software in the legal industry is increasing, mainly because of the efficiency benefits that it provides.




AI and machine learning technologies are making legal research and fact-checking easier, enhancing the accuracy of contracts, and giving law firms and lawyers the ability to forecast legal outcomes before accepting a case.

Law firms will need to use more than one legal tech software to meet their needs

More specialized legal tech entrants into the market means that law firms will need to develop relationships with multiple vendors to establish the software solutions that their firm needs.

Automation

The ability to standardize and accurately repeat repetitive tasks related to legal work is attractive for law firms and solo lawyers to increase efficiency and reduce administrative workload.




For instance, companies such as LegalZoom and RocketLawyer have largely automated the legal document creation process using easy-to-follow digital questionnaires.

Cloud migration

While security concerns of the past largely prevented law firms from moving entirely to the cloud, increasing instances of cloud law firms prove that this shift is becoming the norm.




Better cloud-based security and the ability for top cloud web services providers to offer the level of security that law firms need are two reasons for this change.
Key Takeaways
Legal tech companies are growing and thriving with no signs of stopping soon. Though the legal industry, in general, was always known for being slow to change and adopt new technologies, that narrative is quickly changing. Nowadays, the legal industry is more forward-thinking than ever before, and technology has clearly been at the forefront of that change.
The legal tech industry has emerged to provide solutions for efficiency, connectivity, research, and communications since the advent of clients requiring more transparency and price certainty, while legal professionals demanding more work-life balance from their employers. We expect this to continually evolve to meet the ever-changing needs of law firms and legal professionals everywhere.
If you're ready to support your law firm's alternative pricing strategy now and into the future, look no further than AltFee. With our pricing and collaboration tool, your law firm will be able to provide clients with upfront price certainty and give your legal professionals more confidence in pricing legal matters and projects.
Get a demo of AltFee today!
Start Earning More Revenue with Fixed Fees
Break free from hourly pricing and take the fear out of scoping and pricing client projects to start maximizing profitability.
Book A Demo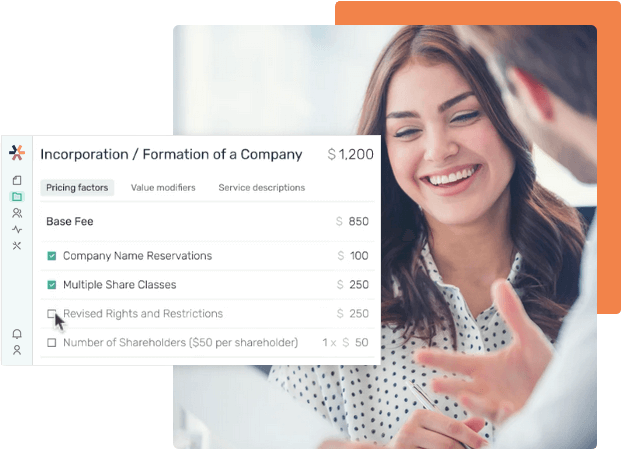 Newsletter Signup
Subscribe to our newsletter to receive the latest news.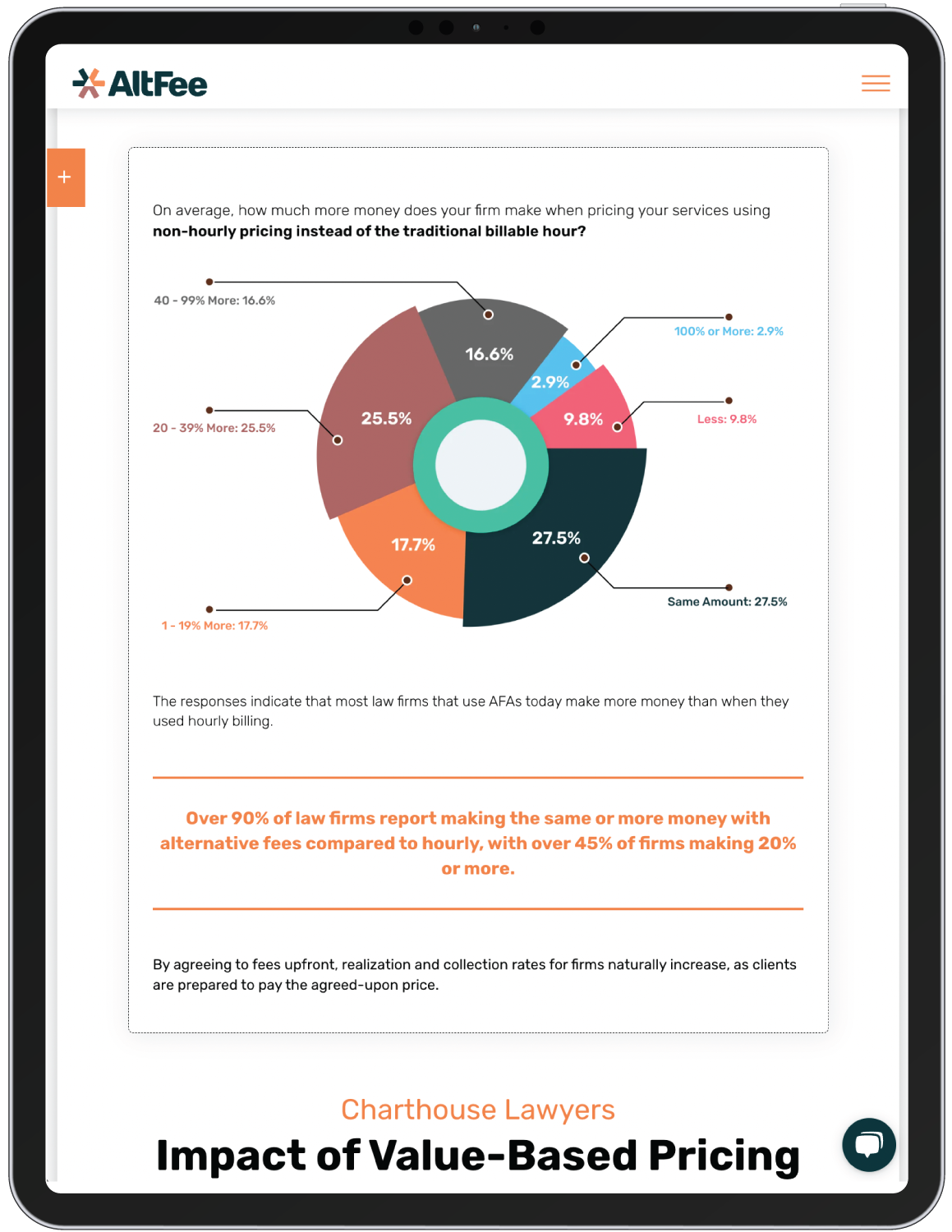 Legal Industry Pricing Trends Report 2023
Surveying legal professionals across the world, the report showcases how AFAs are contributing to increased profits for firms, better use of technology, and better work-life balance and working conditions for legal professionals.