Family Law Software Guide: Definition, Types, Benefits, & More
Family law can be a challenging facet of the legal sector. Attorneys are often dealing with emotional and potentially volatile situations between family members that are highly personal, and navigating these situations while reassuring your client and providing professional counsel can be extremely difficult at times.
Common challenges that family law firms face include:
Billing and payment. Most family law firms ask clients for advance retainers so that the firm can ensure that they're getting paid for the work performed, and since family law can have so many twists and turns, the last thing the client is thinking about is payment. Navigating bills and payments can be especially stressful for law firms that still bill by the hour, especially if they're manually recording for every phone call, email, or text as part of a client's overall invoice.
Trust accounting. Retainers and fee advances are common in family law, which means that firms utilize trust and Interest on Lawyers' Trust Accounts (IOLTA). But managing these accounts in accordance with regulatory requirements (e.g. management and reporting) can be challenging, especially if firms don't have robust accounting solutions.
Collections. It's not ideal to send a client to collections over an unpaid bill, especially when you consider the additional administrative time and effort it takes to get the funds owed. The chances of actually getting paid become lower as an account ages as well.
Mobility. Family attorneys are often spending time in courtrooms, attending settlement conferences, mediation sessions, and more. This means that attorneys need an effective way to record hours and expenses on the go, rather than having to remember everything at the end of the day or rely on hastily written notes to jog their memory.
Dealing with these challenges is difficult enough, but add in the stress of manually managing the administrative side of these cases, and it's easy to see why a lawyer in family law would be looking for something⁠—anything⁠—to streamline the communication process between themselves and their clients.
The answer, of course, is legal technology, specifically software for attorneys that can meet the needs of family lawyers.
This article will explore family law software, including types, key features, and much more.
What is Software for Law?
Legal software doesn't refer to a specific solution or type of software that law firms and lawyers use, but rather a variety of tools built to make the lives of attorneys and legal professionals easier.
This means software for law can encompass any type of solution, from legal accounting solutions to law firm knowledge management, and has efficiency and productivity-enhancing features such as:
Document management to keep important files organized and easily accessible
Case management to organize the dates and other important details associated with specific client cases
Accounting software to handle the movement of money, as well as time tracking and billing
A recent Future Ready Lawyer Survey from Wolters Kluwer highlights just how important the legal tech sector is for attorneys and law firms, with 87% of corporate lawyers and 83% of law firm lawyers saying that it is extremely important to them to work in a tech-savvy legal organization. And obviously, more firms are taking note and investing in the right legal technology since 63% of technology-leading law firms increased their profitability over the past year.
It's also interesting to note that more firms are self-identifying as technology leaders (54% of surveyed legal organizations in 2022), and this trend has seen a steady growth rate in the past few years (40% in 2021 and 39% in 2020).
According to Clio's 2022 Legal Trends Report, the demand for legal services has been steadily increasing since March 2021, with some firms having to deny work or raise their rates in an attempt to curb workload. This means that every hour that a lawyer works is becoming increasingly more valuable, so it's even more important for law firm software to provide productivity and efficiency improvements than ever before.
What to Look for in Software for Lawyers?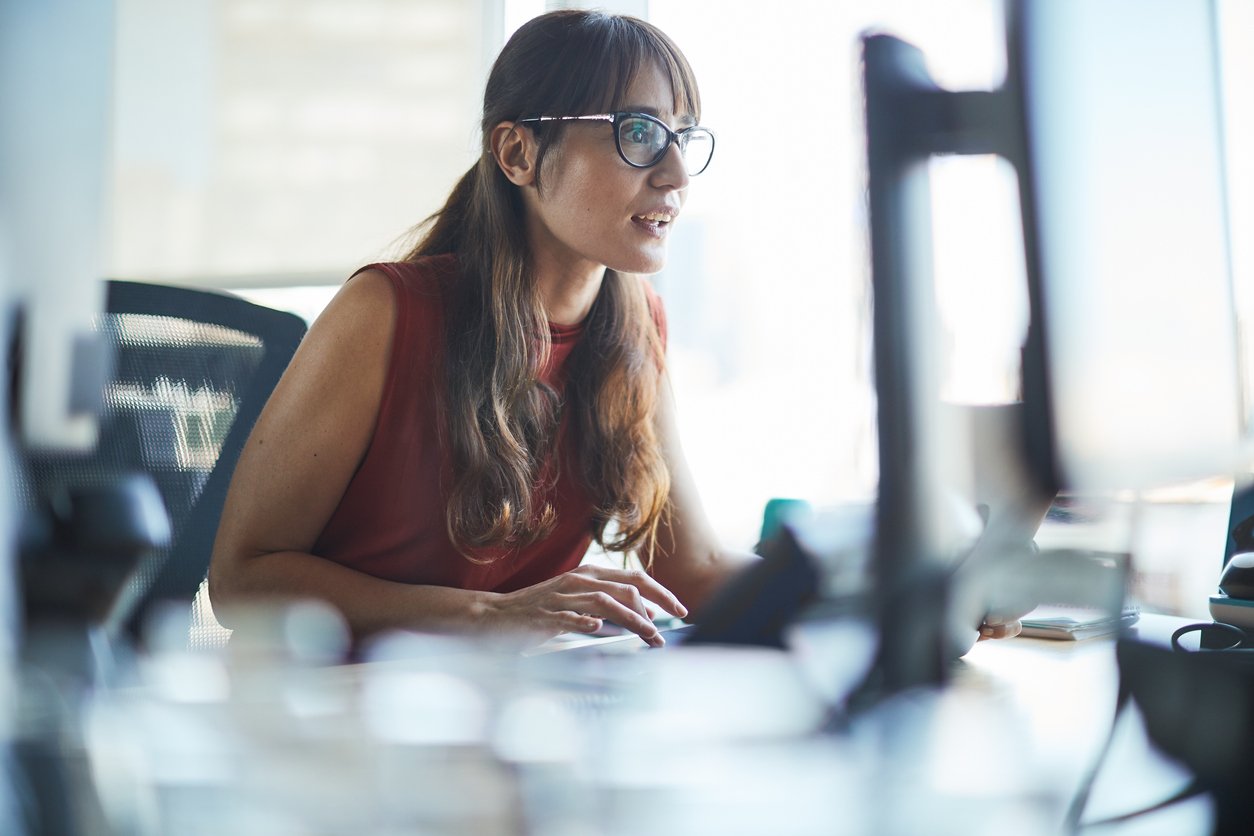 The first thing you need to consider when looking for software for lawyers is what problems your law firm has and how you expect law firm software to aid in solving those problems.
The major challenges that family law firms often face surround financials, including client billing and payment, trust accounting, and collections. This means that family law software that helps manage these financials effectively is likely high on the list for family law firms.
Legal accounting software, alongside a good legal accountant, helps your family law firm to handle the majority of cash flow issues including:
Case cost accounting
Matter management
Time tracking
Responsible trust account reconciliation
Bookkeeping
Handling unclaimed client funds in accordance with state or provincial laws
In terms of what to look for in general for family law software, always consider:
User-Friendliness
At the end of the day, if the legal industry software has a learning curve that is too steep for many of your employees, or the interface doesn't make logical sense when navigating, then it will likely add time to tasks rather than make them more efficient.
Compatibility With the Software That Your Law Firm Currently Uses
Interconnectivity between the different legal software used in law firms is important to ensure that information doesn't end up in silos and that collaboration can continue to be encouraged. Also, integrating software can often unlock new functionality and opportunities for productivity and efficiency in your firm.
Ease of Onboarding
Getting new software isn't about just installing it and being done. There should be a structured onboarding process to implement it properly into your law firm's daily operations. Onboarding should be a joint effort between you and the software provider. The vast majority of legal tech software companies provide onboarding as either part of the subscription or for a one-time fee. Onboarding can take anywhere from a few weeks to several months. The latter is more realistic if the software is more robust, like practice management software or legal accounting software.
Buy-in From Your Employees
It's important that your legal professionals understand why you're implementing a new piece of software within the law firm. Sometimes employees can feel comfortable with certain processes, even though they may not be the most efficient, and be resistant to change. If you can demonstrate how the software would help your employees and make their jobs easier, chances are it will be easier to get buy-in from them.
In addition, if employees feel excited and motivated to use a new piece of software, it's going to be easier for them to learn and incorporate into their daily work.
Mobile Accessibility
Family law attorneys are often away from the office, whether it's to attend court or to participate in a settlement or mediation conference, or just meet with a client. Because of this, it's important that any family law software that you select has mobile compatibility to ensure that your attorneys can access important documents and information on the go without compromising on experience.
Enhancements to the Client Experience
These days, clients are used to instant answers and doing business online. This means that law firms that want to keep up must invest in online solutions for their clients, whether that's video conferencing or practice management software that allows a self-service client portal that the client can log into and see the current status of their case. Online billing and payment is also a huge consideration, as making it easier for clients to pay their bills is a no-brainer to increase your law firm's collection rates.
Key Features of Family Legal Firm Software to Consider
| | |
| --- | --- |
| Family Law Software Feature | What It Does |
| Centralized calendar | Helps manage daily tasks, automatically updates schedules according to court dates, and update tasks based on completion status |
| Client information management | Provides a centralized location for each client's contact information and data, and facilitates global updates when information is changed |
| Client portals | Helps facilitate information sharing between lawyer and client, for instance with case updates and document uploads |
| Automations | Decreases time spent on tedious, repetitive tasks, and helps add consistency to workflows while reducing human error |
| Child support calculations | Some family law software offers child support calculations based on information that the attorney enters, such as number of overnight stays at a household, age, taxes, and more |
| E-signature support | Instead of a client having to meet an attorney in person, they can sign documents through secure e-signature software, such as DocuSign |
| Integrations | Family law software worth its salt should be able to seamlessly connect with other software in a law firm's tech stack, to keep information accurate and support efficiency and productivity |
Benefits of Family Law Firm Software
1. Better management of finances
There are many moving parts when it comes to family law firm finances. Family law software makes it easier for firms to manage trust accounts, clients can be invoiced faster, and other accounting considerations like managing retainers can be made significantly easier with features like automations and simplified reporting.
For instance, many legal billing platforms allow billing records to be stored in one centralized location, and alongside practice management software, client details can be used to automatically populate invoices to make the process of billing clients easier. When combined with e-billing software that allows clients to make online payments, clients can save the trip to the law firm and are more likely to pay their bill on time.
2. Reduces the chance of human errors
Family law software, such as practice management software, often allows automations to be set for certain tasks. These automations can apply to anything from invoice creation to filling in contract details. The purpose is to reduce the chance of human error, like typos or grammatical errors, and make executing certain tasks easier and faster.
For example, rules-based calendaring automation can set a case schedule based on court docket entries on an attorney's calendar. If a judge changes a date, the schedule is automatically updated, eliminating the need for an employee to constantly check dates and update schedules manually.
3. Improves client communication
It's no surprise to any currently practicing attorney that two things have become the norm for the modern lawyer:
Many lawyers aren't working from the office either at all or as much due to the overall rise in remote working conditions across the industry.
Because remote or hybrid work is increasingly becoming the norm for attorneys, virtual communication with clients is paramount. Video chat, instant messaging, and texts, emails, and calls are the norm.
A quick google search suggests that clients are very much open to meeting with lawyers online, which Clio's 2022 Legal Trends Report corroborates. Thankfully, it's not unusual to find practice management software (Clio and Cosmolex are two examples) that helps facilitate efficient online client interactions. One standout feature is client portals. These self-service portals allow clients to log in, see the current status of their case, and in some cases, even upload additional documentation to provide to their lawyers.
4. Offers better resource utilization
Through automations and consistent workflows, family law software facilitates the better use of a professional's time, so your attorneys aren't spending hours on timesheets and legal administrators aren't spending time manually updating calendars. This means that attorneys can spend more time practicing the law and less time on administrative work.
Types of Software for Law Firms Covering Family Law
Type Of Law Firm Software

What It Does

Case management

Ensures accuracy of client information
Stores client case information in one location
Automatically updates an attorney's calendar based on court date information

Legal accounting

Handles trust accounting and retainers
Facilitates billing and payments
Some software includes additional features such as client intake, calendaring, and document and email management

Divorce software

Helps calculate child and spousal support
Facilitates financial affidavits and financial planning
Built-in negotiation tools, property division, and benefits calculations

Knowledge management

Keeps the collective knowledge of all attorneys and legal professionals in the firm in one searchable location
Allows easy access to documentation from anywhere via the cloud
Access privileges and other security features ensures sensitive documentation is protected

Legal pricing

Legal pricing software like AltFee helps keep track of AFA pricing strategies for each client and case type
Facilitates collaboration between colleagues within a law firm to set out the best pricing for a client matter
Integrates with Clio to ensure accuracy of client information and across platforms

Document management

Legal document management software

allows secure storage of sensitive documents with access privileges and searchability
Edit, view, and share documents from one location
Version control to ensure that the latest version of the document is easily identifiable
Top Family Law Software for Attorneys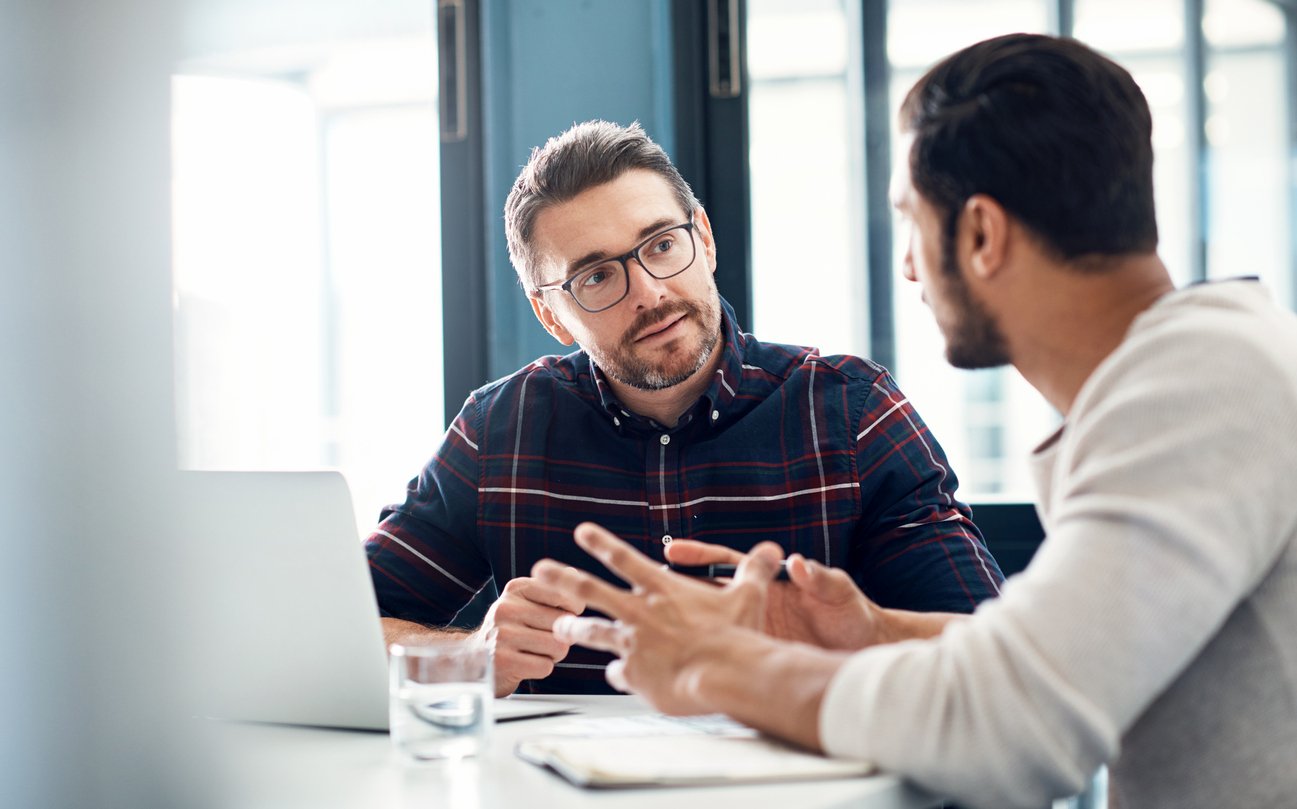 As we mentioned before, one of the main challenges for family law firms is financial management. Arguably the biggest challenge is one that permeates all of the legal industry: cost uncertainty leading to final bill shock. This is especially true since a contingency fee isn't often an option for family law cases due to ethical considerations.
But price uncertainty has many layers in a law firm's operations associated with it. Hourly billing, time tracking, client perception of the value that the law firm is providing, and transparency with regard to the "why" behind the number on the final bill are all challenges associated with it.
So what's the solution?
Effective practice management software combined with alternative fee arrangements is one approach that would basically look like this:
Practice Management Software: Clio
As far as legal software is concerned, Clio needs no introduction. In many ways, Clio is an all-in-one solution that covers the major operations that a law firm would need software to help handle, such as:
Managing a large variety of client contacts and related case information
Legal document management software that stores, organizes, and allows document editing
Time tracking and billing, as well as invoicing
Accounting, including trust accounting and bookkeeping
Project management capabilities like task management
The ability to create a client-facing portal to make it easier for clients to see case status, view documentation, or provide documentation
Online payments
But while Clio is a robust solution, the time tracking, billing, and invoicing component of the software might not translate to a complete solution for law firms that bill based on alternative fee arrangements.
The time tracking component of the software is still useful to see how long a project or client matter is taking in terms of project management, but a firm that uses AFA pricing would likely need another solution for managing their pricing structures. That's where AltFee comes in.
Alternative Fee Arrangement Pricing Software: AltFee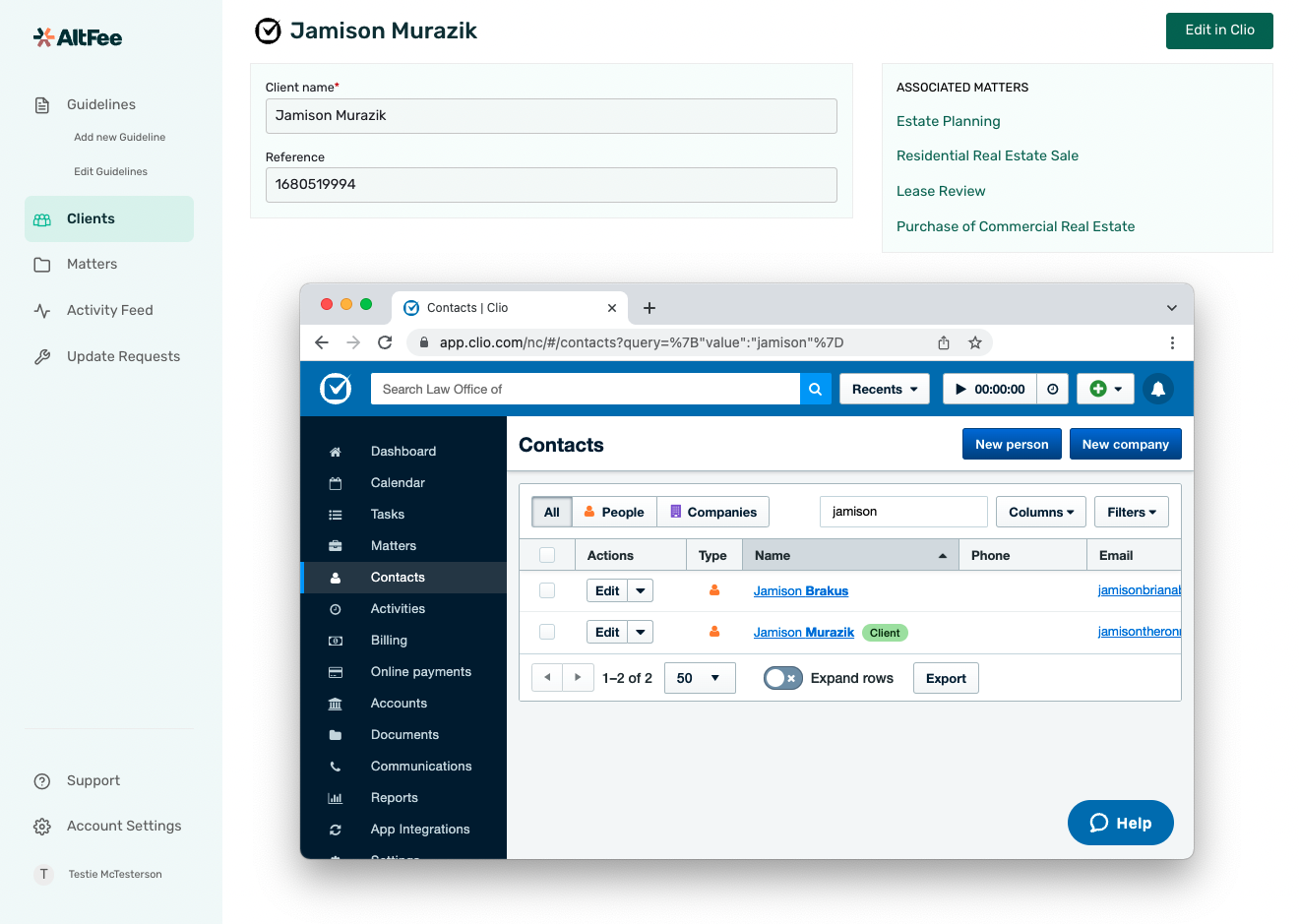 When combined with Clio's practice management software, the ability to manage and collaborate on your alternative pricing structures is augmented by the information and insights within Clio.
AltFee integrates with Clio so you can save time on creating client profiles, manage the scope of client projects in AltFee, and make changes to client information that updates seamlessly. At the same time, your workflow is improved because you don't have to switch between platforms to find key information on clients, it's all there for you to view.
With these two platforms working together, it's easier than ever before to manage every aspect of your family law firm's pricing and client management strategies.
Start Earning More Revenue with Fixed Fees
Break free from hourly pricing and take the fear out of scoping and pricing client projects to start maximizing profitability.
Book A Demo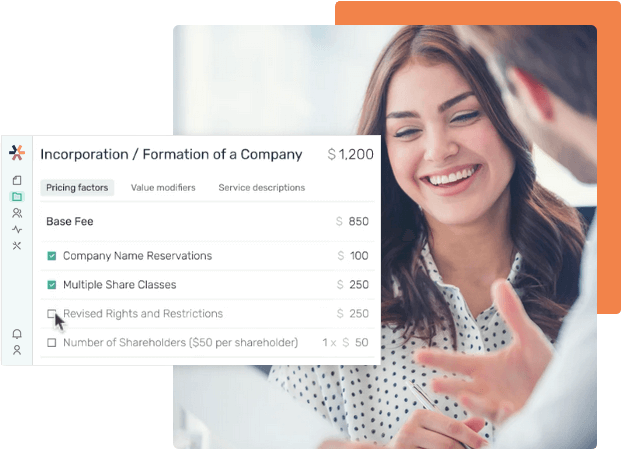 Additional Considerations to Boost Client Satisfaction
If you're newer to the conversation surrounding alternative fee arrangements, then you're probably wondering what all the fuss is about. After all, the billable hours law firm has been around since likely before most people reading this article can remember, so it can't be all bad, right?
Well yes and no. The main benefit of the billable hour is that it's easy to explain—a lawyer charges $150 per hour, and the client pays the lawyer based on how many hours it takes to complete the legal work. Simple.
But complications arise when the client questions why their bill is so expensive. And some attorneys have pointed out that the very nature of the billable hour can cause contention and distrust with clients, because they're never sure how much their bill will be, and if their lawyer is being efficient with their time when working on the case.
Clio's 2022 Legal Trends Report shows an increase in every metric related to fee collection, including realization rates, collection rates, and utilization rates. Is this because more firms are turning to alternative fee arrangements, which have been shown to help law firms increase these metrics? It's not a sure thing, but with more and more law firms turning to AFAs, it could be more than a coincidence.
Conclusion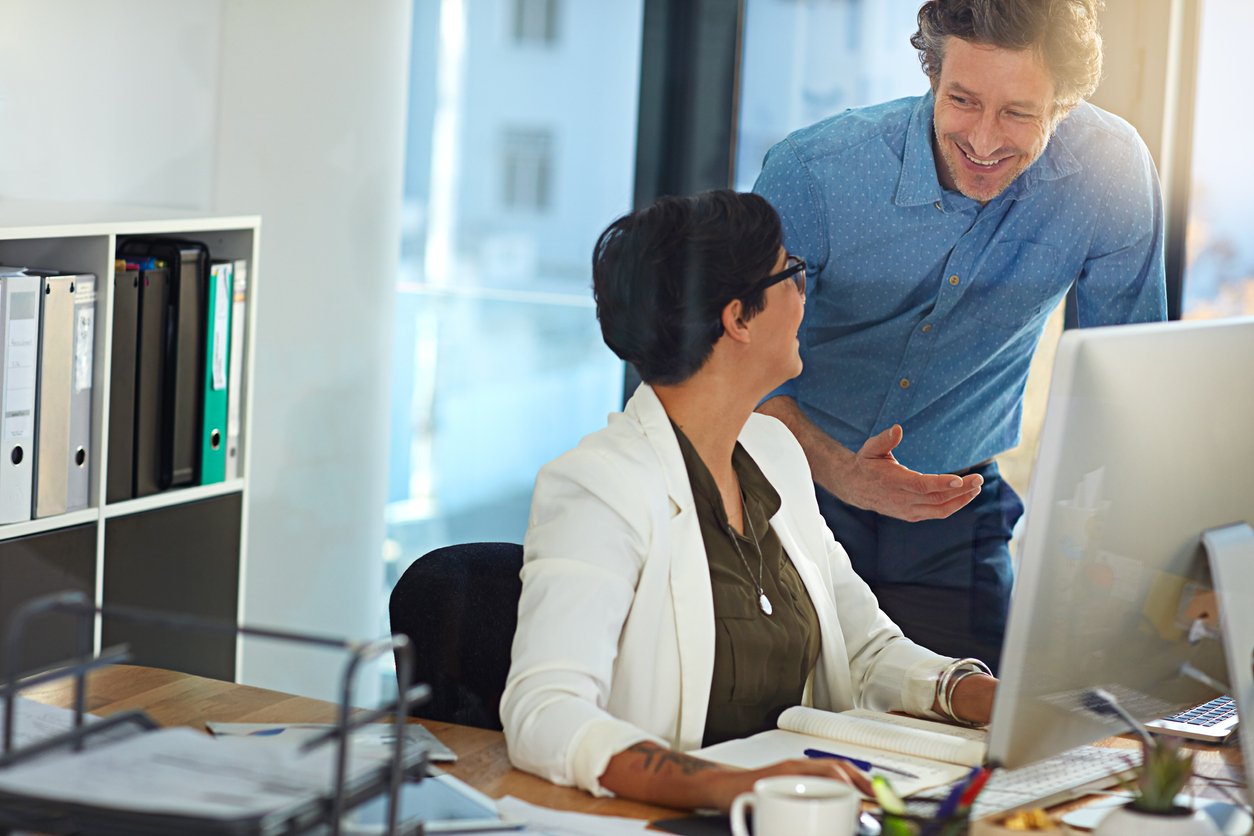 These days, all law firms need robust technology to support daily operations, but the complexity and uniqueness of family law practices often mean that a few specific law software features are required. Thankfully, a plethora of family law software options are available to handle everything from accounting, time tracking and billing, client communication, calendar management, and much more.
Another important aspect of family law is pricing. Individuals looking for family law services want to know that they are being charged fairly for the services they receive. This price certainty and transparency has led many law firms to shift their pricing strategies from an hourly billing model to alternative fee structures.
If you're a law firm that charges clients with alternative fee arrangements, you can benefit from using AltFee. As legal pricing software with a focus on collaboration, AltFee makes it easy to organize pricing structures for all your clients and case types.
Interested? Get a demo of AltFee today.
Start Earning More Revenue with Fixed Fees
Break free from hourly pricing and take the fear out of scoping and pricing client projects to start maximizing profitability.
Book A Demo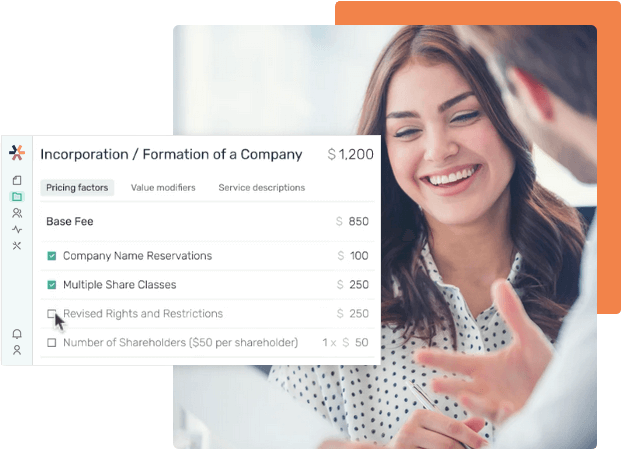 Newsletter Signup
Subscribe to our newsletter to receive the latest news.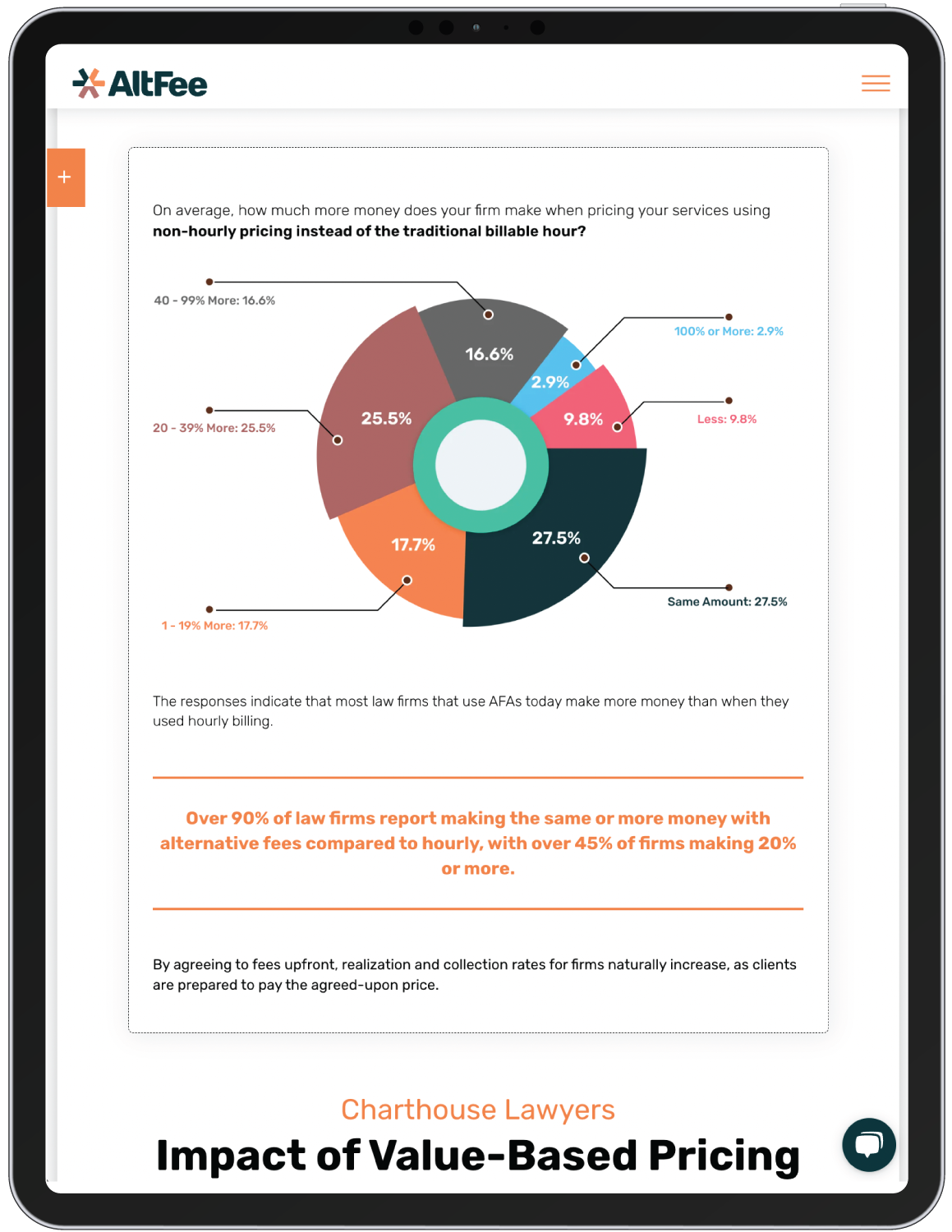 Legal Industry Pricing Trends Report 2023
Surveying legal professionals across the world, the report showcases how AFAs are contributing to increased profits for firms, better use of technology, and better work-life balance and working conditions for legal professionals.