Legal Document Management Software: The Complete Guide
Law firms these days have a plethora of software applications in their tech stacks, and arguably one of the most important pieces within that group is legal document management software.
This fact becomes obvious when we take a peek into the conversation surrounding legal document management.
The Law Society of Alberta, for instance, has strict rules on what types of legal documents need to be kept and for how long—financial records need to be kept for a minimum of ten years, while documents related to the "identification and verification" of a client must be stored for at least six years after the work is complete. They also recommend that a complete copy of a client file be stored for ten years, just in case they approach the firm for more legal services later on. The British Columbia Law Society has similar rules.
But it's not just about storage of a large volume of documents, which is easy enough to accommodate with modern cloud-based options, there are privacy and security concerns that have to be considered and addressed. Additional considerations include, ease of access to documents to avoid wasted time and a process to determine which documents should be kept and which should be destroyed after a period of time.
And that's just scratching the surface. With all of the above factors being important considerations with choosing a legal document management software (DMS) solution, plus determining your own law firm's pain points and how legal software document management can address them, choosing an effective solution suddenly becomes much less straightforward.
In this article, we'll explore what legal software document management is, the essential features you should look for in legal document management software, and highlight how this software can help improve your law firm's pricing and billing processes.
What is Legal Software Document Management?
Legal document management software, also known as a law firm document management system, allows legal professionals to organize and access legal documents stored electronically, whether on a local server or on the cloud.
Think of legal document management software like a giant digital filing cabinet, with the following features:
Categorization for each type of document using metadata (reference data that gives the system more information about a document) and tags (category labels that help with organization)
Important documents that need additional security and access privilege controls are protected based on the system's ability to determine who is trying to access them, and whether that user has the right permissions to do so
Easy searchability for documents, so legal professionals just need to type in a few keywords or apply a few search filters to find what they're looking for
Ability to view, edit, access, and share documents from one central location
7 Essential Features for Legal Document Management Software
1. Searchability
Legal teams should be able to find the documents they need easily, so it's important that the legal DMS fully utilizes the metadata (e.g., matter number, location, lawyer name) for each document, alongside specific security and privacy requirements to aid in searchability.
For instance, if a legal professional was looking for information related to a past legal matter that the firm handled, they should be able to type in the matter number, or perhaps the lawyer's or the client's name, to find the information. But if the user access privileges restrict their access to certain documents within that case (e.g., financial information), then that information either wouldn't show up or indicate that their access privileges don't allow them to view that information.
2. Version Control
Legal software document management should allow multiple versions of a single document to be saved and even restored, alongside the ability to view documents to see the differences between versions. This is also where user activity logs (which we'll discuss more in the fourth point in this section) come in handy since it gives transparency into every interaction between a user and a document.
3. Compatibility
Being able to open a document stored in the legal document management software in its native application might seem like an insignificant feature, but it's actually extremely useful—imagine having to download a document from the DMS every single time you want to view it. Being able to share documents directly from the legal document management software is also important, and the ability to integrate with common programs like MS Outlook, Gmail, or Slack is a bonus.
4. User Activity Logs
Knowing who, when, and where a user accessed a particular document on the legal document management software is important for transparency and security, troubleshooting, and/or process improvement.
5. Document storage
Information about each document, referred to as its metadata, should be standard for the legal file management software to use to determine where the document should be stored and how it should be organized within the system. Document tagging is another useful feature related to document storage, as the management system would be able to add another layer of organization by analyzing and tagging documents based on specific details.
6. Security and Access Privileges
Lawyers and legal professionals deal with complex and sensitive matters daily, so effective security is of utmost importance. A legal files document management system should have robust, enterprise-level security to ensure that document storage and access levels meet regulatory compliance and also protect the firm against potential security breaches like phishing.
Remember the importance of ensuring the servers your data is being stored on are in the correct geographic location, as determined by your law society.
7. Billing and Invoicing
Legal document management software stores financial documentation, so it makes sense to have native billing and invoicing capabilities or the ability to seamlessly integrate with law firm billing software. The law document management software that you choose should be able to work with how your law firm bills your clients, whether you're a billable hours law firm, you bill your clients via alternative fee arrangements, or some combination of both billing methods.
Benefits of Document Management System for Law Firms
| | |
| --- | --- |
| Benefit | Why it's relevant |
| Accessibility | Allows legal professionals to access needed documentation quickly via keyword search or search filters |
| Security | Automatically restricts access to sensitive documentation based on set out user access privilege levels, and helps protect against phishing and other security breach attempts |
| Better document organization | Instead of having documents saved in several locations, a legal document management system provides a centralized location to store all documentation |
| Convert paper files into digital | Some legal document management software solutions allow easy conversion of paper files into digital, which enhances security, makes finding documentation easier, and contributes to ease of access |
| Secure document sharing and collaboration | Modern legal document software management offerings allow legal professionals to easily share documents, leave comments, and otherwise support a collaborative workflow by allowing access from anywhere with any device—provided security checks are met, such as multi-factor authentication (MFA) and access privileges |
| Better ability to handle high volumes of documentation | Legal documents management software can handle document movement with ease through established workflows and automations to ensure that time is saved while information is recorded |
| Enables document recovery in the event of a disaster | Most legal documents management software include automatic backups, ensuring that a firm's documentation can be recovered in the event of a disaster, such as a severe security breach or software failure |
Best Practices for a Document Management Software for Law Firms

Ensure Document Storage Follows Regulatory Requirements
When it comes to the proper storage of sensitive legal documents, law firms have to ensure that they are following provincial or state, and federal regulations. This means that law firms should ask legal document management software providers how documents are stored and where. Provincial law societies in Canada are essentially in agreement when it comes to cloud storage, where if any client documents are to be stored on servers outside of Canada (which could be possible depending on the cloud service provider) then the firm must obtain the client's consent.
In addition, client documents must be stored for a certain number of years (usually around ten). Canadian law societies, such as the Ontario law society, as well as most American bar associations, such as the Washington state bar, require that law firms set up their document storage practices in the beginning to have a secure process for destroying documents when it's needed, both to free up space and to help prevent security issues.
Use Consistent Folder and File Naming Structures
Setting up internal standards for folder and file naming is an essential best practice for a law firm's document management efforts. Outlining simple rules to follow, perhaps via a template, makes it easier for employees to accurately and consistently name the files and folders within the legal document management system. This also helps with searchability and the system's ability to find information.
Use Version Control
Determining the latest version of a document is extremely important for law firms for many reasons, including reducing confusion and making collaboration easier. Many legal document management software offerings include version history and activity tracking, allowing legal professionals to see when a document was viewed or downloaded, but there's typically nothing to prevent several versions of one document from being stored in the system, which can cause confusion.
A best practice is to use a legal document collaboration tool to allow multiple users to edit a single document since these programs have built-in version history and can restore the document to a previous version. Legal document management software like Clio sync directly many popular document collaboration tools for easy collaboration.
Set up Approval Workflows
Most legal document management software offerings help law firms facilitate streamlined approval workflows so that creating, updating, and filing legal documents is easier, faster, and more consistent. One example of a workflow would be to restrict access to a document before a certain person has seen it and approved it to ensure that every stakeholder that needs to be involved in the approval of a document is involved (for instance, before it's sent to the court or a client), and there's no chance that a step gets missed.
Improve Mobile Access
These days, people work from anywhere, meaning constant access to a desktop or laptop isn't always possible. However, everyone always has their phone with them. Lawyers could be commuting to meet clients or appear in court, so ensuring they have access to the law firm document management system on the go is an important consideration. While many of the popular document management systems are legacy style software which do not represent well on mobile right now, having mobile access compatibility in the future can not only save time, but it also ensures that important documents can always be accessed—preventing embarrassing situations like arriving to court with the wrong documents or forgetting a document.
Law Document Management Software Mistakes to Avoid
1. Not Following an Onboarding Process
Implementing a new piece of software, especially one as important as legal document management software, requires careful planning. Law firms will either need to involve an IT team if they don't already have an in-house one or enlist the help of the legal file management software provider.
Most SaaS companies and legal document management software providers have onboarding available, either with a subscription or as a one-time additional cost.
Onboarding should occur over several weeks or months, depending on the law firm's size. Document management software for small law firms will likely not take as long to onboard as large law firm document management software, but regardless, a specific process should be set out in the beginning and followed as closely as possible.
2. Choosing an On-Premises Solution Instead of Cloud-Based
It's common to think that a cloud law firm, which is a firm that completely embraces the cloud for all operations, would be less secure than one that operates entirely on an on-premises system, but that actually isn't the case.
The biggest threat to security for any law firm is its employees—accidentally clicking the link in a phishing email or not following security policies can open up a law firm to potential security breaches, whether they are on the cloud or not.
These days, cloud governance and robust security measures like MFA and access control make cloud systems extremely secure while at the same time eliminating a law firm's need to maintain their own on-premises systems.
3. Not Considering How to Handle Paper Documents
The journey to a paperless office doesn't happen overnight, and let's face it, the legal industry LOVES its paper. In some cases, of course, a physical document may exist for a specific reason, whether it's because a client prefers a physical copy over digital, or the document has only ever existed in a physical form and needs to be converted to a digital format.
Depending on how long your law firm has been around, chances are you have paper documentation that you'll want to include in your legal document management system. Determining in advance how this will happen is paramount. For instance, many firms utilize desktop scanners to streamline the process of getting physical documents into their document management system.
Some legal DMSs have built-in functionality to make the physical-to-digital document conversion process easier, so if your law firm has a lot of non-digital documents, this would be an essential feature to look for.
4. Inadequate Security Planning
From following regulatory requirements like General Data Protection Regulation (GDPR) to provincial or state and federal regulatory requirements for document privacy and security, law firms that don't pay attention to their legal document management software provider's data storage handling could face hefty fines or threats to their operations and reputation. Asking how the software provider handles their cloud-based document storage and access and what security measures they follow should give you a clear understanding of whether the product will meet your firm's security needs.
In addition to vetting legal file management software, it's also important to provide your employees with cybersecurity training to identify potential threats, such as phishing emails, and deal with them appropriately.
Lawyer Document Management Software Trends
| | |
| --- | --- |
| Trend | Explanation |
| More collaborative features | Annotation features, e-signature capabilities, and customized security and access features are increasingly becoming the norm for legal documents management software providers |
| Continued market growth over the next 7 years | The legal document management software industry is projected to continue growing by billions of dollars per year well into 2029 |
| Use of Artificial Intelligence and Machine Learning with automation | As emerging technologies like AI and ML continue to integrate with legal document management software, automations are becoming smarter, more targeted, and overall more useful than ever before |
| An increased focus on mobile optimization | Working via a mobile device, at least some of the time, is a reality for most legal professionals, and legal document management software is increasingly embracing a mobile-optimized environment |
How to Streamline Your Law Firm's Billing Process With Law Firm File Management Software
Law firm file management software is all about organization. And as these software offerings continue to evolve, they're incorporating more features like law firm time and billing software to reduce the number of extra applications in your tech stack and marry information like activity tracking and edits (that are already features of typical law firm file management software) with billing.
In some cases, invoicing can also be facilitated in the same program, so additional software isn't needed to create and send invoices to clients either.
But to truly streamline your billing process, it's important to look at how you price your services. With AltFee's alternative fee arrangement pricing software, you can easily create, manage, and track pricing structures for all your law firm's services, from wills and estate planning to more complex litigation services with ease.
What's more, AltFee integrates with Clio, a legal document management software provider that also includes legal billing software, making it easy for your legal professionals to manage the end-to-end process of setting out pricing for a client project, collaborating on pricing changes to scope and other factors as the project progresses, and invoicing the client once the project is complete.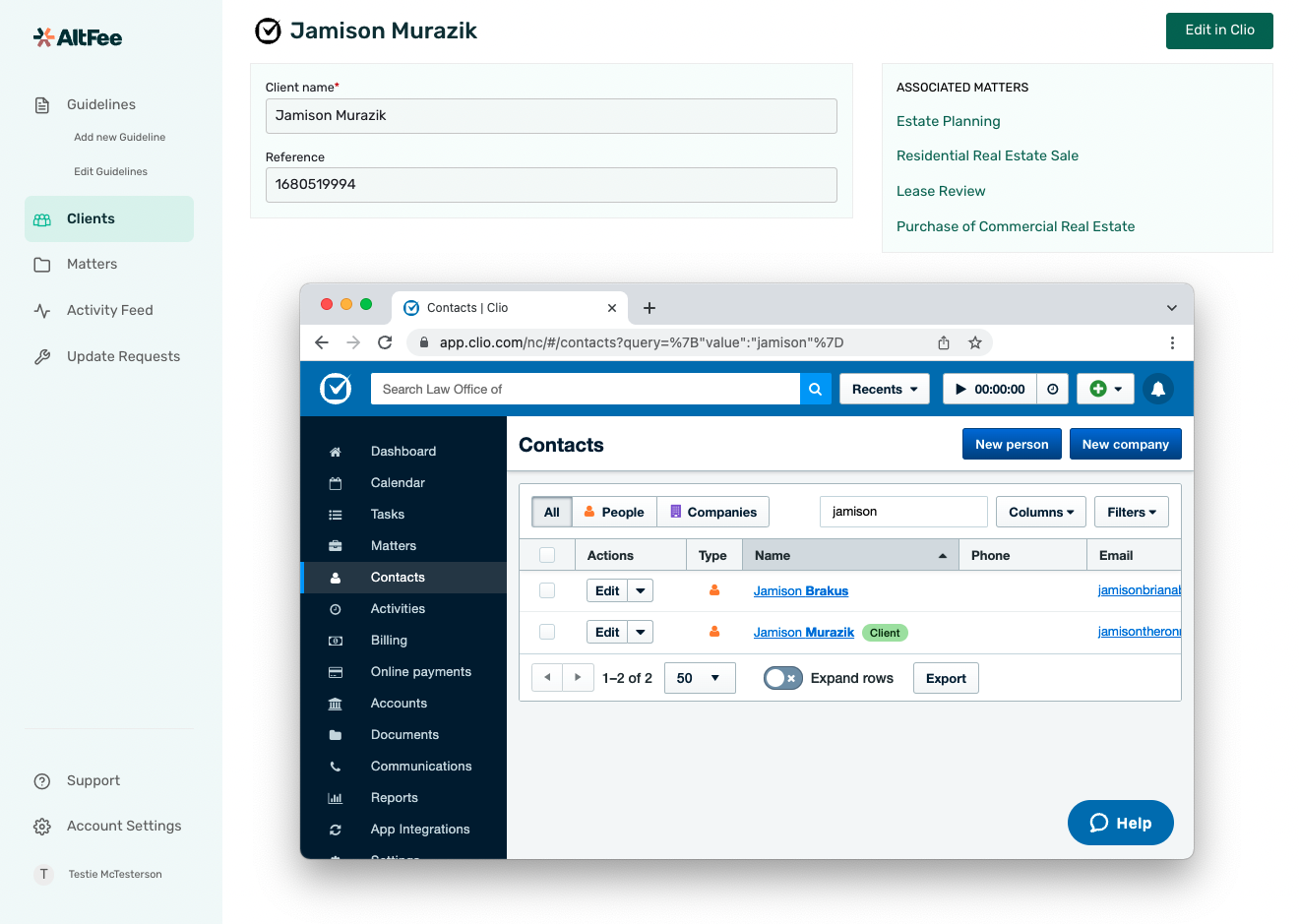 Here is a more illustrative idea of how AltFee works with a legal document management software provider like Clio:
Client information is entered into Clio, including the legal service they're purchasing
AltFee is used to determine the scope of the project, including collaborating with other legal professionals to establish an agreed upon price between the law firm and the client
Once pricing is set out, sent to the client, and agreed to by the client, work can start
Once work is finished on the project, the billing application part of the legal document management software can be used to receive payment for the agreed upon scope and price that was created through AltFee
Why Legal Document Sharing Software Improves Client Experience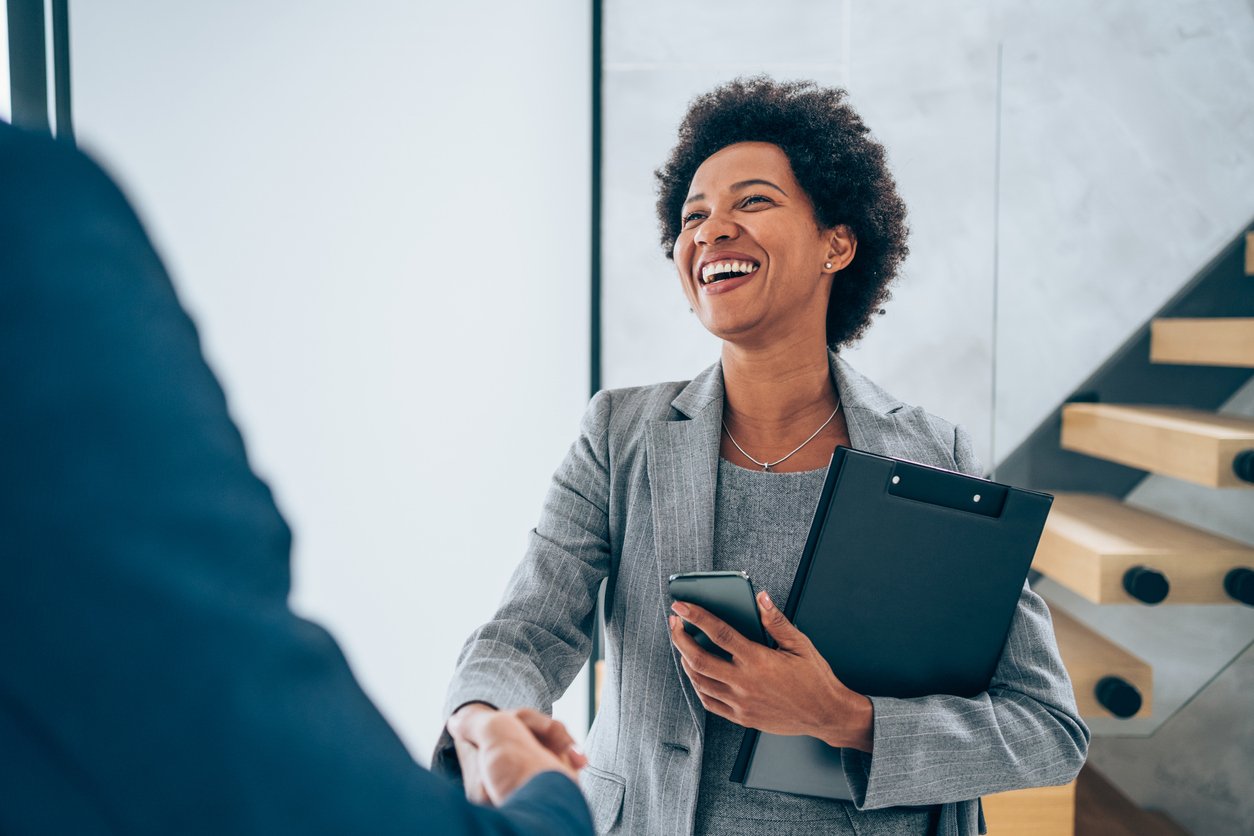 When processes at a law firm can be streamlined and made more effective and efficient, it always translates into a better client experience:
Clients can get served faster, and many legal document management software offerings have client portals that they can log into to see the current status of their legal matter
If AltFee is used in conjunction with legal documents management software, pricing is transparent from the get-go, giving them peace of mind that the final bill will be the same as what they agreed to at the start of the project
The final invoice can be created and distributed to the client via the legal document management software, and if it supports

legal e-billing software

, then the client can easily pay their bill online without having to mail a cheque or make a trip to the law firm.
Conclusion
The importance of ensuring that every piece of software in your law firm's tech stack contributes to improving overall operations is paramount. Because legal document management software is really the core of most law firms' tech stacks, it's important to make sure that you're choosing the right solution, but it's also important that you're planning ahead and developing strategies for the smooth implementation of the software.
If your law firm uses alternative fee arrangements, then you need pricing software that facilitates collaboration and organization of your pricing structures. Get a demo of AltFee today.
Start Earning More Revenue with Fixed Fees
Break free from hourly pricing and take the fear out of scoping and pricing client projects to start maximizing profitability.
Book A Demo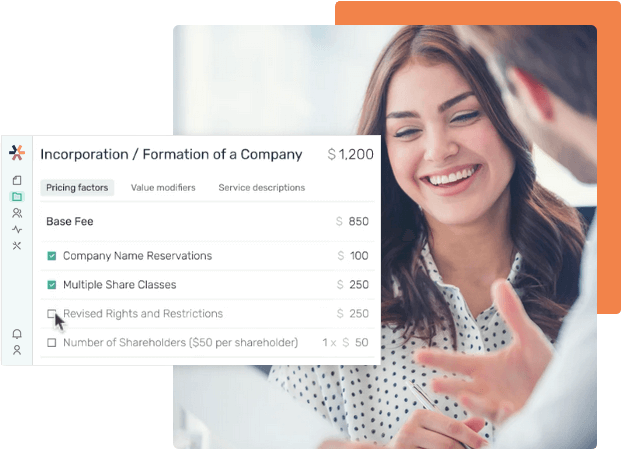 Newsletter Signup
Subscribe to our newsletter to receive the latest news.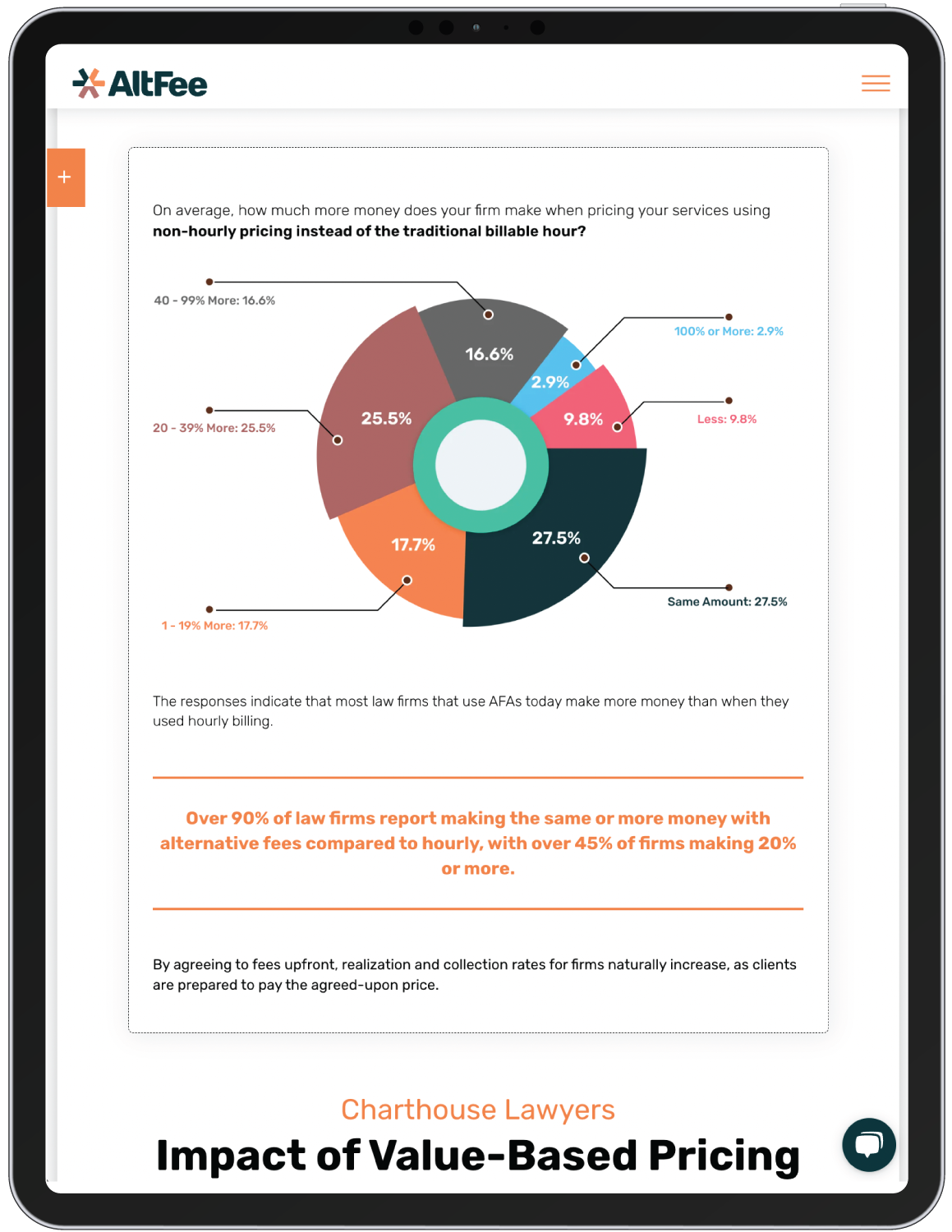 Legal Industry Pricing Trends Report 2023
Surveying legal professionals across the world, the report showcases how AFAs are contributing to increased profits for firms, better use of technology, and better work-life balance and working conditions for legal professionals.