SaaS Law Technology Handbook [Definition, Types, Benefits & More]
The legal software industry is exploding.
With the global legal tech market currently worth billions of dollars and continuing to grow, it's no wonder that more and more people are starting to take notice, including investors.
The legal tech industry might not be new, but major players have been contributing to its rapid growth in recent years, and it's revolutionizing almost every aspect of the legal industry.
A major player in this space includes legal SaaS companies, specifically startups. These businesses provide substantial opportunities for solo lawyers and law firms to streamline their processes, become more efficient with their legal services offerings, and positively affect their work-life balance.
In this article, we'll explore the ins and outs of legal SaaS, including what it is, the different types of SaaS legal technologies out there, the benefits of implementing it in your law firm, and much more.
Strap in; we're going for a ride!
Definition of Legal SaaS
SaaS, which stands for software as a service, refers to software you access online using a standard web browser on a subscription basis.
In some cases, you can also download an application to your computer, smartphone, or tablet, but you still require an internet connection to access the software. When you think of SaaS software, think about any digital subscription service you use — Netflix, Spotify, and Salesforce are all examples of SaaS companies.
To that end, SaaS software, in general, has these characteristics:
Hosted online on the SaaS provider's servers
Requires an internet connection to access
Doesn't require any fancy hardware to run, as the software is built to be used in a web browser
Legal SaaS is no different and has found its way into the SaaS world to fill a niche — providing easy access to various types of legal software online. Gartner's 2022 Top Legal Tech Predictions estimates that the average law firm will use 4+ different legal tech software offerings, and it's very likely that the majority of those, if not all, will be from legal SaaS companies.
With legal SaaS, law firms also don't have to worry about hosting and maintaining their software, which is a huge benefit, especially for smaller law firms that may not be able to afford an in-house IT team. Instead, the software is wholly maintained by the legal SaaS provider, including ensuring that the software is secure.
Types of SaaS Legal Technology
| | |
| --- | --- |
| Legal SaaS Types | Description |
| Practice management | This software helps law firms integrate back-end processes with front-end activities, including booking meetings and appointments, managing cases, storing client information, and even automating administrative tasks |
| Pricing | SaaS pricing software like AltFee allows law firms to manage every aspect of their alternative fee arrangements, including customizing pricing templates, and collaborating with others within the firm to set adequate pricing |
| Time and billing | This software allows firms to determine how long projects and tasks are taking, and reconcile that time to easily create an invoice for a client |
| Digital e-signature | In some instances, instead of a client having to visit the law firm to sign documents, online e-signature software allows them to securely sign documents digitally using their computer or smart device |
| Contract lifecycle management (CLM) | By using AI and features like preconfigured workflows, CLM software streamlines contracting processes to reduce risk, increase compliance, and speed up review |
| eDiscovery | This software simplifies the process of gathering and compiling electronically stored information (ESI) for cases such as lawsuits or litigation |
| Law firm knowledge management | Allows law firms to capture, store, and otherwise build a wealth of information that can be referred to by legal professionals and used to inform different legal matters |
| Legal accounting | Keeps track of your law firm's cash flow, including taxes, trust management, and analytics to help you understand your business's overall profitability. |
| Legal CRM software | Allows law firms to store and manage client information, with most CRM platforms being able to integrate with other software offerings (e.g. integrate with a CLM to pull relevant client data to fill out a document) |
Start Earning More Revenue with Fixed Fees
Break free from hourly pricing and take the fear out of scoping and pricing client projects to start maximizing profitability.
Book A Demo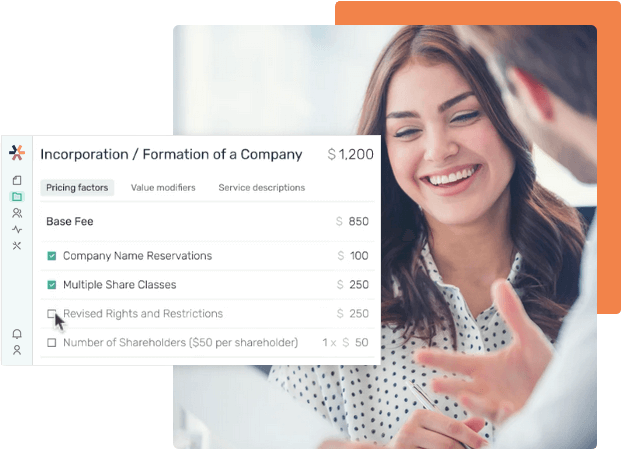 Benefits of Law SaaS Technology
You might think that the benefits of SaaS law technology would be similar to regular legal technology, and in some ways, you'd be right.
Legal technology in general, which includes SaaS, helps law firms and solo lawyers by providing them with software that allows them to achieve their business goals faster, more efficiently, and, most importantly, with less headache.
But when it comes to the specific benefits that SaaS law technology offers, we can pinpoint specific advantages that set it apart from other legal technology offerings.
In a nutshell, SaaS technology is:
Cost Effective
One barrier to adopting new technology for law firms could be having to pay a large, upfront cost for some pieces of software. While this was the norm in the past for pretty much any software that you wanted to buy for your business (think about how software like Windows, Microsoft Office, and others were one-time payments), the SaaS industry has taken over to offer software solutions for low monthly or annual costs.
So instead of having to budget to spend tens of thousands of dollars on a piece of software, a law firm can adopt it right away for a low monthly fee.
Doesn't Require Special Hardware to Run
Probably one of the most notable benefits of legal SaaS is that the offerings don't require any special hardware to run effectively. Because the software is browser-based, there's no need to purchase the highest-end computers to run it — everything can run seamlessly through the internet.
Many legal SaaS providers also have a mobile application or have designed their software to be mobile responsive, meaning the software's interface can dynamically change based on the screen size. This makes it even more accessible for busy professionals on the go.
Managed and Maintained by the SaaS Law Provider
Instead of the law firm itself having to manage the software, including performing updates, fixing compatibility issues, or troubleshooting issues, the SaaS law provider handles all of that. Typically, the SaaS provider will also provide software upgrades and improvements to the system directly to users at no additional cost.
Includes Onboarding
Have you ever purchased a piece of software and then realized that you need some training in order to use it effectively? Thankfully, many SaaS law providers offer onboarding services for you and your team (AltFee included) to get you up and running as quickly and efficiently as possible.
Runs on Multitenant Architecture
Legal SaaS has the benefit of running on a multitenant architecture, which means that multiple customers (tenants) can be served with a single instance of a software application. But don't worry; any data in the system that belongs to you is isolated and remains invisible to other tenants, meaning that you'll never see someone else's information, and they'll never see yours.
Legal SaaS companies offering their services using multitenant architecture have many benefits, including:
The ability to serve both large and small law firms, as the software can scale via the cloud to support different user needs
Management of the system is overall easier, as it requires less overall infrastructure and IT resources to manage effectively
Upgrades and fixes can be pushed on a global scale, meaning that every tenant accessing the software will see the latest version available
Legal SaaS Software Selection Criteria
Now that we know what SaaS law software is and how it's beneficial, you might be wondering how to select the best product out there for you. It can be easy to get caught up in wanting to go with the big players, but to choose the most appropriate and cost-effective solution for your law firm, it's worth taking a closer look at the full selection of different software offerings available.
But before you do that, you'll first need to determine what type of software you need. You can do this by determining what efficiencies and productivity improvements your business needs and making a list that matches those to specific SaaS law solutions.
| | |
| --- | --- |
| Business Need | SaaS Law Solution |
| Reduction in tedious and repetitive administrative tasks with general operations | Automations, such as those found within practice management software |
| Reduce the time it takes to build out and review contracts | CLM software with AI and machine learning |
| Effectively manage AFA pricing to provide the best pricing possible that matches client and law firm needs | Pricing and collaboration software, such as AltFee |
Start Earning More Revenue with Fixed Fees
Break free from hourly pricing and take the fear out of scoping and pricing client projects to start maximizing profitability.
Book A Demo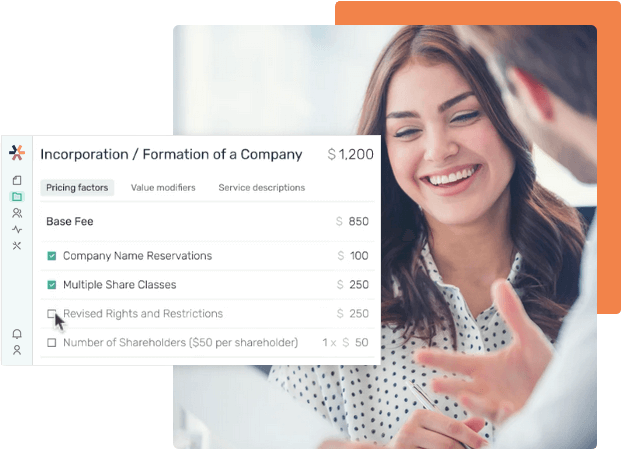 Once you've matched your business needs to SaaS law solutions, you can now move to more general considerations that you can apply to any software solution you choose:
Ease of Use. You might not think usability is a super important consideration when most SaaS companies offer onboarding, but the reality is that if the software is too difficult to use compared to doing it the traditional way, employees are going to opt for the traditional way. Set everyone up for success by providing training, but also vet software beforehand to ensure its ease of use.
Cost. To determine your budget for SaaS law software, take your business needs and match them with the software solutions that you think would fit your ballpark budget figure. From there, compare at least three or four different software offerings for each SaaS law category (e.g., practice management, pricing, CLM) and come up with an average for each. When you add them together, that's your budget.
Security. For law firms, ensuring that data stays secure is paramount. For cloud law firms that have completely embraced online data storage, the actual security of the SaaS law software itself isn't as much of an issue as employee error. Accidentally clicking on suspicious email links and visiting unsecured websites could open up your firm to malicious attacks. User control features that segment admin, staff, and contributors, for instance, are one way to combat this by limiting access to the system for different types of employees. Otherwise, training in the latest cybersecurity measures helps as well.
Scalability. As your law firm grows, you'll want to ensure that whatever SaaS law solutions you implement can grow alongside it. Thankfully, most SaaS law software is built to be scalable, but you should pay attention to potential increases in cost as most offerings charge per user license.
Future Proofing. You don't want to go through the trouble of adopting a piece of software only to find out that support has dwindled only a few months later. Check the Law SaaS provider's website for a comprehensive future development plan, or reach out to them for more information.
Top SaaS Law Technology Companies
| | |
| --- | --- |
| Legal SaaS Companies | What They Offer |
| | Collaborative legal pricing software for your AFA pricing system. Create pricing templates from scratch or select and customize a template from AltFee's database of hundreds of pricing templates. |
| | Practice management software (Clio Manage), legal CRM (Clio Grow), document automation (Lawyaw), case management, billing, accounting, and more |
| | Drag and drop eDiscovery software that uses integrations with popular communication systems (Slack, email, Google, Microsoft) to pull relevant information and sort it contextually |
| | Case management software for law firms that works in real-time to track emails, store case discussions, and allow for sharing and uploading files |
| | A series of SaaS law software offerings including Disco case builder, Disco review (document reviews powered by AI) and Disco Discovery. |
| | Provides a comprehensive suite of software for law firms, including practice management, analytics for outside legal counsel, billing and accounting, automated and customizable legal forms, and more |
FAQ
What is a legal API?
The word API stands for Application Programming Interface, and allows developers of applications to integrate said applications with law data and services (including Law SaaS).
Examples of legal API software include:
What is the impact of technology on the legal industry?
The overall impact of tech on the legal industry is largely subjective, but there are a few key conclusions we can draw from how different SaaS players in the industry have caused real, measurable changes to the profession.
Legal tech has allowed more lawyers and legal professionals to work in fully remote or hybrid environments.
With more clients asking for remote options when hiring a lawyer (the 2021 Legal Trends Report from Clio reports that 79% of clients look for remote lawyer options, but 67% want lawyers that do both in-person and remote counsel).
Clients are looking for more price certainty and transparency with every aspect of their legal services and want status updates to be provided digitally regularly.
Can technology replace lawyers?
With robot lawyer jokes aside, the legal industry is a particular profession. Most legal matters follow the reasonable person test unless the solution is clearly stated within the law.
Employment law, contract law, personal injury law, and more may follow the reasonable person test to help come up with fair conclusions in a case.
What this test states, in a nutshell, is to ask the question, what would a reasonable person do in this situation? And apply it to the behavior of the people involved in a case to try and determine whether the behavior is justified or not. Further, it's a litmus test to clarify whether a person's behavior is better or worse than that of a reasonable person.
With this in mind, it's unlikely that technology would replace lawyers completely. AI and machine learning are technologies that can emulate some aspects of human behavior and emotion, but the jury's out as to whether these technologies can demonstrate real, measurable human understanding. In short, technology can help lawyers do their jobs better, but it can't replace them.
Conclusion
As the breadth of SaaS legal software offerings continues to grow. We can only assume that this already giant, multi-billion dollar industry will continue to be lucrative as time goes on. As law firms continue to embrace technology to make the lives of their legal professionals and clients easier, expect that growing tech stacks and more tech-savvy lawyers will increasingly become the norm.
One crucial step to providing better legal experiences for clients and lawyers alike is using alternative fee arrangements. You'll want to continue reading if you're one of the many law firms that already offer different pricing structures and don't have pricing software to manage them.
AltFee is one of the first pricing and collaboration legal SaaS companies that offer a way for law firms to manage their pricing strategies effectively. By allowing you to create, manage, and collaborate on pricing templates within one tool, you can increase your pricing efficiency and make it easier to present pricing to clients confidently.
Reach out to us today and get a demo of our software. We'd be happy to walk you through it!
Start Earning More Revenue with Fixed Fees
Break free from hourly pricing and take the fear out of scoping and pricing client projects to start maximizing profitability.
Book A Demo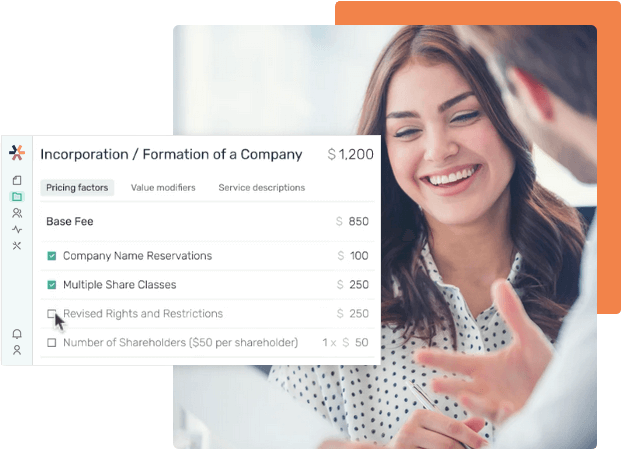 Newsletter Signup
Subscribe to our newsletter to receive the latest news.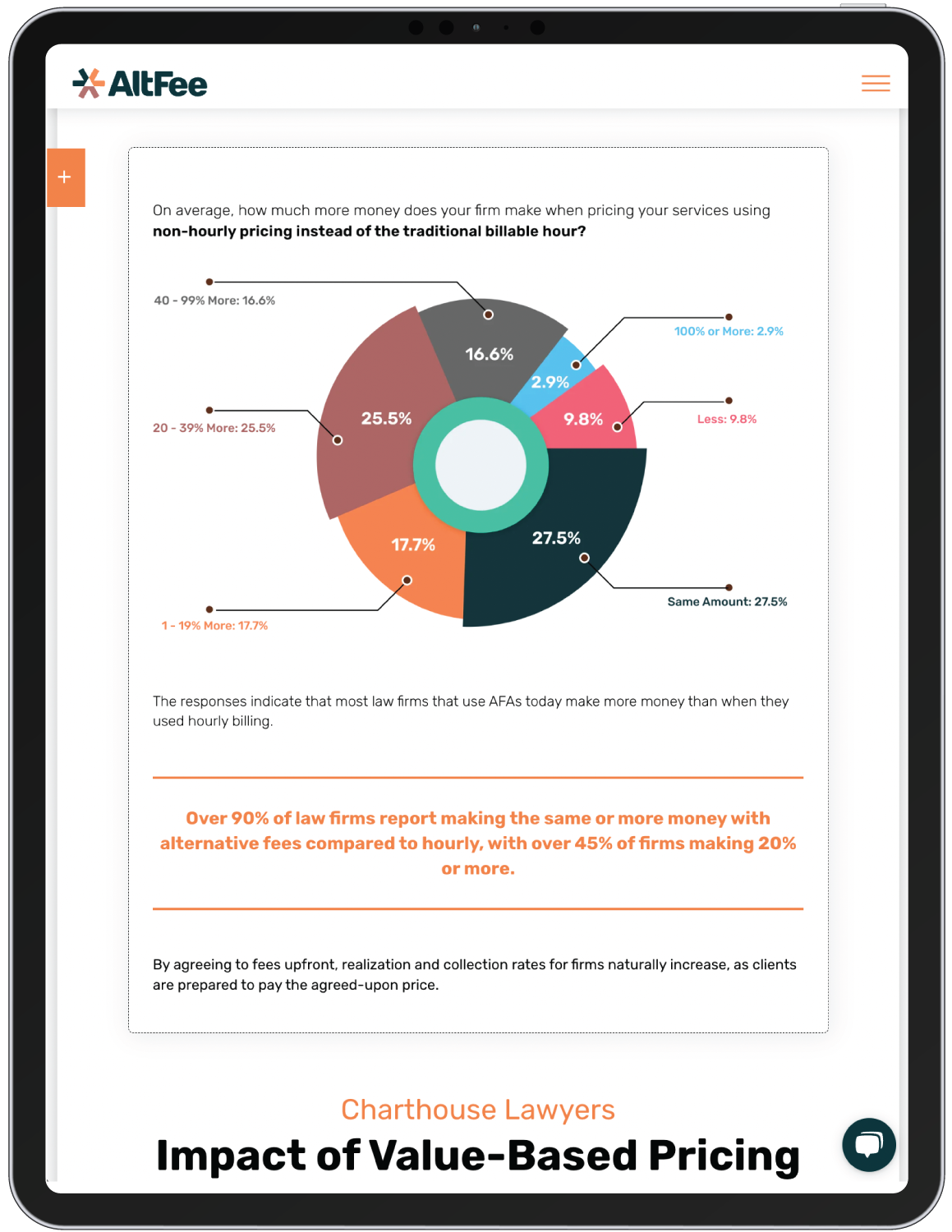 Legal Industry Pricing Trends Report 2023
Surveying legal professionals across the world, the report showcases how AFAs are contributing to increased profits for firms, better use of technology, and better work-life balance and working conditions for legal professionals.