18 Legal Technology Trends That Will Get You Ahead of the Curve
These days, being a forward-thinking law firm is setting your business up for success.
And yes, that contradicts the well-established view of the legal profession, where lawyers are traditionally known for being set in their ways, even if those are archaic.
The truth is, however, that the industry has been experiencing a shift in recent years. Instead of being ten years behind the rest of the world, the legal industry is quickly adapting to support those with innovative, effective ideas to make the world of law more attractive to both legal professionals and clients.
So say goodbye to those long-held beliefs because the legal industry is quickly climbing to the forefront of technological innovation, not lagging behind.
It requires keeping a pulse on current and emerging legal trends for law firms and legal professionals who want to be part of this movement towards innovation.
That's right, keeping track of current legal industry events is important, just like you would for technology. Who would have thought this would become the norm in the legal world?
What's next, robot lawyers?
Nuts and bolts aside, let's explore the ins and outs of legal technology trends, including how they are forecasted, and get into the latest ones that you should be looking out for.
How Are Legal Tech Trends Forecasted
Predicting current and future trends within any industry requires careful analysis of what's happening in that industry and making hypotheses regarding the direction of different areas, such as technology, pricing, and work styles (e.g., remote, hybrid, work-life balance) and more.
Within the legal industry, big players like Gartner, Clio, and Bighand have the resources, access to a pool of experts, and clout to keep a pulse on legal tech trends. They perform surveys, gather data, and otherwise stay on top of the news to confidently present a legal tech trends forecast, usually for a few years at a time.
These legal technology trends reports usually include information such as:
The current state of the legal tech industry, including general law firm and legal professional interest in legal technology and adoption rates
The legal technology marketplace, including new entrants, vendor consolidation, and current offerings
Client perspectives on legal technology, including demand and preferences
How legal technology ties into specific aspects of law firm operations, including pricing, invoicing and billing, communication, status updates, and more
Law firm perspectives on legal technology, including productivity and efficiency improvements, ROI, work-life balance improvements, and more
Law Firms Technology Trends
| | |
| --- | --- |
| Law Firm Technology Trend | Insight |
| Law firms are overall increasing their investment in technology | Year over year, law firms are increasing their budgets to adopt more technology solutions, from recruiting top talent to improving operations. Dynamic firms (those willing to embrace change) are spending on average $1,000 more per lawyer on legal tech compared to static firms (those resistant to change) |
| The typical law firm will use 4+ legal tech vendors | Law firm legal tech stacks are increasing, with no single vendor offering a fully comprehensive option (and using one may not be the best choice, anyway). Instead, law firms choose their own software suite to meet their unique needs and business strategies. |
| Investing in people and technology to provide better work-life balance and collaboration | From dedicated pricing experts to lawyer training, law firms are increasingly investing in people to foster collaborative work cultures and provide better work-life balance through adopting strategies like alternative fee arrangements. Technology's role in this is to provide the platforms necessary to foster collaboration (e.g., ease of access of information, flagging, commenting, messaging) and reduce time spent researching, performing admin tasks, and more through automation. |
| More hybrid and remote law firms | After experiencing the benefits of remote work and discovering that it can work for law firms, the trend of law firms becoming fully remote or offering remote work options continues to increase. |
| More collaborative software features | Being able to collaborate with others in the law firm is paramount to ensuring that everyone is on the same page about a matter, and helps avoid people working in silos (especially with remote work). Legal tech software with built-in collaboration, such as AltFee, helps ensure professionals are talking to each other and providing the best service possible for clients. |
| Using technology to support client-firm relationships | Data in the 2021 Legal Trends Report by Clio shows that law firms continue to struggle with revenue growth, more specifically increasing their utilization rates, realization rates, and collection rates. However, growing law firms that have embraced legal tech for metric tracking as well as billing software and online billing see higher revenue rates than those that do not. |
| An increased commitment to pricing technology and reporting | To keep tabs on matter pricing and profitability, law firms are looking for pricing tools that can organize and provide real-time financial visibility. AltFee is one example of a collaborative pricing tool that firms looking for increased visibility into their AFA pricing strategies would benefit from using. |
| A shift to the cloud law firm, where all data is stored online | While at one point data security of cloud-based systems for law firms was a real concern, the cloud solutions of today provide the enhanced protection and redundancies that law firms need to secure client and firm data. Though the ABA's claim that the number of law firms that claim to use cloud technology has only increased slightly (though it is mentioned that the lower "yes" response rate could be due to a misunderstanding of what constitutes cloud technology) adoption is expected to continue to increase as understanding also increases. |
| Rapid adoption of digital solutions | To keep up with consumer attitudes embracing everything digital, law firms need to embrace legal tech solutions. Wolters Kluwer reports that 77% of firms recognize the importance of legal technology, but only one-third of lawyers believe that their organization is well prepared to accept emerging legal tech trends. |
| Increased attention paid to cybersecurity | The ABA reported that 25% of law firms (that responded to their survey) have recently experienced a security breach, and only 53% of respondents said that their firm has a policy regarding cybersecurity. But, the importance of cybersecurity for law firms is being increasingly highlighted and discussed, suggesting that the conversation is shifting in the right direction. |
| The use of virtual legal assistants | To help ease the budgets of hiring permanent staff and provide lawyers with the services they need, law firms are looking at hiring virtual legal assistants. These professionals are either experienced freelancers or work for a virtual legal assistant company and provide relief for administrative work as well as legal research and writing, transcription, client management, and more. |
Start Earning More Revenue with Fixed Fees
Break free from hourly pricing and take the fear out of scoping and pricing client projects to start maximizing profitability.
Book A Demo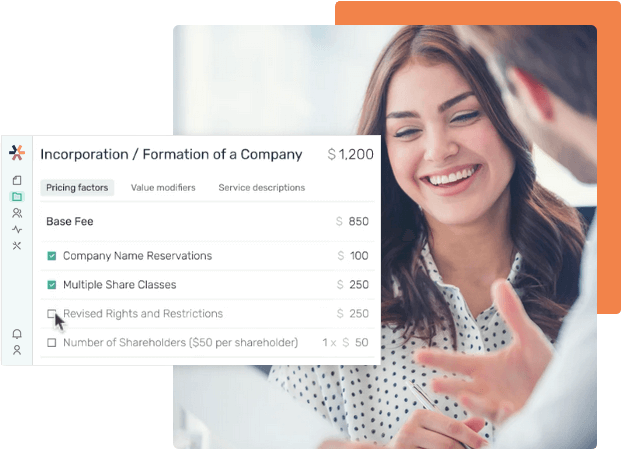 How to Know Which Law Firm Technology Trends to Adopt
Deciding when or if to hop on the bandwagon can be tough, especially regarding your business, clients, and the legal professionals that work for you. If you hastily rush towards any trend that crosses your path to stay relevant, it might not result in the best outcome.
But at the same time, law firm technology trends (when backed up by sources) aren't based on intuition or gut feelings. They are based on what law firms are doing to improve their business. Learning from what others have tried and using that information to improve your own business just makes sense.
To know which law firm technology trends you should adopt, take into account the following considerations:
What your law firm already does well, and what it doesn't. After some introspection and a look into your operational data, you might confirm positive and negative aspects of your firm that you already knew or be surprised to find new information. Either way, you're identifying ways to improve, which gives you the ability to match legal software solutions to those potential improvements. For example, let's say that time spent on administrative tasks, like drafting one-off quotes for individual clients, is taking up much of your lawyers' workday. Providing pricing software with customizable pricing templates, like AltFee, would be a positive strategic move to save your lawyers' time. With AltFee, you get access to hundreds of carefully crafted pricing templates to choose from, which you can then customize, or you're free to create your own from scratch. In both instances, templates can be saved for future use and organized by client and matter type.
What your legal professionals and clients want. Legal professionals and clients are asking for changes in the legal industry, and the law firms who listen to them are seeing success. For example, let's say your law firm is well-known for providing the best customer service. But, client reviews state over and over that they would like to be able to pay their legal bills online. Knowing that information, the obvious solution would be to invest in legal billing and payment software.
What long and short-term benefits implementing legal technology will provide. Sometimes, the easiest way to determine whether a legal technology trend is right for your law firm or not is to take a look at the potential ROI. For example, let's say that you've determined that implementing practice management software with automations will save your lawyers up to 2 hours a day on administrative tasks. Short-term that means more time that's able to be spent on client projects, but long term? That can translate into increased revenue for your firm year over year.
Which existing processes could benefit from increased productivity and efficiency? Every law firm in existence has processes that can always be optimized. For many firms, adopting legal technology aids greatly in reducing errors, streamlining workflows, and reducing or eliminating repetitive administrative tasks. For instance, most CLM software offerings can automatically pull client data from a CRM or other platform and use it to fill out details within the contract. This not only saves time but also prevents any potential errors that may occur if the lawyer were to fill it out themselves.
7 Legal Technology Trends
| | |
| --- | --- |
| Legal Technology Trend | Insight |
| Venture capital investing in legal tech | With the legal tech industry continuing to see billions in revenue, it's no surprise that venture capitalists have shown interest. As a result, law firms should expect to see more choices with software but should stay solutions-focused and not get bogged down with decision paralysis. |
| Legal software embracing Artificial Intelligence (AI) | From improving workflows to providing specific, actionable insights based on user data, AI is becoming an increasingly sought-after feature that C-Suite executives and decision-makers are looking for in legal tech. |
| Automations | Using automation equals productivity and efficiency for law firms, and legal tech companies are taking notice. By incorporating more automations that take away manual administrative tasks from lawyers, these professionals can get back to actually practicing the law. |
| AI use in CLM solutions | CLM vendors are increasingly using AI to improve every aspect of the contract lifecycle management process, from gaining visibility into risk, ensuring compliance, improving review times, reducing repetitive tasks, and much more. |
| More legal software being accessible on smartphones and tablets | With more lawyers and legal professionals working remotely and digitally interacting with clients, it's no surprise that legal technology providers are offering fully-featured mobile versions of their software. |
| More interest in digital interfaces from governments and courts | The pandemic was perhaps a catalyst for an increased interest in remote court cases and other legal hearings, but the interest isn't dwindling. Legal tech offerings may be few, but with governments like the provincial government of BC, Canada shifting to prioritize digital meeting solutions for courts, legal tech companies will surely take notice. |
| More tech that supports subscription-based legal services | As the legal tech industry and SaaS continue to blend. It makes sense that more subscription-based legal software offerings will be available in the future. |
FAQ
What is the future of legal tech?
With the combination of data that we currently have on hand, including legal tech trends reports, various articles online, and looking at what law firms in most areas are currently doing, we can safely make the following assumptions about the future of legal technology:
Client experience will continue to be the main focus for law firms. From pricing to providing more transparency and certainty to adopting legal technology that streamlines and adds convenience to the client experience, law firms will continue to evolve to meet client expectations.
More remote or virtual law firms will become the norm. As legal tech continues to improve and offer seamless virtual experiences, instances of virtual law firms around the world will continue to increase.
The cost of legal tech options will decrease, but the quality won't. Complex tech offerings that include AI, machine learning, and more will continue to be offered at a lower and more competitive price. VR may also rise in popularity, allowing lawyers to visualize data in scenarios to make better decisions on how to proceed with a case.
How does legal technology help lawyers?
From increasing access to legal services for clients, making lawyers' jobs overall easier and more efficient, and reducing costs, there are a myriad of ways that legal technology helps lawyers and law firms.
Other ways that legal technology helps lawyers include:
Streamlining client and lawyer communications. Videoconferencing, instant messaging, and client portals allow lawyers to convey important information to their clients without the need to meet in person. From the client's perspective, it's also more convenient, and they can benefit from regular status updates on their matter.
Automating eDiscovery. These days, important documents and other information can be gathered and compiled using digital eDiscovery tools, rather than a lawyer spending hours sifting through physical documentation to find what they need. Like search engines, eDiscovery tools use keywords, context, and more to sift through information and make it easier for lawyers to find the information they are looking for.
Making case management easier. Each client case has various moving parts, and keeping track of important dates, contact lists, documents, and more is time-consuming and tedious when done manually. Digital case management tools provide one place to store this information and make it easily accessible through contextual searching.
How does technology affect the law?
There are a few main ways that the use of technology affects law, including how lawyers practice the law and how law firms can offer services. These include:
Increasing access to justice since virtual options are easier and more convenient for more people to access legal services
On the point of access to justice, AFAs give clients price certainty and transparency with billing, taking away the stress of wondering if they can afford a legal service or not, while law firms can use AFA pricing tools like AltFee to make managing pricing for different matters and projects easier and more efficient
Adding diversity in how lawyers and clients can communicate with each other with client portals, document sharing, text messaging, and more typically means much more streamlined communication between the two
Allows better work-life balance for lawyers and legal professionals since the use of technology streamlines otherwise arduous and repetitive tasks and eliminates others through automation
Conclusion
As time goes on and the legal industry continues to shift towards innovation and increased adoption of technology, more legal technology trends will continue to emerge. What was once a static, unchanging industry is quickly becoming the forefront of innovation, and the majority of legal professionals and lawyers are clearly embracing this change with open arms.
The most important legal technology trends that will continue to change the legal industry now and in the future include:
The use of AI to improve document control, streamline case management, and reduce human error
Automations to reduce repetitive administrative tasks
More virtual law firms increase access to justice for more people and overall make accessing legal services easier and more convenient
More transparency in pricing, including increased adoption of alternative fee arrangements in law firms of all sizes
More investment in technology and people to improve client attorney relations
An increased use of digital interfaces (videoconferencing, secure meeting networks) in government and courts
Accessibility of legal software on more types of devices, including smartphones and tablets
If you're looking for forward-thinking pricing software to support your forward-thinking law firm, look no further than AltFee. Our pricing and collaboration software was built by lawyers for lawyers and aims to make managing your alternative fee arrangements easier and more efficient so that you can better serve your clients and increase pricing confidence for your legal professionals.
If you're ready to give AltFee a try, get a demo today to check out our software.
Start Earning More Revenue with Fixed Fees
Break free from hourly pricing and take the fear out of scoping and pricing client projects to start maximizing profitability.
Book A Demo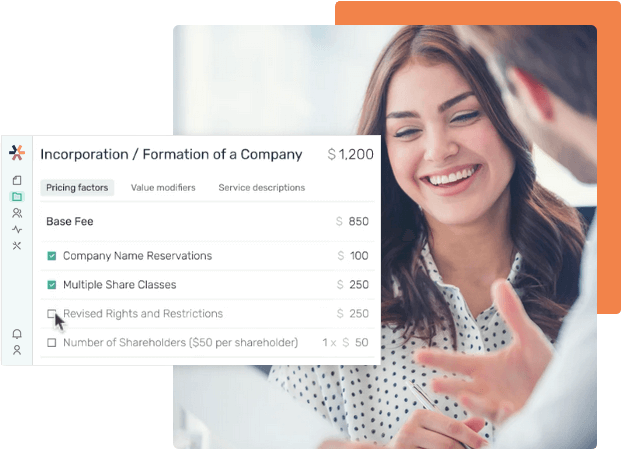 Newsletter Signup
Subscribe to our newsletter to receive the latest news.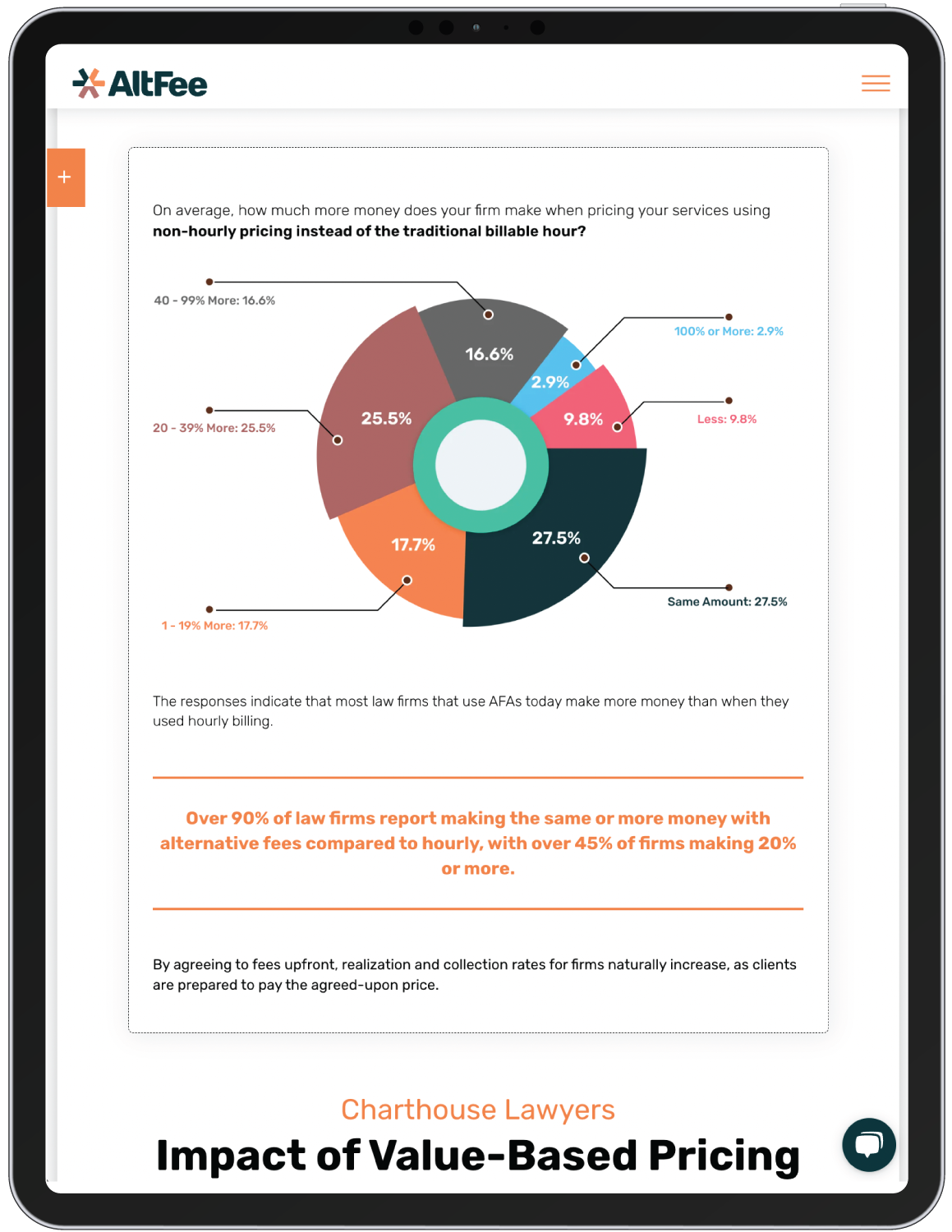 Legal Industry Pricing Trends Report 2023
Surveying legal professionals across the world, the report showcases how AFAs are contributing to increased profits for firms, better use of technology, and better work-life balance and working conditions for legal professionals.