Legal Software Solutions Handbook [Types, Pricing & More]
Like all businesses, law firms are always looking for ways to become more efficient. If you can be more efficient at your job, you can not only make more money by taking on more clients (if you want to) but you can also benefit from a greater work-life balance.
And if we know lawyers, we know that they want more work-life balance. Or maybe they need more work-life balance.
So how can this be accomplished?
Well, legal software solutions are everywhere these days, offering efficient solutions to law firms, solo practitioners, and corporate legal departments. Practice management software, legal accounting software, and pricing software are just a few of the legal software solutions that legal tech companies are offering up to legal professionals with the promise that they will make their working lives much better.
But it's not just about increasing law firm efficiency and providing better working conditions for lawyers. Legal software solutions are also about meeting client demand.
That's right. Clients want YOU to use legal software.
Why?
Because it's more convenient for them.
By using legal software, clients can do things like paying their legal bills online, meet with their lawyers remotely, and even log into a client portal to see how their case is progressing. This is all without needing to leave the comfort of their home or office.
According to the 2021 Legal Trends Report from Clio, client demand for remote options has increased significantly in recent years.

In 2018, only 23% of clients were open to the idea of working remotely with their lawyers, but in 2021, that number jumped up to 79%.
We can safely say that the pandemic was likely a huge catalyst for this change, but there haven't been any signs of demand for convenient, remote options from clients slowing down any time soon.
So whether you want to increase your law firm's efficiency or meet the needs of clients (and likely you probably want to do both), there are legal software solutions out there for you.
In this article, we take a closer look at the world of legal software, including common problems that law firms and lawyers face and how legal software can provide solutions to those issues. We'll also outline what you should be looking for before choosing legal software and what types of legal software solutions are out there.
Legal Solutions Software Explained
Often provided by legal SaaS or technology companies, legal solutions software programs are aimed at providing law firms with the tools they need to:
Modernize their daily operations
Provide more client-centric service experiences (e.g., e-billing, online portals where clients can see case status)
Streamline processes for pricing, billing, and accounting
Make researching legal matters easier
Collaborate effectively with colleagues
In other words, the mantra of the tech industry is "you got problems, we got solutions" inside and out, and it's no different for the legal tech industry. Yes, legal tech is an extremely lucrative market, with its value attracting the attention of investors and projections for future growth numbering in the tens of billions of dollars.
The common phrase "time is money" is one that resonates with law firms and lawyers everywhere. Being able to decrease time and increase money through being more efficient and thus more productive is something that's worth its weight in gold.
That's where legal solutions software rides in on its white horse, ready to save the day. In fact, budgets for legal technology within legal departments have already been increasing. From 2017 to 2020, in-house budgets for legal tech increased by 3.9%. Gartner predicts that this trend will not only continue to increase over time but predicts a threefold increase to 12% by 2025.
This means that the legal tech industry has even more opportunities to provide software solutions for both law firms and legal teams.
Types of Legal Software Solutions
As you can imagine, there are a wide variety of legal software solutions program types available. These include:
Legal pricing software — helps lawyers and law firms price matters. AltFee is a leader in this space. With AltFee, you can collaborate with all internal stakeholders within your firm and take their knowledge, comments, and feedback into consideration when pricing matters. This allows you to make the most out of your AFA pricing strategy and create fair and effective matter pricing that works for both your clients and your law firm.
Time tracking & billing — for lawyers and legal professionals that need to track their time for billing purposes, modern time tracking and billing software is essential to ensure accuracy. In most cases, time spent on a matter can be translated into an invoice that follows the law firm's billing guidelines either automatically or with a few clicks.
Document management — for law firms that need a better way to store and access important documentation, including contracts, letters, emails, and more. With document management software, these important pieces of information are stored in an easily searchable database. Most document management software allows the user to input some form of metadata, such as location, matter number, team, and more, to aid in the document's searchability.
Practice management — for law firms that need a holistic solution for managing day-to-day operations, billing, documentation, and more. Practice management software is probably the most widely available and well-known type of legal solutions software available on the market and often includes a robust number of features.
Knowledge management — takes the collective knowledge of all lawyers and stakeholders within the law firm (documents, articles, videos, etc.) and stores it in an easily searchable database. Law firm knowledge management software often uses technologies like AI, contextual searching, and automation to make finding and understanding legal information easier, more accessible, and more efficient.
Problems that Legal Solutions Software Solves
| | | |
| --- | --- | --- |
| Legal solutions software type | Problem that it helps solve | How it solves the problem |
| Legal pricing | Inconsistent pricing that doesn't convey the value delivered by the legal professional or a law firm and a lack of confidence in pricing complex matters. | Makes the process of pricing matters consistent and more efficient and helps give even junior legal professionals the confidence they need to present pricing to clients. |
| Time tracking & billing | Inconsistent time tracking, including over and under-reporting hours. | Helps ensure accurate time tracking for different legal matters and projects and makes billing easier by factoring time spent into the final invoice. |
| Document management | Difficulty finding relevant information for a legal matter or project, including contacts, emails, and other documentation. | Places all relevant documentation in a centralized location for easy access. |
| Practice management | Inconsistent and unclear processes, leading to errors. | Uses different technologies, such as automation, to ensure accuracy and streamline the daily operations of your law firm. |
| Knowledge management | Difficulty with gathering the knowledge of senior legal professionals within the law firm to create policies, procedures, or just enhance the legal knowledge of junior professionals. | Allows the creation of a searchable database that houses relevant legal information, including precedents from past cases, pertinent research, articles, videos, and much more. |
| Legal accounting software | Managing complex legal accounting, such as trust accounts, tracking income and expenses, and more. | Uses automation to reduce manual accounting tasks, such as generating bills or tracking expenses. |
| Legal research and e-discovery software | Effective research and gathering of evidence and relevant case records takes a significant amount of time. | Makes the process of gathering and reviewing documentation as part of a lawsuit or legal investigation easier and more efficient, reducing costs to the law firm and client. |
Legal Department Software Solutions Selection Criteria
The legal tech space is vast, with legal solutions software program offerings covering a wide range of use-cases, including practice management, document management, and more. And for each use case, there are a ton of legal software offerings that all claim to solve the same sort of problems or provide greater efficiency in the same areas. The myriad of choices can make it difficult to choose a solution that works for your law firm.
You might think that having more options is better, but it can quickly become tough to recognize the wheat from the chaff when you're presented with a pile of software that all claims to do the same thing and, of course, better than their competitors.
That's why when choosing legal software solutions, it's important to match the features and benefits that the software offers with what your needs are.
The first step is making a list of criteria that will affect your decision on which software solution you select.
1. Ease of Use
Usability of the software is probably one of the most important considerations. After all, if the software is difficult to use or has a very steep learning curve, then employee adoption is likely to suffer. Make sure you're checking out the user interface (free trials or demos are great for this) and paying attention to the navigation, buttons, and overall look of the software. If you can easily move from one step to the next without too much trouble, then the software is likely going to be easy to use.
2. Integration with Current Systems
Your law firm likely already uses a variety of software for everyday tasks. This includes things like email, word processors, and spreadsheets, but also other more specific legal software solutions like time tracking software, billing software, and more. When you're choosing another piece of software to add to your tech stack, it's important to consider how its functionality can integrate with the software you already have. For example, let's say you use Quickbooks for accounting. This software can integrate with legal e billing software such as LeanLaw or CaseFox so that you can get more out of both systems working together.
3. Onboarding and Setup (Time, Cost)
You're going to need to set aside onboarding time for every new piece of software that you bring to your law firm. One thing to consider, however, is what that onboarding process is going to look like. Some legal solutions software offerings provide onboarding as part of their purchase price or subscription, but others charge you an additional cost for onboarding. The comprehensiveness and time needed for the onboarding process is another consideration, as you'll likely have to plan for a transition period while you're getting the new software in place.
4. How Features and Benefits Match with Law Firm Goals
A more high-level consideration when choosing legal software solutions is to factor in how the features and benefits of the software match with your law firm's goals.
For instance, if one of your goals is to increase the efficiency of pricing legal matters, how does the software contribute to that goal? Does it easily allow you to create pricing templates for different legal matters and have stakeholders within your law firm provide their feedback and comments? Is there a database of standardized pricing templates for different matters, or do you have to create your own templates from scratch? Thinking about how you want the software to work for your law firm and looking for solutions that match that is a good way to start.
5. Future Proofing
Nobody wants to invest in a piece of software only to find out that support for it has stopped a few months later. Doing research to make sure that software will be supported well into the future is beneficial.
You might be tempted to go for solutions that have established longevity in the industry (e.g., well-known legal software solutions like Clio), but there are other things you can look for as well, including:
Activity on social media or other platforms. Is the company making regular updates to their software? Are they making an effort to connect and inform their audience?
Do they have a development plan or timeline?
Do they offer ongoing customer support?
Legal Solutions Software Pros and Cons
| | | |
| --- | --- | --- |
| Legal Solutions Software Type | Pros | Cons |
| Legal pricing | Creates the foundation for your AFA pricing system and offers collaboration opportunities to accurately scope and price different legal matters. | Not a lot of different legal pricing offerings out there (AltFee is one) many software solutions focus on billing rather than pricing. |
| Time tracking & billing | Makes it easier to translate tracked time to an invoice. | Tends to focus more on time tracking in the context of the traditional billable hour instead of AFAs. |
| Document management | Centralizes important documents for ease of access. | Often requires someone to ensure the effective organization and management of documents. |
| Practice management | Offers a ton of daily operations solutions, from billing, time tracking, document management, matter management, and more. | The breadth of features and functionality of many practice management software solutions means that more time is needed to learn how to use the software effectively. |
| Knowledge management | Provides a way for law firms to gather and contextualize the knowledge of their senior lawyers and legal professionals to make it easier to establish procedures and policies or increase the knowledge of junior legal professionals. | Accurate data capture and context correctness can be a challenge, especially with many different forms of information entering the system (videos, emails, articles, etc.) |
| Legal accounting software | Makes law firm accounting faster and easier with automation and cloud-based access. | Managing more complex accounting requirements, such as trust accounting, while still following local and federal trust accounting regulations means extensive research has to be done into the software. |
| Research and e-discovery software | Provides one area where legal professionals can search for relevant case data and evidence. | Increasing data volumes and data variety can make finding and extracting relevant data difficult. |
Frequently Asked Questions
What is the cost of legal software solutions?
Legal solutions software cost depends on what the software offers, including features and benefits and enhanced technological capabilities like AI.
For example, the price range for legal practice management software ranges from as low as $10 per month all the way up to $15,000, depending on several factors, including:
Which country you're purchasing the software from. Obviously, depending on the currency, legal software pricing can fluctuate by varying degrees.
Whether you're purchasing a subscription or buying the software outright. A monthly subscription is typically the better option, as you usually get the benefit of customer support and regular software updates and fixes. However, your law firm may decide that purchasing software outright and managing it yourself is the better option, even if the upfront cost of the software is more.
Level of service, features, and ongoing support. It's likely that the more features and benefits that a piece of software includes, the higher the price will be. Other factors that can increase legal software pricing include the comprehensiveness of technical and customer support.
What is legal record management software?
With technologies such as legal document management software, law firms are becoming more focused on implementing a document management or records management policy that sets out standards on how important documents are stored, maintained, preserved, or destroyed.
This is to ensure that document security is maintained and that local and federal laws regarding privacy and security of sensitive information are followed.
What legal software solutions do law firms typically use?
The most popular legal solutions software that law firms use is legal research and e-discovery software, followed by contract and records management software by in-house legal teams.
Key Takeaways of Legal Software Solutions
From increasing efficiency to generally making the jobs of lawyers and legal professionals easier, legal software solutions are constantly evolving to meet the needs of modern law firms and legal departments. Client expectations have also changed when it comes to legal services. They're wanting more remote options for conversing with legal professionals, on-demand updates about their case(s), and the ability to pay their legal bills online. These can all be met through the use of legal software.
Before you choose a legal software solution, you should consider:
Ease of use, including the intuitiveness of the user interface and navigation
How well it integrates with the current software in your law firm's tech stack
The investment of time and money you'll need to make to onboard the system properly into your law firm
How well the features and benefits of the software fit with your law firm's goals and objectives
Whether the software is likely to continue to receive support well into the future
If you're an AFA law firm that's looking to increase its efficiency with legal software solutions, consider giving AltFee a look. As AFA pricing and collaboration software, AltFee provides an easy and effective way to manage your alternative pricing strategies while involving all the stakeholders within your law firm.
Get a demo of AltFee today!
Start Earning More Revenue with Fixed Fees
Break free from hourly pricing and take the fear out of scoping and pricing client projects to start maximizing profitability.
Book A Demo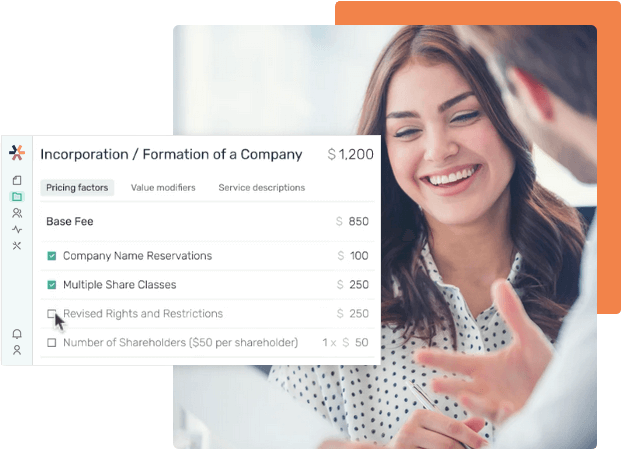 Newsletter Signup
Subscribe to our newsletter to receive the latest news.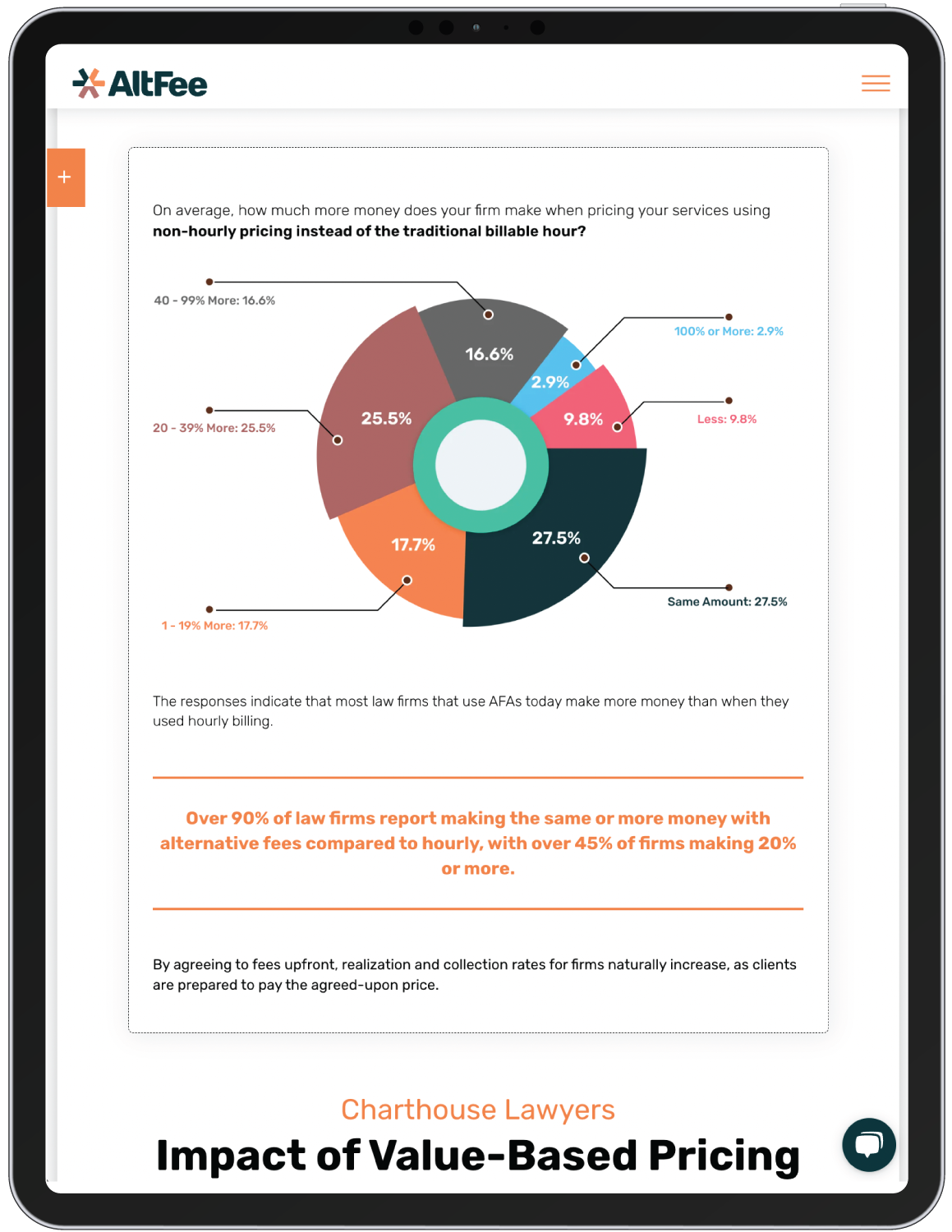 Legal Industry Pricing Trends Report 2023
Surveying legal professionals across the world, the report showcases how AFAs are contributing to increased profits for firms, better use of technology, and better work-life balance and working conditions for legal professionals.