Reasons Why Your Law Firm Needs Client Intake Software for Lawyers
To be a successful law firm, it's vital to focus on the client experience. These days, clients typically want three things from their law firm:
Knowledge sharing
Timely and relevant advice
Efficient and effective service
Law firms can provide these three things by investing in legal software solutions, such as legal e-billing software to simplify payments, case management tools to organize matter information, and using software with self-service, online client portals so clients can see information about their case at a glance.
Another big part of building a strong client experience involves simplifying the client intake process so it can be done online rather than over the phone or in person. Not only does this contribute to a better client experience, but the 2021 Clio Legal Trends report states that firms using client intake software have seen ​​as much as 40% more revenue. Aside from this, perhaps the biggest draw of client intake software for lawyers is that it eliminates the need to use spreadsheets, word processors, or even pen and paper to record client details; instead, it's all connected to the law firm's CRM. However, there are quite a few different client intake solutions available, all with different additional features over and above digital client information collection.
Learning the ins and outs of client intake software for lawyers is a must to ensure that you choose the right intake solution for your law firm.
Let's get started.
What is Cloud-Based Client Intake Software for Legal Firms?
Cloud-based legal intake software greatly simplifies the client intake process by making the steps required to contact a lawyer more accessible and convenient. With client intake software, law firms typically build a fillable form on their website where prospective clients can easily fill in basic information, including their name, and contact info. Usually, client intake software for legal firms integrates with or is built into a legal CRM, allowing information that is entered into the online client intake form to seamlessly transfer into the law firm's customer information database.
Why Client Intake Software for Legal Firms is Recommended
Legal firms utilizing legal intake software brings more benefits than expected. Aside from speeding things up, let's take a look at the other advantages of client intake software to help you get started.
No More Manual Data Entry
Legal document data entry ensures all the information your firm needs about a certain client is recorded for future purposes. A few examples of data that would be involved with this process include:
Client's personal details
Case details
Available schedules for consultations and meetings
Eliminating manual entry for new clients does more than just save time; it streamlines the journey from client onboarding to speaking with the client. When a client fills in the information needed on the online web form, one of two things typically happen next:
The information automatically gets sent to an email⁠—typically for a legal assistant or administrator⁠—to screen and distribute potential clients according to the law firm's already established client intake criteria.
A legal CRM handles organizing potential clients into categories set out by the firm's client intake criteria⁠. Potential categories could be related to specific matters (e.g., clients that require estate planning services go into one bucket, while clients needing litigation support go into another), which are then automatically assigned to specific lawyers based on factors such as workload, expertise, and more.
In other words, instead of the client having to call the firm during business hours, speak to a legal assistant, have that legal assistant write down client information or manually enter it into a speadsheet, word processor, or CRM, the client intake software provides a self-service process that the client can take advantage of whenever and wherever.
Client intake software for lawyers can also simplify client intake when a potential client calls the firm instead of utilizing the firm's website. By providing clear, straightforward questions, a legal assistant or administrator can fill in the form for the client, and allow the connected CRM to take over the rest of the process.
Reduce Paperwork
Going along the same lines as manual entry, client intake software can significantly reduce paperwork for a law firm. By starting a digital workflow from the beginning, there is never a need throughout the client matter to print paperwork physically for administrative purposes. Consider this high-level workflow:
Client fills out an online form
Information gets sent to the legal CRM and is organized into the appropriate client bucket
If the matter seems viable, a discovery call is conducted with the client to obtain more information
Once additional information has been gathered, digital documentation can be created as needed, with the CRM auto-filling client information as needed
In short, lawyers don't have to deal with physical paperwork cluttering up their desk, or search through Word or Excel files to find client information. Instead, it's all organized accordingly from the beginning, starting with the client intake software for lawyers.
Streamlines the Booking Process
Because client intake software for lawyers is all about facilitating connections with other law firm technologies, including a legal CRM, client matters can start sooner due to a streamlined workflow.
For instance, during the intake process, the software can allow a client to schedule a time to speak with a lawyer. This can be done after manual or automatic verification that the client is the right fit for the law firm.
The client intake software does this by integrating with scheduling tools such as Google Calendar or Calendly, which presents available times when a particular lawyer can meet. For instance, let's say the online form on your firm's website asks the potential client to select what type of legal service they require. Once they select a type, the scheduler automatically updates with a series of available dates and times based on the lawyer(s) that would handle that type of matter. Instead of someone needing to manually check schedules and book appointments, it can all be done via a self-service intake solution, streamlining the booking process significantly.
Fewer Mistakes
Client dissatisfaction can stem from multiple mistakes and human error. From misspelled names to incorrect case information, even the smallest error can have significant consequences, like your client's document being rejected by a court or regulatory body.
Automated client intake processes significantly decrease the risk of mistakes by integrating with other software in your law firm's tech stack. For instance, practice management software features like autofill can use client intake information to automatically place relevant client information in contracts or other documents, ensuring accuracy as there's no manual entry needed. Fewer committed mistakes mean smoother operations because there's no need to repeat any part of client intake.
Ultimately, committing fewer mistakes can help your firm develop better client trust. And when clients are consistently satisfied with your workflows, you can expect improved client loyalty and more referrals.
Improve Overall Client Experience
According to an ABA Benchmark Study, more than 42% of the time, clients wait for three or more days before the legal firm responds to their inquiry. This doesn't make for a great first impression and could potentially cost a firm clients. Why does this happen? The study highlighted a few key reasons among the law firms analyzed:
Calls made to the firm went unanswered, prompting the client to leave a voicemail that gets lost in the shuffle and isn't responded to for three or more days or at all.
A web form was filled out, but due to a routing error, or otherwise, was also not responded to for more than three days or at all.
Callers gave up before the call was answered by the firm⁠—perhaps due to a convoluted automated call routing process preventing clients from reaching a person soon enough.
Having client intake software for lawyers ensures your clients will never feel like they are not heard. Your clients can receive everything they need in a heartbeat—intake forms and appointment schedules. And because the majority of client intake software for lawyers connects to legal CRM systems for improved workflow, response times should be faster and more consistent.
Features of Client Intake Software
Legal client intake software is an essential legal technology solution for your law firm, due to its ability to streamline client onboarding. Let's take a closer look at some typical features of client intake software for lawyers.
Intelligence and Automation
Client intake software for lawyers allows for intelligence and automation, which can help speed up the client onboarding process. For instance, intelligent intake software can gather the following information from clients more quickly than filling out open-ended forms:
Incident information
Plaintiff data
Contact information
Relevant documents
On top of that, once the information is in the system, client intake software for lawyers can help set up automations that allow for real-time updates to be sent to the client via integration with a legal CRM. This makes it easier for all parties to understand what stage a case is in.
On-Time Follow-Ups
A good client intake software solution allows automatic scheduling with integrated calendaring features. When your firm utilizes this innovation, you give your team more time to do other vital tasks. This is because the software is responsible for reminding your clients of upcoming meetings or consultations.
No More Manual Paperwork
Getting software for your firm means relying on technology to perform faster operations. With client intake, you can expect less to no paperwork needed. Potential clients can be contacted faster because of automatic scheduling and information transfer to the proper attorney.
Efficient Analytics on Legal Firm Data
Another reason why client intake software makes your team's lives easier is because of the analytics it provides. The software lets your firm track and monitors your intake channels and marketing campaigns.
For example, Cloudlex's client intake analytics offers information such as stalled cases, when cases were opened and closed, and overdue case tasks. Further, client intake software for lawyers with analytics should provide information on form effectiveness, such as a number of forms completed from start to finish, level of detail, and more so that forms can be improved over time.
How to Choose the Best Legal Client Intake Software?
Choosing the best legal client intake software can be challenging. After all, with several options available, how do you choose the right one?
Aside from considering your budget and firm size, other essential aspects of this software should also be considered, which are outlined in the table below. These aspects can help dictate whether the software can make or break your firm's ability to attract more potential leads.
| | |
| --- | --- |
| Important Factor | What You Should Look For |
| Forms | Pre-made forms you can quickly integrate on your website |
| Document Automation | Allow information collected from the client intake to be used to autofill documents to save time |
| Templates | Being able to create reusable templates saves time for future form creation |
| Scheduling | Ability to book appointments online |
Forms
The client intake process works around forms. Customizable intake forms allow your firm to gather essential client details to start the client intake workflow. These forms should be customizable and allow for templates to be saved for later use.
Forms should be iterated on over time as well, using analytics to determine effectiveness so changes can be made as needed.
Document Automation
Good client intake software for lawyers should help facilitate a number of automations in legal practice management software or a legal CRM to reduce manual labor and keep processes streamlined.
The client information collected through the legal client intake software should be able to be utilized by your law firm's CRM or legal practice software. Instead of taking the time to manually fill client information into a contract or other document, the CRM or practice management software can initiate autofill based on the information provided by the client intake software. This allows your attorneys to focus their time on other tasks related to the client's case.
Templates
A client intake software for lawyers solution should include default form templates to make it easier to get started with a digital client intake process, as well as provide the ability to create and save your own templates. This reduces administrative time and allows firms to have multiple templates ready to go to suit different initiatives.
Scheduling
Efficient scheduling means your client intake software allows the booking of online appointments. This saves everyone the time of sending back-and-forth emails and making calls to agree on the best time to meet.
Look for software with calendaring features that quickly identify free time slots you can offer to your clients. In this way, you can immediately talk to your client regarding the best available slots where you can conduct consultations and client meetings.
Many of these software options also integrate with tools like Gmail and Outlook, making it easy for legal teams to manage their schedules no matter what systems they use.
What is a Client Intake System Process?
From attracting potential new client leads to filling out intake forms and scheduling future meetings – the client intake system is an entire process. And if you wish to onboard new clients and establish long-lasting relationships with them, you should understand how the process works.
1. Attracting a Potential Client
Some of the most effective ways to attract potential leads include generating advertising and marketing strategies or getting client referrals from past clients you have worked with. Once a client makes their way to your website and fills out the intake form, it's easy to contact them to learn more about the legal services they are looking for.
After creating a list of potential clients, reaching them should be your next step. And you can only achieve this when you have their contact information. Client intake software allows quick collection and storage of contact information, thanks to its customizable or pre-made contact forms.
2. Pre-Screening Clients
Based on the information that a potential client provides in their client intake form, you can decide whether you want to proceed with the client. You may have to reach out to the client at this stage to gather more information, but this step will help you weed out individuals who don't have a real legal issue or are not a good fit for your firm.
3. Initial Consultation
The initial consultation requires getting key information from your client and scheduling a time to meet. Client intake software can help integrate with calendar systems to make it easy for clients to choose a time slot to speak with your team.
Once they've chosen a slot and come in for their meeting, you'll need to collect critical information that provides key details about the case. Using a personal injury case as an example, these important details could include the following:
Key Dates
Phone calls and messages
Accidents and injuries (if applicable)
Accusations and witnesses (if applicable)
4. Providing a Fee Agreement
It's important to discuss the fees involved with a case, and ideally, this is done before any work commences. Both you and your client must agree on a reasonable price to avoid conflict when it comes time to issue the bill.
As a lawyer, you should have a fee agreement based on a number of factors, including, but not limited to, your level of expertise and the complexity of the client's case. It should serve as a contract between you and your client, which means your client should sign the fee agreement and in some instances, provide a retainer before work begins.
Coming up with an alternative fee agreement can make it easier for you to establish transparency and trust with your client at the beginning of the process. This also paves the way for smooth onboarding and a positive attorney client relationship.
Start Earning More Revenue with Fixed Fees
Break free from hourly pricing and take the fear out of scoping and pricing client projects to start maximizing profitability.
Book A Demo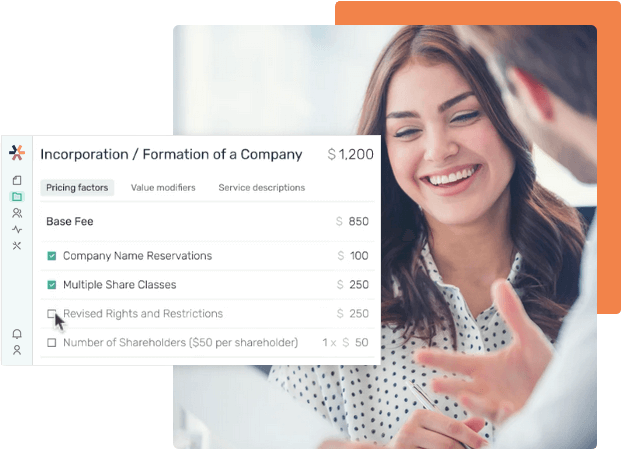 5. Onboarding the Client
After signing the fee agreement, it's time to onboard the client. This is also when you should prepare your client for the next steps. The preparations include receiving relevant documents from the client and informing them of when they might need to provide you with additional information.
Best Law Firm Client Intake Software
After learning about what features you should consider in a legal firm client intake software, knowing your best options is the next step. There are a number of different legal law firm client intake software systems out there to choose from.
However, some are better than others. To make it easy for you to choose one that works well for your firm, we've curated a list of the best law firm client intake software to look into.
Clio Grow
Among the options in this list, Clio Grow is relatively new. It's a web-based legal intake software with several features that can help even start-ups and small firms.
What sets Clio apart is that it can work with all firm sizes, even when you're only a solo legal practitioner. Clio works best in knowing precisely what your audience wants, providing you with the features that would make your clients trust you more.
Clio Grow specifically is the intake part of the software, which features handy things such as a digital intake form, retainer e-sign, and automated scheduling. All of these features make it easy for firms to get clients onboarded without much manual labor on their part.
Clio Grow also has a high amount of automation, streamlining things like emails and follow-ups so that legal teams have more time to focus on bigger tasks at hand.
MyCase
Another web-based client intake software is MyCase. Aside from client intake, MyCase features invoicing and billing, document automation, time tracking, and more.
In terms of their intake, MyCase shines thanks to its easy digitalized intake forms and e-signature service. They also have a handy analytics system so that you can track how your leads are actually converting into onboarded clients.
Users also love the efficiency in communication because of MyCase's text message and email integration. This makes it easier for you to perform follow-ups after the initial client intake and onboarding process. However, the software's interface and navigation could improve a bit to make it easier to use.
Lawmatics
Lawmatics is Clio's closest competition. Aside from client intake, it offers marketing automation and legal practice CRM. Arguably its best feature is the software's user-friendly design, allowing users to easily navigate it without a steep learning curve.
Lawmatic's client intake service offers a form builder, which makes it easy for firms to onboard clients and collect relevant information. They've also got a handy e-document signing tool built right in so that clients can sign any necessary documents and get them sent back to the firm immediately.
A miss on the part of Lawmatics is their failure to integrate document management into their platform. This missing feature is a headache for clients as they must manually transfer documents.
Conclusion
Client intake software is important for helping lawyers connect with clients and start off on the right foot. In some cases, it can even lead to boosted revenue and improved metrics within your firm.
Besides all that, client intake software for lawyers can mean no more manual entry, easy pre-screening processes, and efficient collection of analytics on clients. With all these perks, client intake software makes it easier for lawyers to get their job done more efficiency.
Another system that can help make client communication and services more efficient is to have a pricing system in place. AltFee helps lawyers accurately price and scope client projects upfront so that there's full transparency from the get-go. Get a demo today to learn more about how AltFee works and how it can drive additional revenue for your firm.
Start Earning More Revenue with Fixed Fees
Break free from hourly pricing and take the fear out of scoping and pricing client projects to start maximizing profitability.
Book A Demo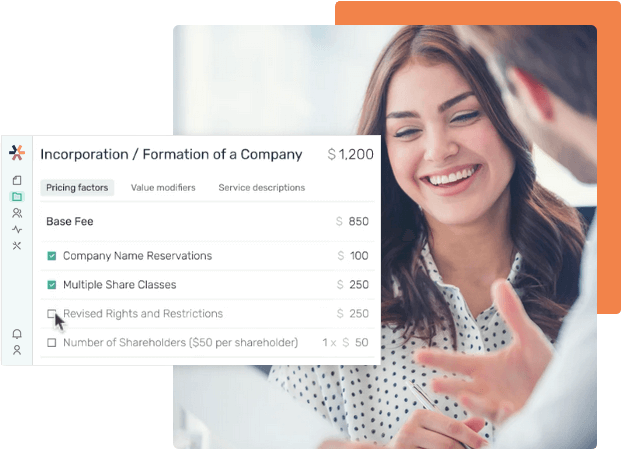 Newsletter Signup
Subscribe to our newsletter to receive the latest news.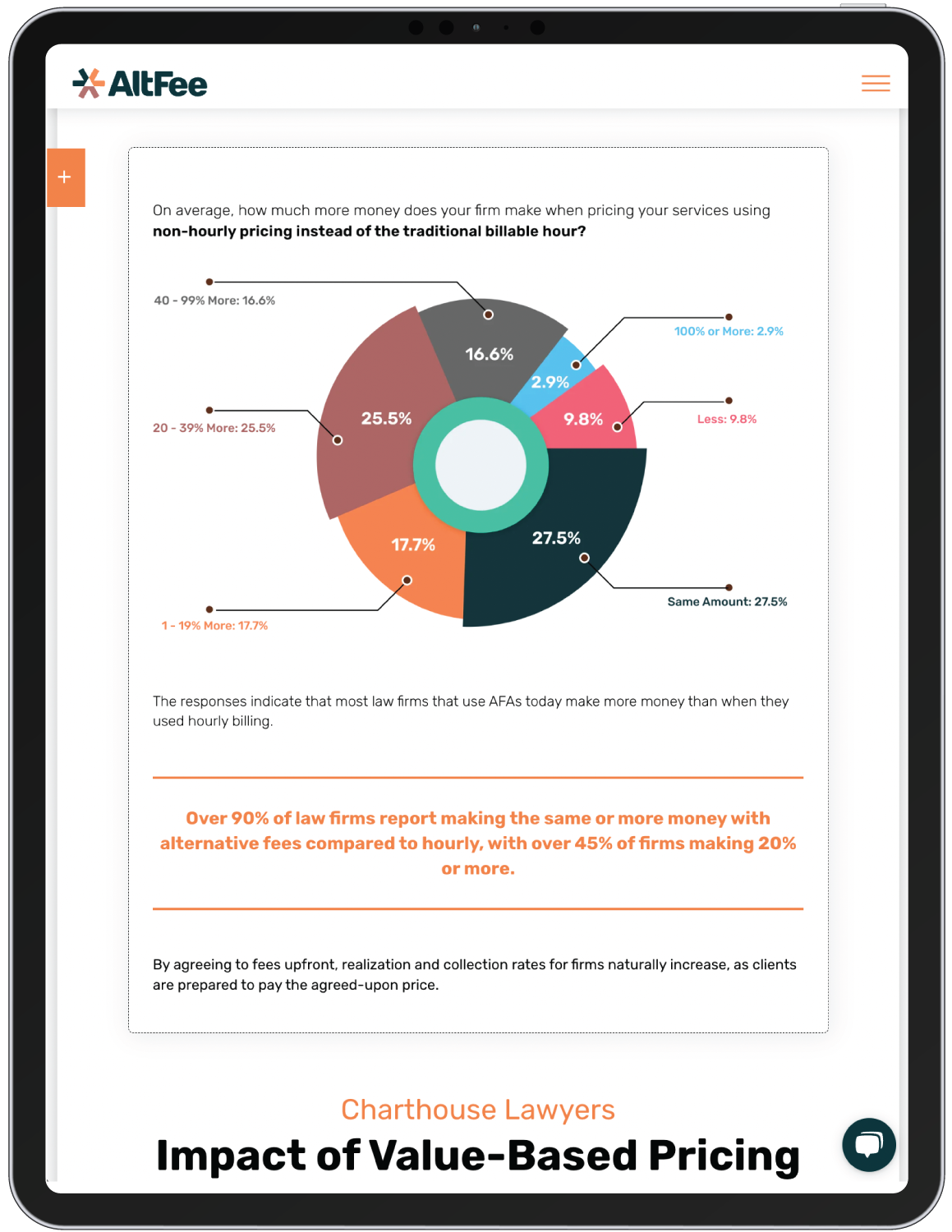 Legal Industry Pricing Trends Report 2023
Surveying legal professionals across the world, the report showcases how AFAs are contributing to increased profits for firms, better use of technology, and better work-life balance and working conditions for legal professionals.