How Offering An Unbundled Legal Service Goes Hand-in-Hand with AFAs
As lawyers and legal professionals, we know that legal services can quickly become expensive and unaffordable for much of the general public. This doesn't diminish the value and importance of legal services, rather it highlights that money is a barrier to access for legal services that must be addressed. Offering an unbundled legal service is one way that law firms and lawyers can address this barrier.
Increasing access to justice is an important issue in Canada and the United States. Everyone needs legal services at some point in their lives to help them navigate and solve problems, whether it be related to housing, education, healthcare, or something else. However, many people avoid seeking the legal services they need due to issues with affordability.
In Canada, a variety of government legal organizations (The Canadian Bar Association and provincial Law Societies) have come together in an effort to come up with creative solutions to increase access to justice across the country.
This includes efforts in:
Legal aid and court-based processes
Providing general information and resources for lawyers and clients
Pricing legal education, resources, and services in the family, criminal, and civil law areas
The U.S. Department of Justice established the Office for Access to Justice (ATJ) in October 2021 in an effort to help address the access to justice crisis across America. This includes state-run pro bono programs as well as legal volunteer services.
According to the World Justice Project, 77% of legal problems don't receive any legal support. Further, a more recent 2021 survey highlights significant barriers to access to justice that prevent people from seeking help: a lack of understanding of the significance of the problem and the consequences of it not being resolved, a lack of knowledge and resources available to solve the legal issue, and the high cost of legal representation. A minority of Canadians—one-third (33%)—contacted a legal professional to help solve a serious legal issue.
There is also a growing trend with Canadians opting to self-represent when facing legal challenges in an effort to avoid being faced with a gigantic bill—in one instance, a woman named Farrah Jinha would have had to pay $200,000 to keep her lawyer, so she opted to take over her divorce proceedings herself.
One of the solutions that Jennifer Leitch, the executive director of the National Self-Represented Litigants Project (NSRLP) at the University of Windsor suggests lawyers to offer unbundled legal services so that individuals like Farrah could pick and choose what they need from a lawyer.
What Are Unbundled Legal Services?
Unbundled legal services are when a lawyer provides legal counsel for part of a client's matter. An unbundled legal service may also be referred to as a limited-scope retainer.
Unbundling allows the client and the lawyer to decide which tasks in a legal matter are performed by the client and which are performed by the lawyer. In other words, if the client is comfortable with representing themselves but feels that they require legal guidance in certain areas, a firm with unbundled legal service offerings would be an attractive option for that client.
An unbundled legal service tends to include a variety of essential services that provide a high-level of assistance to a client in resolving their matter.
The table below outlines some of the different types of legal help that can be offered as an unbundled legal service:
Type of Unbundled Legal Service

Examples

Document preparation

Contract review
Preparing divorce documents
Affidavits
Financial statements
Legal applications and motions

Appearing in court on behalf of a client or preparing a client to go to court on their own

Litigation
Civil cases
Criminal cases

Advising on negotiations

Sales
Divorce or family law cases
Business-related legal matters
Coaching

Evaluating settlements

Determining the fairness of a settlement and the likelihood of receiving additional benefits or compensation if pursued further

Providing general legal guidance, including opinions and recommendations

Could apply to a wide variety of different legal matters, from providing counsel in a divorce case, personal injury, or business
How Do Unbundled Legal Services Work?
With an unbundled legal service, the legal matter is essentially broken down into parts. The client chooses which parts a lawyer handles and which parts they handle themselves. Of course, this requires that the client do their own research, which may or may not include counsel from an attorney to suggest which aspects of a case a client could potentially handle themselves and which they would recommend an attorney handle.
Why You Should Offer Unbundled Legal Help
Offering unbundled legal help might seem counterintuitive, given that attorneys and legal professionals typically want to perform any and all legal work associated with the client's matter. After all, the more services that are sold, the more income the lawyer and/or law firm gains.
However, offering unbundled legal help is one way that firms can offer increased access to justice. The unbundled legal services pricing model gives lawyers and the firms they work for an opportunity to attract more clients, thereby increasing revenue while becoming a positive force in changing the way that legal services are viewed and used by the general public.
In addition to these benefits, offering unbundled attorney help also allows a firm or lawyer to:
Offer a wider variety of services to clients, giving them greater decision-making power over which legal services they wish to receive.
Build attorney-client relationships and encourage clients to educate themselves more about the legal system.
Give the client the option of purchasing legal services a la carte, meaning that if they realize that they need more legal help than previously thought, they can seek further counsel as needed.
If your firm offers alternative fee arrangements (AFAs), you can use a pricing tool like AltFee to build out a custom pricing arrangement for your client based on the multitude of factors in a more complex legal case. This way the client will be able to see exactly which services they are purchasing and the value of those deliverables before work starts.
Start Earning More Revenue with Fixed Fees
Break free from hourly pricing and take the fear out of scoping and pricing client projects to start maximizing profitability.
Book A Demo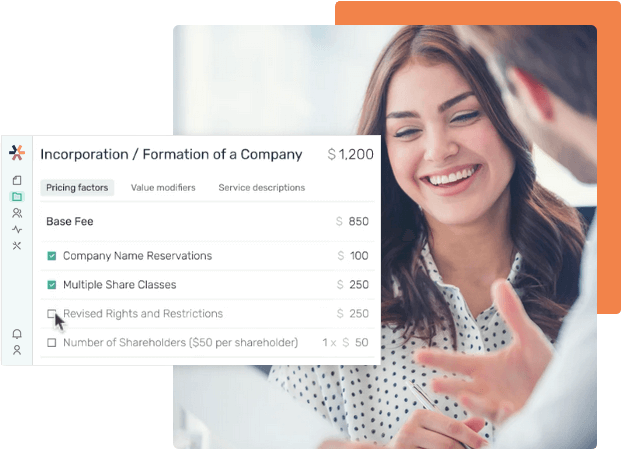 How Unbundled Attorney Pricing Fits with AFAs
There are usually a wide variety of reasons why a law firm or solo practitioner engages with an AFA pricing model, from enabling a better work environment to effectively communicating the value of services to clients leading to better collection and realization rates. Further, lawyers can better utilize their time with AFAs without being tied to the billable hour.
From the client's perspective, AFAs offer price certainty, shifting the focus of the legal service from the price to the value that is provided to them. Unbundled legal services have the same effect, they're another effective way to communicate the value of a legal service to a client while offering the client more control over the legal services they use.
Pros & Cons of an Unbundled Legal Services Agreement
If you're trying to decide whether unbundling legal services would be a lucrative option for your firm, it helps to evaluate the pros and cons from both the lawyer's and the client's perspectives.
The tables below outline these pros and cons from either perspective so that you can better understand how unbundled legal help affects both parties.
Pros and Cons of an Unbundled Legal Service—The Lawyer's Perspective
| | |
| --- | --- |
| Pros | Cons |
| Increase potential client base. | Can be difficult to properly put into practice in terms of scoping and pricing—determining how much work and resources will go into a specific legal matter in advance, and setting a fair price that communicates value. |
| Provides pricing transparency by clarifying the specific steps in legal proceedings, including what is involved in each stage. | Clients may still see the lawyer as responsible for all aspects of the case even though they are only paying for one specific service (risk of scope creep). |
| Gives the lawyer more options for offering legal help, potentially allowing them to sell more legal services per client. | It can be difficult to enter into a case that's already in progress (e.g., a litigation case) and get up to speed with everything that's happened so far prior to the client seeking the unbundled legal service. |
Pros and Cons of an Unbundled Legal Service—The Client's Perspective
| | |
| --- | --- |
| Pros | Cons |
| Provides more affordable options for legal services. | The client needs to rely on their own research capabilities and ability to understand the law, which may not be possible for everyone. |
| Allows increased access to more types of legal services and the ability to make more informed choices about the legal services that they can afford. | The client may seek incorrect legal services or misinterpret the scope and difficulty of navigating different aspects of the law, leading to a panicked situation where they hire a lawyer to handle the rest of the matter out of frustration or drop the matter altogether (if that's an option). |
| An unbundled legal service is often offered via a flat fee, offering the client pricing transparency upfront. | |
At the end of the day, the lawyer is responsible for setting the proper expectations with regard to providing an unbundled legal service. This requires a clear retainer or engagement letter that outlines terms in plain language, accompanied by a clear discussion with the client regarding the lawyer's responsibility in the case.
How to Be Profitable With Unbundled Legal Services
One of the biggest challenges with offering unbundled legal services is ensuring that clients completely understand what they are hiring a lawyer to do for them in a legal matter and that those expectations are set out clearly in the unbundled legal services agreement.
When entering an unbundled legal services agreement, it's also important for the lawyer to do their due diligence with regard to the discovery and investigation of facts surrounding the case. This involves having a streamlined yet robust client intake process that gleans as much information from the client as possible, allowing you as the lawyer to make the best decisions regarding which services to offer. After all, it's been proven in countless instances that a court will give the benefit of the doubt to the client over the lawyer in terms of court costs, such as disbursement fees, which may mean additional unexpected costs for a lawyer or firm.
The vast majority of lawyers want increased access to justice, where anyone can access legal services when they need to. This is why many law societies and other regulatory bodies throughout Canada provide guidance on limited-scope retainers or unbundled legal help, including the Law Society of Ontario and the Law Society of BC.
While it is great to see regulatory bodies address access to justice challenges by creating guidelines for lawyers, it is still the lawyer's responsibility to ensure that the scope and expectations of unbundled legal services are clear.
Aside from ensuring that an unbundled legal services agreement has been clearly laid out, here are other tips that can be applied to help ensure profitability:
Understand your costs. It's important that each case is evaluated carefully to ensure that all additional costs to the lawyer, such as disbursements, are accounted for in the scope of the unbundled fee.
Take advantage of colleague experience to set pricing. Utilize collaborative pricing software like AltFee to create a robust set of factors, value based modifiers and insights that your firm can draw on to create confidence that they're accurately capturing scope, and value delivered. Also, encourage colleagues and other stakeholders in the firm to view and suggest changes to these factors, modifiers and insights as needed so pricing learnings are captured and improved upon for similar projects in the future.
Use learnings from other AFA pricing initiatives to inform your unbundled legal service pricing. At the end of the day, offering an unbundled legal service can be approached like any AFA, but at a more granular level. Keeping in mind principles like matching value to service applies the same way to an unbundled legal service as it would to another type of AFA.
Understand that some matters are not appropriate for an unbundled legal service model. Some legal issues are simply too complex or technical to be offered as unbundled legal help. A legal issue may appear simple on the surface, but after further research, the difficulty of it reveals itself. It's important to consider each legal service carefully before it's offered as an unbundled option. Having set unbundled legal service offerings that are researched in advance and not deviating from those helps prevent issues with scope from occurring.
Ensure that you qualify the advice that you give. Ensure that the client understands that the advice and information you give them is based solely on the information they choose to provide you and that circumstances may change with additional information. It's important that the client understand this so they can better determine whether to expand a retainer with you. An example from Lawyer's Indemnity Fund illustrates how this can happen:
Let's say that a lawyer accepted a limited retainer to issue a Writ to protect a claim under a fire insurance policy. The insurer later seeks the dismissal of the claim because it was started prematurely before the proof of loss was sworn. As a result, the limitation for starting a new action expired.
This applies in some respects to all legal services, but it can be missed with unbundled legal services because the service is usually very straightforward.
Industry Examples of Unbundled Legal Services
Although unbundled legal services really got their start in family law, the concept of providing singular legal services can be applied to many different areas of the law. Here are some examples:
1. Family Law
In family law, offering an unbundled legal service to handle the different aspects of divorce may be beneficial alongside full counsel. Even if the client has to pay for a consultation, you can sit down with the client and decide where the case falls on the spectrum from requiring full representation to less representation depending on the complexity of their divorce case.
2. Litigation
Let's say a client is dealing with a litigation case. To avoid the case having to go to trial, the parties have agreed to a settlement conference. For the client to ensure that they are representing themselves properly, they could seek a law firm that offers to create settlement conference briefs as an unbundled legal service.
3. Personal Injury
Personal injury cases often result in settlements in an effort to keep cases out of the court system. A lawyer could analyze a settlement offer that a client receives to offer their legal opinion as to whether it should be accepted or rejected. A lawyer could also file and send the relevant documentation on behalf of the client as an optional service.
AltFee's Legal Industry Pricing Report 2023 found that the majority of firms make more money offering alternative fees for clients compared to hourly billing. Discover more findings about non-hourly pricing and how to increase your firm revenue by following the link.
Resources for Unbundling Legal Services
There are a variety of resources available for lawyers who are interested in providing an unbundled legal service but are not sure where to start.
Conclusion
From increasing access to justice to expanding your client base, many positive reasons exist to offer unbundled legal help. The majority of attorneys enter this profession to help people gain access to resources and resolve the complex legal issues affecting their lives.
Like AFAs, unbundling legal services is just another way to offer more flexibility and accessibility to your clients, and provides opportunities for lawyers to expand their client base and generate more income.
One of the key considerations with offering an unbundled legal service is to ensure that it's being scoped properly and that the expectations of the lawyer regarding the service provided is completely transparent and comprehensible by the client. This can be a difficult task if the lawyer or law firm doesn't have a systemized process that can break a complex legal matter down into granular parts.
One essential tool to obtain when implementing unbundled legal services at your firm is software that can help with pricing and scoping and facilitate collaboration among legal professionals. AltFee's pricing software provides just that, with the ability to create complex or simple pricing templates for a wide variety of services across all practice areas. Once a pricing template is created, it can be continuously improved via built-in collaboration features, facilitating a streamlined way to discuss pricing and scoping for different legal services.
If you're a law firm or a solo practitioner just getting started in your journey of providing AFAs, or, if you're interested in taking your AFAs to the next level by streamlining and improving your scoping and pricing, give AltFee a try today!
Start Earning More Revenue with Fixed Fees
Break free from hourly pricing and take the fear out of scoping and pricing client projects to start maximizing profitability.
Book A Demo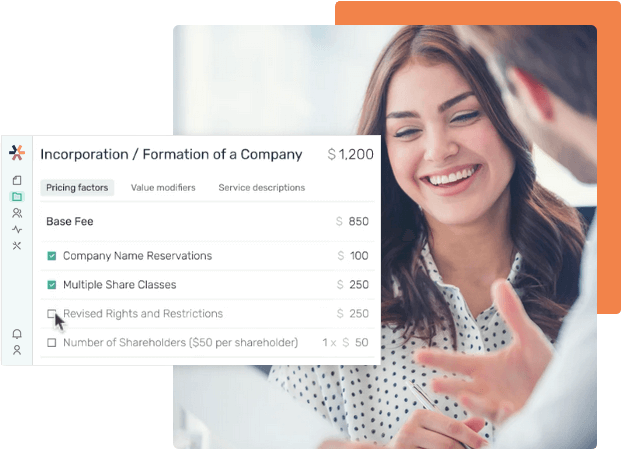 Newsletter Signup
Subscribe to our newsletter to receive the latest news.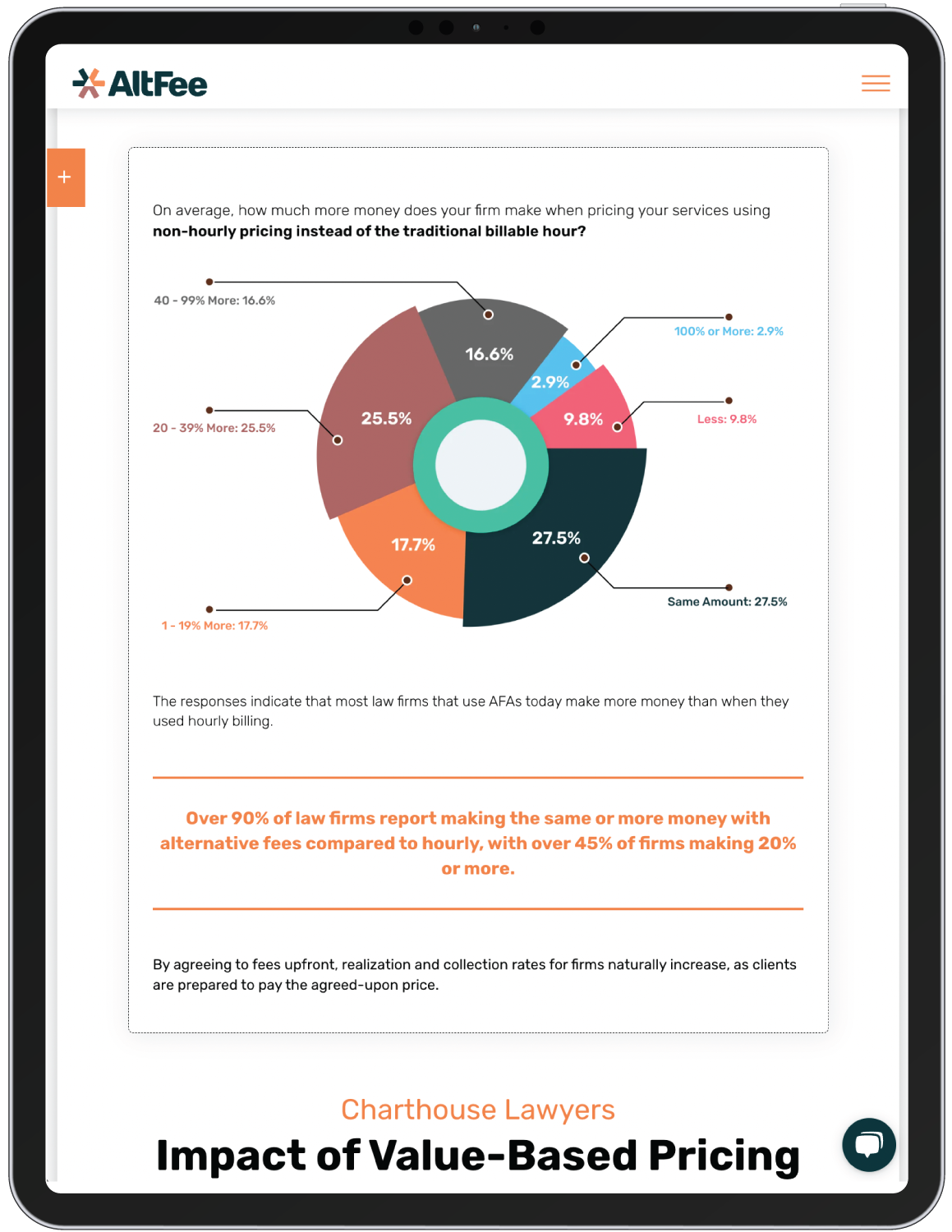 Legal Industry Pricing Trends Report 2023
Surveying legal professionals across the world, the report showcases how AFAs are contributing to increased profits for firms, better use of technology, and better work-life balance and working conditions for legal professionals.