7 Small Law Firm Case Management Software Selection Criteria
If you run a small law firm, you might think that case management software isn't a worthy investment. That it is only for the big guys, the corporate law departments, and the large law firms with several locations.
Well, we're here to tell you that pen and paper are dead. Oh, and while you're at it, stop using those excel spreadsheets to manage your cases. Because small law firm case management software is available, it's essential for increasing the efficiency of your small law firm (and saving your sanity).
By using small law firm case management software, you can enjoy:
Having all your client case information available at your fingertips through easily navigable menus and intuitive search, rather than having to sift through physical or digital files
Document templates with the ability to automatically fill in client information and perform edits right in the software
General automation, which reduces repetitive and tedious administrative tasks for your legal professionals, so they can get back to practicing the law
Easier and more efficient research and collaboration on client cases
So yeah, it's not only for the big guys but the small guys too. What's more, small law firm case management software can support your firm as it grows.
But before you dive headlong into the world of digital case management, let's take a step back and define what case management software is, the typical features that most offerings include, and how you should go about selecting the right legal software for your law firm.
What is Case Management Software?
Every law firm operates differently, but something that plagues law firms of all sizes is the ease of communication and access to information. What typically ends up happening is that everyone uses technology solutions that match their specific needs and tech comfort levels; therefore, the information is siloed in these systems. What's more, different processes and preferences develop for each individual, which often leads to frustration and inefficiency as everyone within the firm attempts to understand and cater to each other's preferences.
Case management software can provide 3 things that law firms need:
Standardized processes and procedures
More collaboration and communication
Ease of access to information
Law firms large and small can effectively manage client information and case records, schedule appointments and meetings, set deadlines, and manage their billing and bookkeeping in one centralized location with case management software. Cloud-based software that your firm already uses, like calendars, email, e-signature, and more, can be integrated into the system.
With case management software, the entire journey from intake to billing is organized and managed within one piece of software, including all the documentation and research that is typically involved with any case.
This means that key players within the law firm can access information, easily collaborate with others on different cases (many small law firm case management software offerings integrate with popular business messaging apps like Slack), and otherwise follow the same standardized processes for every case.
Another important feature of legal case management software is the ability to help law firms stay compliant with local, state (or provincial), and federal rules and regulations. These regulations surround things like ensuring confidentiality of client information, filing requirements, deadlines, evidence, and client and law firm financials.
Features of Law Firm Case Management Software Cloud
Typical Case Management Software Features

Description

Task management

Changing case status (open or close)
Assigning specific tasks to professionals within the firm (document reviews, time and billing adjustments, etc.)
Assign labels to tasks, such as priority, status, and category to keep tasks organized

Document management and automation

Organize and quickly access important documents (e.g., evidence, research) with contextual search
Capture physical documents in a digital format with mobile scanning tools
Automatically populate documents with information, such as client contact details or boilerplate terms

Scheduling

Calendar syncing allows appointments and meetings to be scheduled based on the latest availability information for all team members
Automatically send reminders for upcoming appointments and meetings
Automatically receive a notification when a meeting has been scheduled

Workflow automation

Fills out forms with client information
Matches tracked time to billing to automatically create invoices
Reduces human error with data entry

Reporting and analytics

Gives you a bird's eye view of your law firm's operations
Allows you to see where your legal professionals' time is most spent
Gives you the information you need to shift priorities, change processes, or provide guidance

Tracking

Track time, case status, and progress on cases
Ability to review time entries and make adjustments for accuracy
Sync with email, calendar events, and more to easily add tasks to total time tracked

Billing and invoicing

Creates an invoice based on your law firm's billing practices, as well as specific client information
Reduces billing errors with automations
Encourages sending invoices to clients in a timely manner

Templates

Saves time as the same documents don't have to be created over and over again
Can be edited and adjusted for each client
Reduces the likelihood of human error by allowing some information to be filled out automatically
Law Firm Case Management Software Cloud Best Practices

These days, since the vast majority of case management software is cloud-based, law firms need to follow cloud law firm best practices, including:
Ensuring that your data is backed up regularly. Some types of cybersecurity attacks, such as ransomware, can compromise your data and prevent you from accessing it. For law firms, ransomware attacks are a particular concern, as the point of ransomware is to gain sensitive information that can provide a lucrative financial opportunity for cybercriminals. Aside from security measures, including educating employees on typical ransomware acts like malicious emails and suspicious website links, backing up your data is essential. With backed-up data, you can restore your operations quickly without data loss.
Provide staff education on cybersecurity. At the end of the day, educating your legal professionals provides the best defense against cybersecurity threats. If they understand what a malicious email looks like, for instance, the chances of them opening that email and exposing the firm to an attack are much lower.
Use multi-factor authentication or single sign-on when possible. With multi-factor authentication, you can ensure that the right person is logging into your case management software by adding an extra verification layer, typically with a phone app or even an automatic email the user needs to click a link within. With single sign-on, the same account login that's used across your other systems is used for the case management software. Google or Microsoft offers single sign-on, where you use your email address and password to log into various software.
Know your jurisdiction's data storage requirements. You've likely heard about PIPEDA and GDPR, with both dictating requirements for how data can be stored securely for all businesses, including law firms, in Canada and Europe respectively. Although the United States doesn't have any specific overarching laws for general data protection, data privacy laws for each state do exist, and state bar associations may have their own requirements surrounding data privacy for law firms.
7 Small Law Firm Case Management Software Selection Criteria
Selecting the perfect case management software out of a sea of offerings online can be difficult, especially when you have a budget.
Aside from weighing the pros and cons of each piece of software you're interested in, there are several considerations that should also be on your list:
Secure, cloud-based platform. Most small law firm case management software available these days will be cloud-based, but self-hosted solutions (meaning you have to host the software yourself on your own servers) are also widely available. With either option, it's still important to confirm exactly how and where they store their data to comply with your state (provincial) and federal laws. For example, the Law Society of British Columbia, Canada, has a handy cloud computing checklist that you can use to ensure you meet the data storage requirements for that province.
Ease of use. If the software isn't easy to use, then not only will your legal professionals likely shy away from using it in favor of traditional methods, it can further affect your firm's efficiency instead of positively impacting it. Look for software with a modern, clean interface with clear navigation.
Document automations. A recent Wolters Kluwer Future Ready Lawyer Survey cited that the ability to automate document and contract creation, add more collaborative opportunities, as well as improve document and contract workflow management were the top technological investments for law firms. Thankfully, most case management software includes document and contract automations, but the robustness of features available will vary by product. If document automation is important to your law firm, pay close attention to which features each product you're looking at offers.
Customization. Sure, each piece of software is meant to work in specific ways, but that doesn't mean that it shouldn't have some customization options to better integrate into your law firm's established processes. For example, Filevine offers the ability to create customized reports, workflows, and deadlines.
Mobile access. For busy lawyers on the go traveling to and from trials or other locations, mobile access is a must. From quick information lookups to making quick edits to a document, mobile access allows a seamless transition from the office to the road.
Integrations. Your law firm very likely uses more than one piece of software, so making sure that they all compliment each other or connect in some way is a huge bonus. With case management software, look for compatibility with popular document management tools (Dropbox, Google, Microsoft, etc.), calendars, and email.
Cost. You may have a budget in mind reflecting what you'd like to spend for small law firm case management software, but without research, that number might not match up to what most software offerings might actually cost. With so many options and price ranges out there, too, it can be difficult to set a strict budget. First, match features and benefits with your law firm's goals. For instance, if one of your goals is to reduce missed deadlines, then look for case management software that offers robust calendar integrations with automatic updates. Once you have a list of a few pieces of software that meet your needs, compare the prices and find an average. With this information, you can now set a more informed budget.
Law Firm Case Management Software Examples
Clio
If you've been in the legal industry for any length of time, chances are you've heard of Clio. Clio Manage is their case management software offering and it provides a robust amount of features surrounding matter organization, information categorization, real-time updates, and more.
Standout features:
Centralized overview dashboard for firm finances, appointments, client matters, and more
Any update made to the software is tracked so you can see who made the update and when it was made
Unlimited document storage and e-signatures
Templates and document automation
AltFee is proud to integrate with Clio, making it even easier for lawyers that provide alternative pricing for their clients to manage their client information, and tie that into their AFAs. When you update client information in Clio, that same information also gets updated within AltFee, and vice versa, ensuring that both systems have consistent client data.
CASEpeer
As cloud-based personal injury law firm software, CASEPeer is already tailored to your specific area of practice with clear A to Z management and organizational options. It includes hubs for marketing and accounting, plus a client portal to make staying in touch with your clients easier and more efficient.
Standard features:
Robust settlement tools
Customizable online client intake forms
Industry-leading customer success team to support you
Treatment tracking for each client, including doctor visits, injuries, records, and status tracking for records and bill requests
MyCase
Focusing on providing a 360-degree view of your law firm, MyCase includes all the standard features that you would expect in case management software, like automation, document management, and a centralized location for all your data.
Standout features:
Client portal
Simple pricing structure with all product features included (features aren't locked behind add-ons)
Unlimited e-signatures
The ability to automate the creation of various documents, including retainer agreements
FileVine
With a suite of software options to help you run your law firm better, FileVine may focus on more than just case management, but that doesn't mean that its case management solution is anything less than robust.
Standout features include:
Cloud-based
Automations for documents and workflows
Custom reporting
Calendar and chat integration (if you use Slack)
How AltFee Complements your Law Firm's Case Management Software
Any of the aforementioned small law firm case management software offerings will succeed in bringing your firm's case documentation, client information, billing, workflows, and more in one centralized location. This will add efficiency to your law firm's daily operations and is sure to save your legal professionals significant chunks of time and improve collaboration.
Many law firms, however, have shifted away from the traditional billable hours law firm to using AFAs, or alternative fee arrangements. These fee structures have been gaining popularity since clients are increasingly wanting more price certainty and more transparency with their legal services through value-based pricing.
If you're one of these law firms, then you'll need software to help you manage your pricing strategies for each client. With AltFee, you can not only easily create pricing templates or pull from our selection of pricing guidelines, but you can also collaborate with others within your firm to set the best pricing for each client. Combine your collective experience and knowledge with legal services and consider how long a matter will take, how much labor is involved, and much more before you set prices for your clients.
If you're working with Clio, perhaps the most well-known law firm case management software offering out there, then you'll be happy to learn that AltFee seamlessly integrates with Clio. This means that when you update client information within Clio, it also updates in AltFee, meaning that the two systems have consistent information between them. This makes it even easier to manage your AFAs for each client matter and project, as you're not switching between two systems trying to find the latest information for each of your clients. Instead, this information is already available within AltFee, and can be used to update scope and pricing information as needed.
Curious? Learn more about our software and sign up to receive a demo.
Start Earning More Revenue with Fixed Fees
Break free from hourly pricing and take the fear out of scoping and pricing client projects to start maximizing profitability.
Book A Demo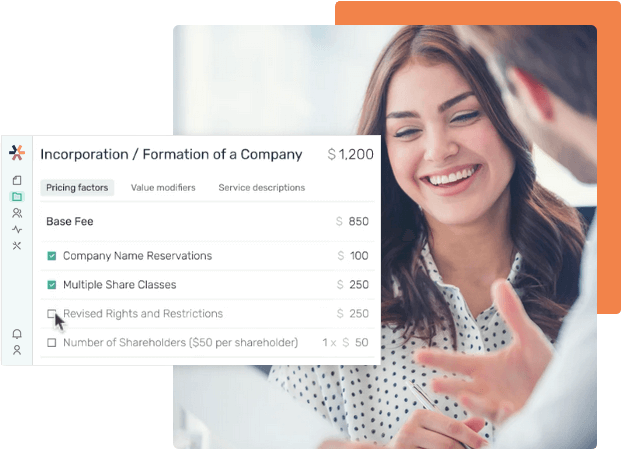 Typical Costs for Legal Case Management Software
| | |
| --- | --- |
| Case Management Software | Cost* |
| Clio | Starts at $39 USD per user per month and goes to $129 USD per user per month for all Clio products and features |
| CASEPeer | $89.00 USD per user per month |
| MyCase | Starts at $39 USD per user per month, and goes up to $79 USD per user per month for all features, including MyCase Drive (document editing and storage) |
| FileVine | FileVine approaches pricing a bit differently, saying that they'll provide a customized pricing solution for your firm, after a discovery call and demo |
*Pricing as of July 2022
Final Remarks for Small Law Firm Case Management Software
To get everyone in your law firm on the same page about every case and effectively organize your data, using case management software is essential. Even if you're a small law firm with only a few employees, case management software can still increase your efficiency and, most importantly, support your firm as it grows.
With standardized case management processes and procedures supported by small law firm case management software, you can provide the customer service, efficiency, and ease of communication that not only helps improve your law firm's work culture but also showcases your commitment to a client-centric approach to providing legal services.
If you are a law firm that's focusing on offering a more client-centric experience, then chances are you've switched to alternative fee arrangements for your firm's pricing strategy.
To complement your case management software and make managing your AFAs easier and more efficient, check out AltFee.
Start Earning More Revenue with Fixed Fees
Break free from hourly pricing and take the fear out of scoping and pricing client projects to start maximizing profitability.
Book A Demo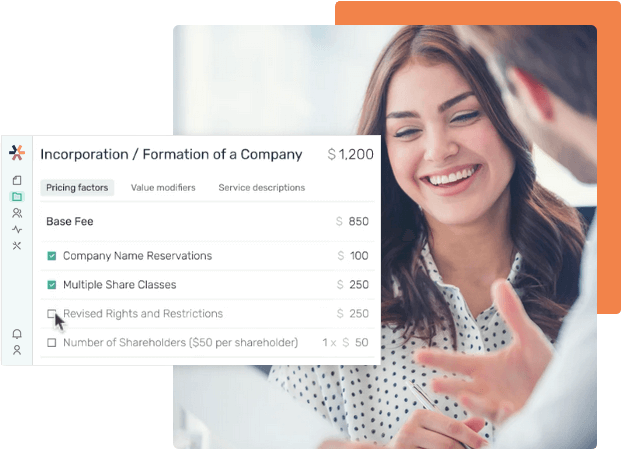 Newsletter Signup
Subscribe to our newsletter to receive the latest news.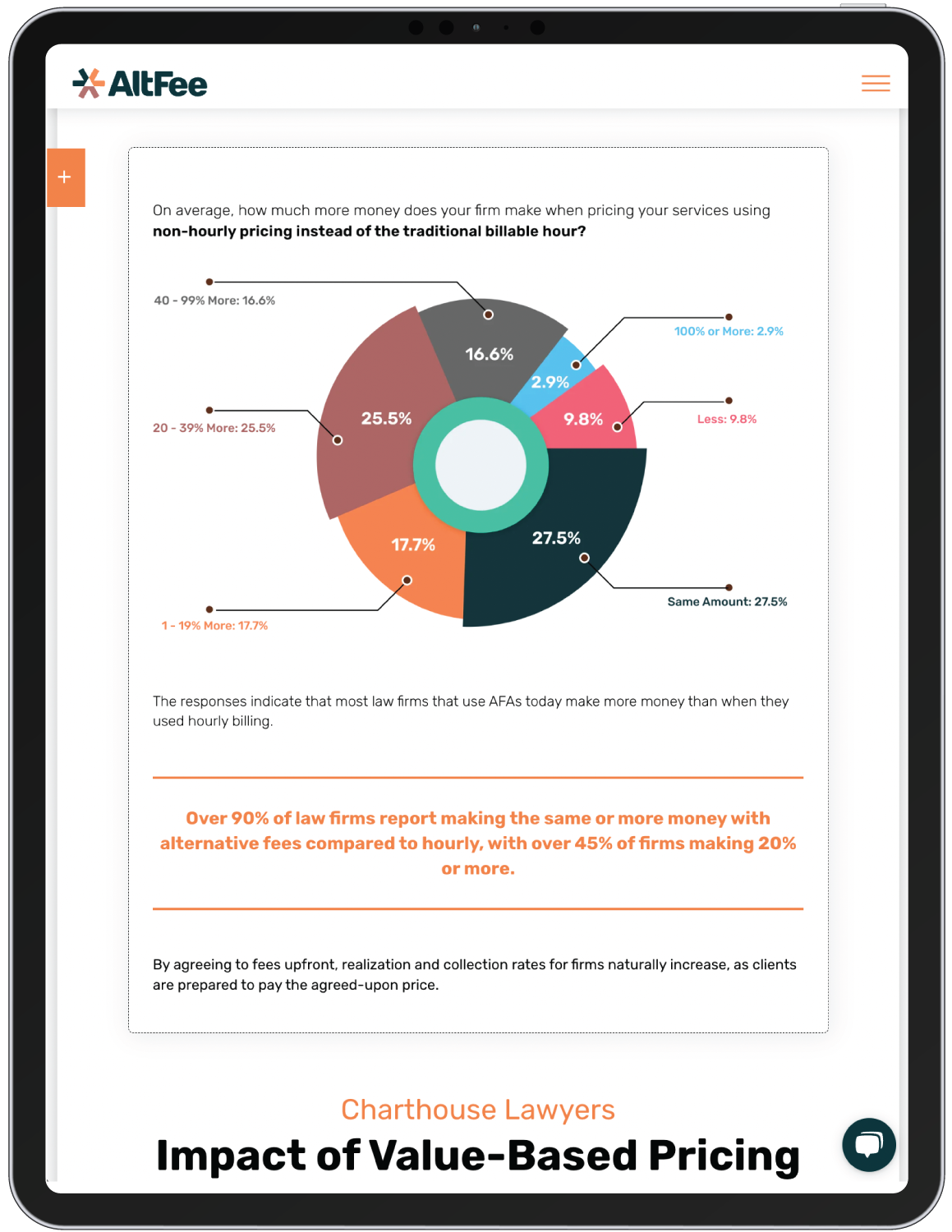 Legal Industry Pricing Trends Report 2023
Surveying legal professionals across the world, the report showcases how AFAs are contributing to increased profits for firms, better use of technology, and better work-life balance and working conditions for legal professionals.