An Outlook on The Legal Technology Law Firm: Software and Trends
Finally, the legal industry has been dragged kicking and screaming into the 21st century, with modern law firms embracing technology to make the jobs of legal professionals everywhere easier.
And that's not a shot at the legal industry in general. After all, law firms are dealing with serious matters every day, and if the tech isn't up to speed, then doing things the tried and true old-fashioned way is better.
But recent years have seen a rise in the legal technology law firm as an adaptation to an ever-changing marketplace.
This includes things like alternative fee arrangements, client relationship management software, remote conferencing with clients, and more recently, legal AI tools.
The culmination of legal technology for law firms means increased efficiency, with significant reductions in time spent on billable and non-billable time. This uptick in efficiency is causing the entire industry to rethink their workflows, which we'll discuss more in this article.
So the question is, will we continue to see more cat lawyers in the future?
Well, let's hope so.
In the meantime, let's explore just how much technology in the legal profession has caused the industry to evolve, change, and grow for both lawyers and clients.
The Importance of a Legal Technology-Focused Law Firm
The legal technology law firm is a reality in the legal industry of today, whether it's a welcome change or not. The truth is, that legal technology solutions are making lawyers and legal professionals more efficient in performing their work, including reducing tedious and repetitive administrative tasks so the lawyer can focus on more high-value work.
We already know that the legal industry's culture and thinking are shifting in favor of more work-life balance. The pandemic drew attention to the elephant in the room with regard to lawyer burnout, being a catalyst for the great resignation and a heightened awareness among legal professionals of all stripes of just how much they need to work on balancing their time. The legal technology law firm is just another step in that process, as legal technology solutions offer respite from a heavy daily workload.
Being Forward-Thinking
Competition for top talent among law firms has become a fierce battle in recent years. Thompson Reuter's 2022 State of the Legal Market report highlights some important statistics—including one that states that some law firms are looking at losing as much as 125% of their associates over the next five years—a prospect that is causing all firms to take a serious look at their work culture.
A key aspect of the report is the concept of Go firms and Stay firms. As the names suggest, Go firms are law firms where there is high turnover, while stay firms are ones with steady growth. While professionals at Stay firms receive a good amount of billable hours, the other important reason they stay is to be treated fairly, feel comfortable enough to be themselves at work, good management, availability of rewards and compensation, and opportunities for career advancement and growth.
Young legal professionals are focused on work-life balance, mental well-being, and their time outside of work, and Stay firms have been able to provide that more than Go firms, while at the same time reporting more billable hours. So how is this possible? Hint: It's not due to raises.
Attorneys at Stay firms have more support that allows them to engage in higher-value work.
Because attorneys have more support at Stay firms, they often request more billable hours and have time to mentor and train junior associates.
Stay firms have better relationships with their clients because the attorneys and other legal professionals are able to provide efficient work and competitive pricing, and most importantly, the client recognizes the value of the legal service for the cost.
The key words in these findings are "support" and "efficiency". And those two things don't come without being forward-thinking. One part of being a forward-thinking law firm is culture, but the other part is investing in the tools needed to provide that support and efficiency.
The legal technology law firm aligns perfectly with support and efficiency, given that legal technology solutions are built with these express purposes.
Meeting Client Expectations
Another important aspect of the legal technology law firm is meeting client expectations. The 2022 Legal Trends Report by Clio highlights important hirability factors that consumers of legal services look for before hiring a law firm, and while most clients want their lawyers to be local, they prefer virtual meetings over in-person ones.
Being first to respond to a client's online request is another factor that gives firms a huge competitive advantage. But being able to respond quickly isn't always possible through manual means—you could be dealing with another client, or it could be 3 a.m. when a client sends a request through. Utilizing meeting booking software and software that sends automatic emails or text messages (depending on how the client contacts you) is a great way to meet the expectations of the 79% of clients who expect contact within 24 hours of reaching out.
Streamlining Workflows
The same Legal Trends Report highlighted in the previous section also indicates that clients are more conscious of what they'll have to pay for their legal services, which has led to more clients (67%) wanting alternative fee arrangements—specifically flat fees. But despite this request, hourly billing is still offered by the majority of law firms. However, that is slowly changing.
Everything we've discussed so far in this section, including lawyers wanting more work-life balance and better working conditions as well as client expectations with regard to contact frequency and pricing, leads to legal technology as the solution.
Legal technology software helps make a variety of tasks easier and more efficient, including:
Pricing out services
Managing client projects
Managing client relationships and communications
Conducting e-discovery
Resource management
Legal accounting and billing
In many cases, legal technology software can also streamline approval workflows by sending automatic notifications to the appropriate person when changes are made to a document, or when an invoice is created and needs another set of eyes before it's sent to the client.
What's the Impact of Technology on the Legal Profession?
With more and more law firms embracing legal technology solutions, the profession has experienced major shifts in law firm operations and overall work culture.
Let's take a closer look at some of the major ways that technology has impacted the legal profession.
Makes Law Firms More Efficient
Legal technology introduced factors like automation and e-discovery software to law firms everywhere, meaning that information processing is faster and lawyers can spend more time on productive tasks.
Automation in particular has shaken up the typical lawyer's workflow, making things like client intakes, legal matters, and billing easier. For example, a client visits a law firm's website and fills out a form. That information then gets sent to a CRM or lead management system, where a lawyer or legal professional gets notified to respond. With pricing, software like AltFee easily manages every aspect of client project pricing, from setting out the initial scope to collaborating with colleagues on how to price a client project.
Start Earning More Revenue with Fixed Fees
Break free from hourly pricing and take the fear out of scoping and pricing client projects to start maximizing profitability.
Book A Demo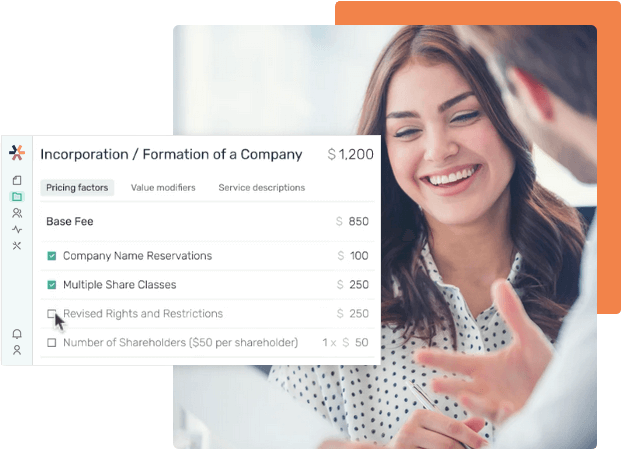 Increased Transparency Between Law Firms and Clients
Client expectations of law firm transparency throughout their entire legal service are very high, meaning law firms have to be prepared to meet those expectations. Thankfully, legal technology can help with that process.
One way is through the use of digital communication tools to keep in touch with a client throughout their legal matter, like video conferencing to give a status update, touch base about key decisions, or send documents back and forth for review.
Another way is moving to a value based pricing model that provides the client with a clear pricing structure for the services provided by a lawyer, usually offering an upfront understanding of fees for the work.
Increased Convenience for Lawyers and Clients
More tech often means more conveniences. The legal technology law firm focuses on making things easier for lawyers and clients to get things done and keep legal matters moving along smoothly. For example, legal e-signature software eliminates the need to mail or scan a physical document that requires a signature, and video conferencing means that lawyers and clients can meet without having to commute.
Legal Tech Fosters Collaboration Among Legal Professionals
Technologies like Slack and Google Docs have been available as collaboration tools for businesses for years, but it's only recently that increased moves to AFA pricing structures have encouraged legal professionals to collaborate more and more on things like pricing. In North America, client demand for law firms with some sort of AFA pricing model increased by 28% in the last year.
Collaborating with other legal professionals within your firm on pricing is a win-win for everyone, as they can use your feedback to adjust their pricing strategy and vice versa.
With AltFee, for instance, you can leave comments, and feedback and share your experiences on specific client projects or pricing templates (which we call guidelines) to easily go back and forth between colleagues on the best pricing strategy for your law firm and your clients. The ability to attach comments to specific projects helps exponentially with context, so everyone can always be on the same page when it comes to pricing.
Legal Technology for Lawyers: How AI is Impacting Their Role
Legal technology impacts lawyers' roles in two major ways:
Making work more efficient by taking over tedious administrative tasks and streamlining workflows
Shifting the focus of work to higher-value tasks
AI legal technology for lawyers is capable of performing a number of complex tasks, including written, analytical, and creative, freeing up time for lawyers to focus their time on other things. The amount of time lawyers spend on billable tasks for clients often leads to 10 or 12-hour working days just to get everything done, or at least make a significant dent in their billable hour targets. However, when AI is applied, the amount of time needed to complete many of these tasks can be greatly reduced.
This is said with the consideration that the AI tools that lawyers use will need to be overseen for the first while by reviewing their output, fixing errors, and optimizing the tools over time. AI isn't instant; it needs time to learn what humans want and deliver those wants properly.
Document Review and Contract Analysis
The time it takes to review and draft documents and contacts can be significantly reduced with the use of legal AI tools. AI is able to consider the context behind a legal document and determine where to add certain statements and names of parties, as well as check grammar and spelling.
Legal Research and Due Diligence
Another important use of AI for legal tasks is assisting with legal research and due diligence in assessing risk for a case. Mature law firms with a plethora of case data can use this information to predict the likelihood of success or failure of a case using real data and provide attorneys with important information that they can apply to different cases, like previous strategies and resources used. With AI taking over this important investigative role, attorneys can make more informed decisions about whether to take on a case or not, which gives them increased confidence when dealing with a case that may not cover an area of the law that's as familiar to them.
How AI is Affecting The Traditional Hourly Model
As AI improves and helps the legal technology law firm reduce the amount of time they spend on a wide range of tasks, the question then becomes, "What happens to hourly billing?"
This is where the law firm and the lawyer may start to clash—because the law firm will start putting pressure on the lawyer to complete more and more during the course of a day because they are being more productive, while the lawyer obviously wants to take advantage of the time saving to have a better work-life balance.
One result that would likely occur is the lawyer wanting to focus on more high-value work (e.g., creative, strategic, forecasting, risk management) to fill their time, but the problem with that is the client needs to be convinced that they need the work in the first place and that they should pay for it.
With the increased efficiency that AI brings to the table, lawyers are spending less time on projects and therefore delivering their services quicker. Hourly rates can only be raised so much to make up for faster service delivery before it becomes unsustainable. In addition, clients are realizing that some legal tasks can be completed by using AI tools of their own, so they pull back on which legal services they pay for.
So the conclusion that is naturally reached is that selling hours is no longer a viable method for pricing legal services. Rather than selling hours to people and trying to reach annual targets, firms and attorneys need to shift their thinking to the value of selling a project or matter-based service, much like other industries have been for years.
The transition to value-based pricing won't be easy for many firms, but a wide variety of law firms are offering alternative fees successfully. AltFee's law firm directory has an extensive list of them.
An important factor in managing your alternative fees properly is having effective pricing software that allows you to manage and organize how you price projects and matters. AltFee marries pricing with collaboration so that it's easier for your firm to create tailored pricing for each and every client.
Pricing templates are provided to give you a head start, which can then be customized, or you can create new ones from scratch. Comments and feedback can be left directly in a pricing guideline to keep communications in one place. Plus, you can apply value modifiers that you pre-set to different guidelines to ensure you are aligning the full perceived value of a project with the price you set, based on a client's individual circumstances and needs.
Start Earning More Revenue with Fixed Fees
Break free from hourly pricing and take the fear out of scoping and pricing client projects to start maximizing profitability.
Book A Demo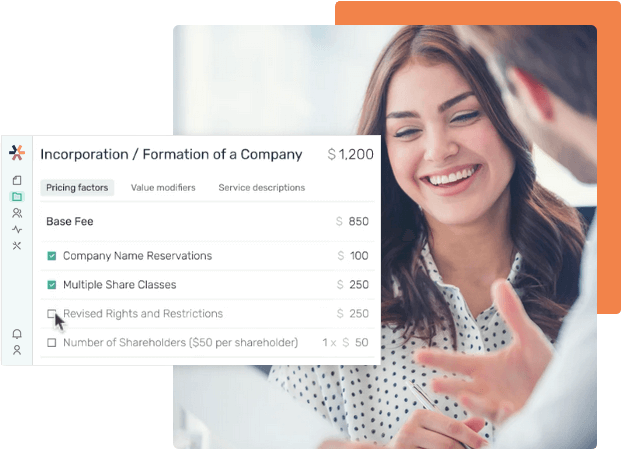 Legal Technology Market Overview

The legal technology law firm market as a whole has become a behemoth over the years.
The entire legal tech market, in 2019, generated a revenue of over 17 billion USD. The legal tech startup market also shows impressive numbers, with a forecasted compound annual growth rate (GAGR) set at 27.82%, with revenues expected to reach two and a half billion USD by the end of 2025. These startups are often responsible for bringing new and innovative offerings to the legal tech industry, such as AI (artificial intelligence).
The adoption rates of legal technology services among corporate legal departments especially have also seen huge growth over time. According to Gartner, In 2017, legal tech spending among corporate legal departments was 2.6% of in-house budgets, which grew to 3.9% in 2020. This increase is expected to continue to 12% of in-house budgets by 2025.
As mentioned, some have pointed to the pandemic as a big reason why more legal technology law firms are popping up. And indeed, 2020 seemed to be the year where most law firms and in-house corporate legal departments invested the most in legal tech solutions, with software featuring AI consistently being highlighted as a popular choice for both corporate and private law firms.
Legal Outsourcing
Some firms have looked to outsource some of their projects to specific legal process outsourcing companies (LPOs) to save time, lighten their workload, and save money. Outsourcing, in general, isn't new to other industries, but it's still relatively new to the legal industry.
Outsourcing legal services works in a similar way to other industries where outsourcing is standard, like marketing agencies, for example. Let's say you hired a marketing agency to build you a website. Some of their staff might be in-house, but chances are some of the work is outsourced to freelancers and contract-based workers. This helps the agency save money while still being able to take on a greater amount of work.
The same principle can be applied to a law firm. Instead of rejecting work or going over budget with certain projects, aspects of the work can be outsourced to solo practitioners, contract lawyers, or smaller firms to complete.
Types of Law Firm Technology
As is typical of new tech offerings in general, law firm technology has expanded in recent years to a wide variety of software offerings. These include, but are not limited to, the software described in the following table:
Legal Software

What it does

Practice Management Software

More of a broader software, practice management software is designed to manage a law firm's project and client records, billing, schedules, and appointments, deadlines, computer files.

Value Based Pricing Tool

This tool helps you manage your AFA pricing structure for the different legal services your law firm or legal department offers.




AltFee is one example, where you can create pricing templates for each service, collaborate with other legal professionals on pricing, and keep your template guidelines organized and easily searchable.

CRM

Customer Relationship Management software allows you to store and organize client contact information, and keep track of communications (texts, emails, calls) and services purchased for individual clients.

Lead Management Software

This software allows you to manage and track the activity of clients as they move through your law firm's sales funnel. In other words, from when they reach out to your law firm to when they are finished with a legal service.

Legal Workflow Software

Allows you to manage your entire firm's tasks, reminders, deadlines, and more. Often integrates with CRM software.

Online File Storage

Providers like Dropbox, Google Drive, and more allow you to upload documents to the cloud so they are accessible from anywhere.

VoIP Phone Provider

These days, voice calls, video calls, and text messages can be received directly on your computer instead of using an office landline. You can even download the software on your smartphone while away from the office.

e-Discovery Tools

The once manual process of discovery is now completely online, with software available to handle OCRing, file indexing, data ingestion, and more with ease.

Legal Document Management

Regarding legal documents, online tools allow lawyers to quickly draft contracts, letters, motions, and more by using collected information (contact info, dates, etc.) to autofill documents.

e-Signature Software

Instead of meeting with a client in person or relying on faxes or scanned documents, you can use e-signature software (such as DocuSign) to obtain important signatures quickly and easily through a secure online signature process.

Legal Chatbots

Common questions to appointment bookings on a law firm's website can be handled by an AI-powered website chatbot that can perform these tasks via text prompts from existing and potential clients.

Cyber Security and Privacy Technologies

Law firms hold sensitive information and are especially susceptible to cyber attacks. AI cyber security and privacy technology can isolate sensitive data, and send alerts when there's a risk of this data being compromised.

GenAI

Refers to machine-learning algorithms that can create content, like text or images. Attorneys can leverage this technology by automating document drafting and research-related tasks. For example, regulatory changes can be tracked and intelligence on these changes can be provided, allowing legal professionals to stay up-to-date without needing to spend time on research.
Benefits to Your Law Firm or Legal Department
What all the aforementioned legal technology services have in common is that they provide similar benefits to your legal technology law firm, including:
Streamline your workflow processes. Instead of needing days or weeks to complete discovery and obtain signatures, for example, the convenience and ease of access of legal software mean that these tasks can be completed quicker than ever before. With the addition of legal workflow software, everyone in a law firm can be kept on track without having to manually manage their tasks and deadlines.
Reduce human error. Mistakes can happen, but the frequency of errors can be significantly reduced with legal tech tools. When parts of processes are automated through a CRM or legal workflow software, for instance, it ensures that the task is done the same way every time, eliminating the possibility of errors occurring.
Gives you more time to practice the law. Instead of spending much of your time on administrative or routine tasks, law firm technology either does these tasks for you through automation or greatly increases the efficiency of completing them, meaning you have more time to practice the law.
Top 4 Legal Technology Software
There are a ton of software offerings available for the legal technology law firm. As a result, it can be tough to separate the wheat from the chaff and figure out what software is worth your time and what isn't.
In our list below, we've picked the top offerings in each legal tech category, including fee management, practice management, accounting and billing, lead management, and e-discovery.
1. AltFee - AFA Software for Law Firms
If you're looking for a way to effectively manage your law firm's pricing, AltFee is the way to go. With the ability to create pricing guidelines that can be modified for individual clients, as well as built-in collaboration tools, you can confidently create prices that give you a competitive edge over others and are easy to pitch to clients.
Your pricing template guidelines and list of priced client projects can be sorted into categories that represent your service offerings to keep everything organized. Your main dashboard also shows recent communications so you can always keep track of new comments and feedback from your colleagues, and action as necessary to adjust your pricing for a specific service.
Start Earning More Revenue with Fixed Fees
Break free from hourly pricing and take the fear out of scoping and pricing client projects to start maximizing profitability.
Book A Demo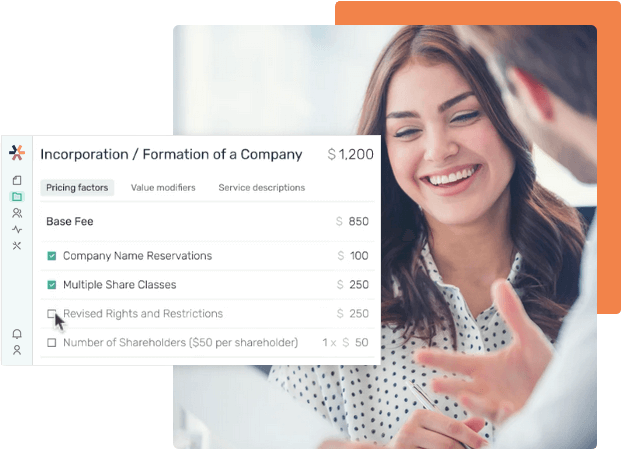 2. Clio - Cloud-Based Legal Practice Management Software
As a legal tech company that offers practice management software and a CRM, Clio is one of the most widely-known names in the legal software industry. It is often considered one of the top legal technology companies. Since Clio offers two different types of software, we'll take a closer look at each one separately.
Law Practice Management
This software basically handles all processes associated with managing cases, billing, document management, and more. It allows you to accept payments from clients directly through the software, as well as handles e-signatures and document storage.
Client Intake and CRM
From automating certain administrative tasks to scheduling and managing incoming clients, this robust software provides a way to stay organized with all the moving parts of your law firm. For example, you can tag contact lists for easy referral, and automate tasks like appointment reminders and email follow-ups.
3. Soluno - Legal Accounting Software
If you need software that can handle numbers, Soluno is what your law firm is missing. From accounting, to billing, and taxes, Soluno is a trust-compliant company that gives you a way to keep your books in check. It can even integrate with popular practice management software like Clio, making it easier to maintain a seamless workflow.
4. Logikcull - Drag & Drop Investigations & Disputes
Gone are the days when discovery had to be done manually. Instead, software like Logikcull can sift through huge volumes of discoverable data and help you identify the juicy tidbits while disregarding the stuff that doesn't matter. It also integrates with Google Vault, Slack, and Microsoft 365, meaning you can export or import data as needed.
Legal Technology Law Firm Trends to Watch Out in 2024
Legal trends are constantly changing and evolving as the industry continues to embrace new and innovative ways to do business. As we head into 2024 and beyond, here are the main legal technology trends to keep an eye on:
Increasing shifts to alternative pricing models to support pricing transparency for clients. According to the Legal Pricing and Budgeting Report from BigHand, post-pandemic trends indicate that clients are increasingly demanding greater cost certainty, which is pushing law firms to adopt more transparent pricing models, i.e. AFAs. This is somewhat hampered by the fact that this fundamentally changes the way that most law firms have been operating for years, so significant cultural and process changes also need to happen to support this new way of doing business. In addition, matter budgeting needs to be on point, otherwise, profit leakage is possible. This means that more law firms have been putting an increased focus on how their pricing works, with many hiring pricing experts. This trend further highlights the importance of using law firm pricing software like AltFee to systemize pricing across the law firm and to keep pricing updates and management in check.
Significantly reduced use of the billable hour. As AI becomes more and more embraced for its ability to save time and money for legal professionals, it makes sense that the law firms that are utilizing it will become more efficient. This will have a significant impact on the way that law firms bill in the future, with law firms having no choice but to embrace non-hourly pricing models that allow them to value their services based on more factors than just time spent.
Clients want more remote communication options. The pandemic definitely highlighted the convenience that technology can provide. After all, if a client doesn't have to drive to your office to drop off a signed document, for example, that saves both you and the client time and money. The 2021 Legal Trends Report from Clio highlights that in 2018, only 23% of consumers were interested in working with a lawyer remotely, but in 2021, that number skyrocketed to 79%. In fact, many clients factor in whether a lawyer is willing to work with them remotely into their decision of whether they will hire that lawyer or not. In 2022, the majority of clients still prefer remote contact options over in-person. Remote may be a great option for lawyers, but clients also want to be able to meet with the lawyer in person when necessary.
Law firms adopting more technology. From automation, AI, video conferencing, document digitization, and more, law firms are increasingly embracing legal technology to provide efficiency, accuracy, and confidence in overall business operations. Considering the high growth rate of the legal tech sector, including software and startups that we mentioned earlier, this isn't surprising.
Conclusion
It's clear that legal technology is changing the way the legal industry operates, from providing more transparency around pricing to adopting new and innovative ways to make the entire legal process more accessible, efficient, and effective. As the legal technology law firm continues to evolve to meet the demands of both lawyers and clients, it'll be interesting to see how the industry continues to adapt over time.
Providing cost certainly for clients is often achieved through the adoption of an AFA pricing model. Discover how AltFee can make managing your AFA pricing easy and straightforward by reaching out to us for a demo today.
Start Earning More Revenue with Fixed Fees
Break free from hourly pricing and take the fear out of scoping and pricing client projects to start maximizing profitability.
Book A Demo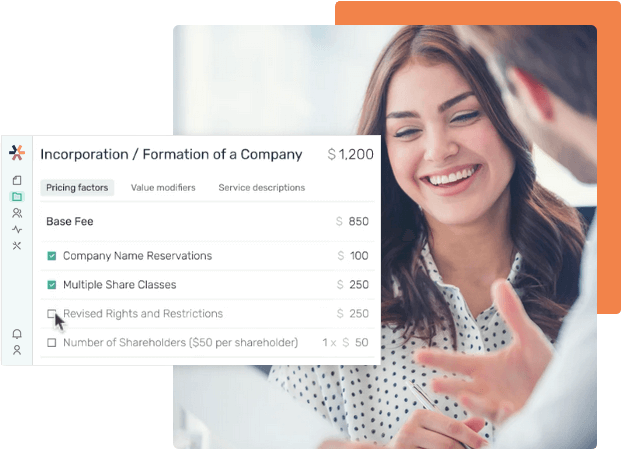 Newsletter Signup
Subscribe to our newsletter to receive the latest news.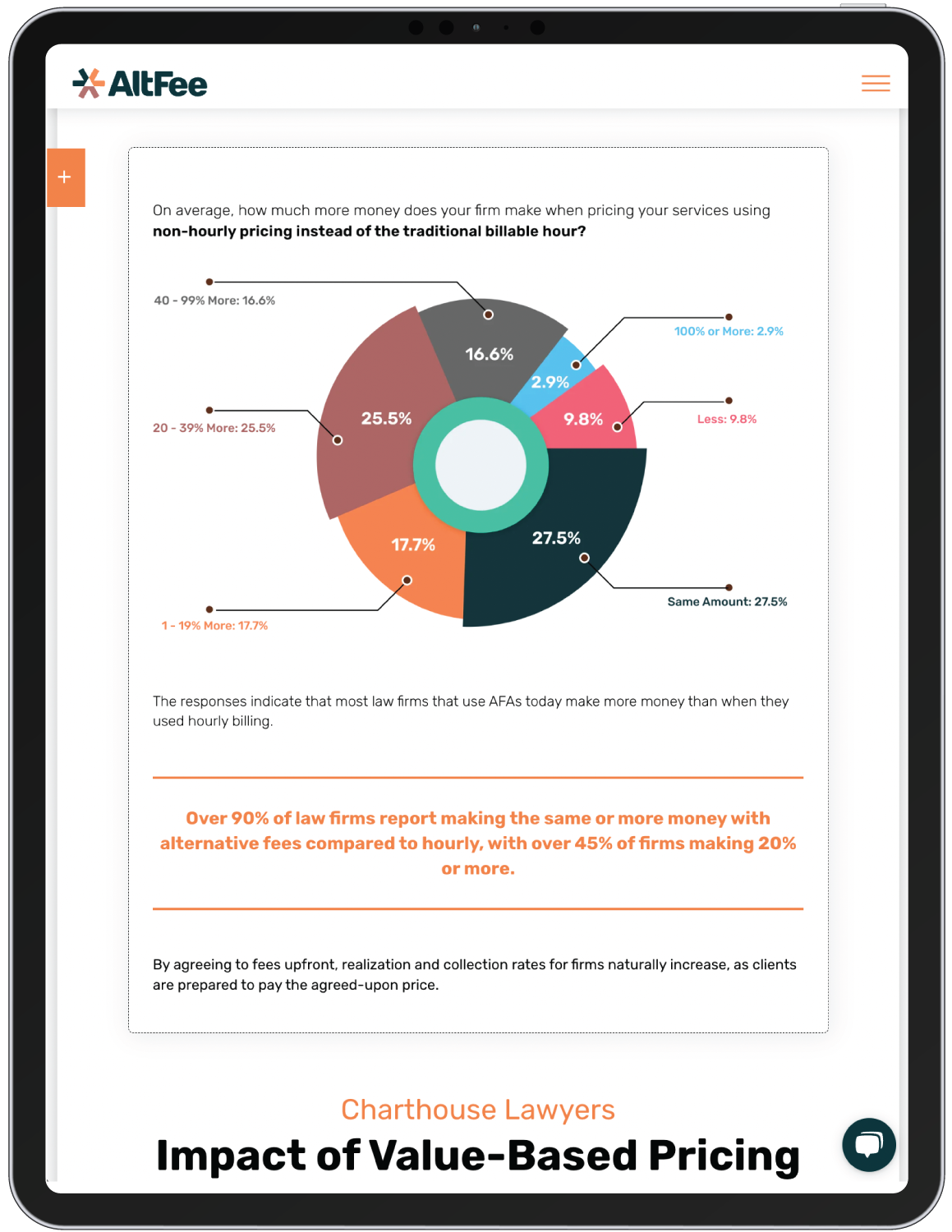 Legal Industry Pricing Trends Report 2023
Surveying legal professionals across the world, the report showcases how AFAs are contributing to increased profits for firms, better use of technology, and better work-life balance and working conditions for legal professionals.